Jenny Don't & The Spurs - Fire On The Ridge
Fluff & Gravy Records
****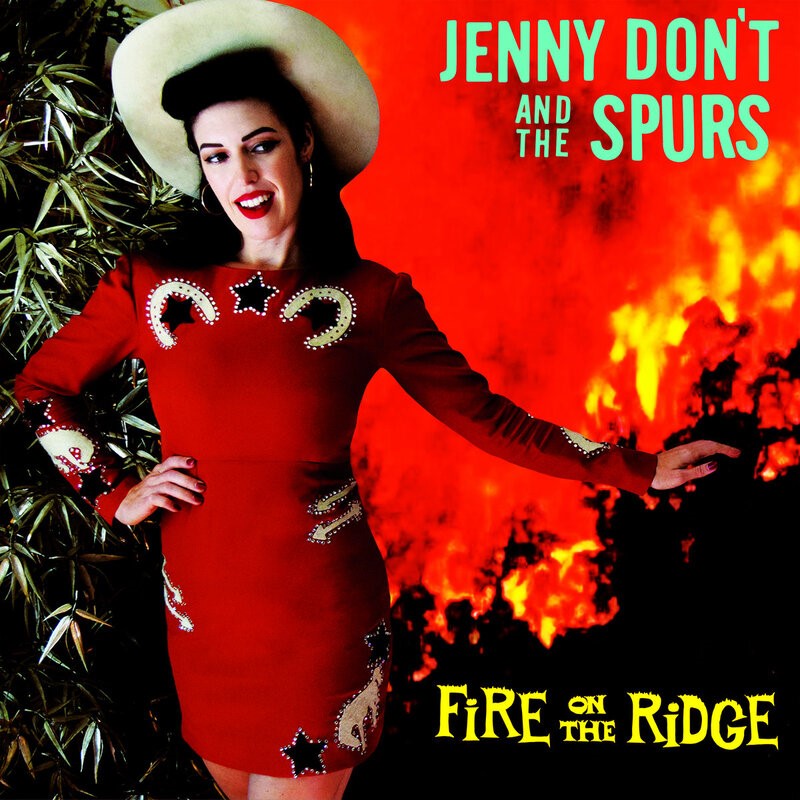 Rarely is the energy of a live performance successfully translated onto an album—especially a studio recording. Thankfully, FIRE ON THE RIDGE, the new album from Jenny Don't and the Spurs, bursts from the speakers with the intensity and feeling of the stage monitors pounding into your chest front row centre on a hot Saturday night. The Oregon-based quartet have built a career and fanbase burning the house down with their wild versions of country classics, rockabilly and original country-western tunes that are instilled with the energy and can-do attitude of punkabilly. Their songs are short, hard-hitting mini-masterpieces and through the eleven self-penned songs here, they continue to lift up these genres, but without limits. Through their own musical influences: from punk and garage rock to 1950s rock'n'roll and the traditional country of Hank Williams, Ernest Tubb, Loretta and Patsy. The result is, without a doubt, the band's most profound and dynamic LP since their formation a decade ago. All the values that make music important to people—storytelling, melody, emotion, joy, excitement—are part and parcel of every second of this collection. It would be considerably less enjoyable without Jenny Connors' poise and muscular vocals. In the spirit of the great artists who inspired her, she infuses this snappy entertainment with genuine heart, ensuring this album will have a long shelf life.
The band's versatile, in the way all great bar bands must be, as it dives into the swaggering opening title track. A relentlessly driving barnburner, funky rhythm guitars and dynamic lead guitar play tease with her vocals. Few bands could pull off such an impressive balance of fast, ferocious and fun rock'n'roll. In contrast, Jenny's dexterous voice slides and glides around the melody of California Cowboy, a shimmering combination of country heartbreak and western balladry, then knocks out the rockin' Be The Only One, a happy-go-lucky tune, with an effervescent sense of fun that fizzes throughout. There's a hint of Bonnie Lou and Doris Day to Foolish Lies, with its classique country and occasionally pre r&r sensibility. Jenny's old-school country gal vocals putting it right over the top, with an oddball streak that never undermines the song's highly accessible nature.     
They go all western with Queen Of The Desert and Johnny Vagabond. The latter evokes a spaghetti western soundtrack with echoes of a Joe Meek 1960s production. It's a dramatic-yet-slightly-spooky slice of echoey country with a killer groove. Steeped in western folklore, the galloping rhythmic Queen Of The Desert, has a sound unique to them, but one that finds common ground by adding the energy of Oregon's big sky country into their music. Although the music is not all from that region, as it calls upon a rich and diverse mix of Americana backgrounds demonstrating that Jenny and her band clearly have a deep musical knowledge. 
The vintage-styled singer lays down world-weary vocals, that wind down with the torch song ballad Friday Night. Maintaining a cool distance that makes it easy to imagine Jenny and her band crooning this song at the sock hop. However, this would be a sock hop from an alternate universe, one where couples dancing stayed as integral to rock'n'roll and old school country as it was from its birth. This is the kind of album you will want to blast at full volume and shout-sing along to blow off some steam … to let something loose.
March 2023