Jeannie Seely & Jack Greene - Together Again
Country Rewind Records CRR-223
*****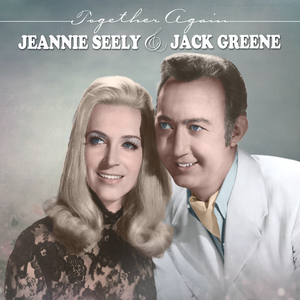 During the 1970s Jeannie Seely & Jack Greene were one of the most popular country music duos with their uptown road show that was more Las Vegas than down-home country. The pair were both enjoying successful solo careers when they began performing duets on the Ernest Tubb TV show. Jack had been drummer with Tubb's Texas Troubadours when he was signed to Decca Records and hit paydirt in 1967 with his chart-topping There Goes My Everything. Jeannie reached number two on the country charts in 1966 with Don't Touch Me, a soulful country ballad penned by her then-husband Hank Cochran. In 1969 they merged their respective bands and toured all over the USA with the Green Giants, and also became hugely popular at the Wembley Country Music Festivals, regularly gaining standing ovations and in the mid-1970s were co-hosts of the Festival. Both signed to Decca Records, their first duet single, Wish I Didn't Have To Miss You, reached number two on the country charts in early 1970.
This 15-track album features both solo and duet recordings that the pair made for transcription discs that the US Military used for recruitment purposes. They were usually 15-minute programmes that were sent out to radio stations with the performers singing their latest hits and extolling how patriotic it would be for young men and women to join the army, air force or navy. These were usually recorded with either the performers regular band, or occasionally utilising Nashville's A-team studio players. They are quite different to the commercial records that were released at the time, as they were recorded live, in one take. For this album, those original recordings have been updated with overdubs of guitars, bass and keyboards by producer Paul Martin and additional background vocals sung by Martin, Nora Lee Allen and Jamie Lee Martin. The result is a fresh-sounding record from another time … throwback music that's a nod to both Jeannie and Jack's best-known songs with a few surprises thrown in for good measure.
The pairing of Jeannie & Jack is hands down one of my favorite country duos because of their unerringly perfect choice of song material and delicious vocals, ranging from potent tones full of galvanising, infectious ebullience to tender, elegant timbres rife with tantalising wisps of recollection, break-ups, cheating and true romance. The sonic chemistry between these two friends is magical. Not only do their voices complement each other perfectly, their songs are as real as it gets without ever trying too hard. There are only four duets included, but each one is a genuine masterpiece. Naturally their biggest hit, Wish I Didn't Have To Miss You, is one of those. Co-written by Hank Cochran and Dave Kirby, it's a song of abject devotion, so striking and sincere that they get straight to the point with no hesitation whatsoever. Love Is No Excuse, opens with a country fiddle with steel guitar coming to the fore on this classic cheatin' song, originally a hit for Jim Reeves and Dottie West. Fiddle is also to the fore on Our Chain Of Love, a Willie Nelson song full of longing and regret. They also offer a rousing medley of The Great Speckled Bird/It Wasn't God Who Made Honky Tonk Angels. With a sound rooted in traditional country with a hint of southern gospel, the strength of this collaboration makes one wish for more where this came from.
Jeannie Seely opens with Willie Nelson's lesser-known Mr Record Man, a song that he wrote in 1957 and in the 1960s named his band The Record Men after. Jeannie had included her version on her third album for Monument Records in 1968. She places her enchanting vocals front and centre of the unerringly pretty music about unerringly sad reflections. The self-penned Enough To Lie, is a desolate heartbreaker that is arguably one of Jeannie's greatest vocal achievements, as she pleads with her cheatin' husband to the evocative accompaniment of fiddle and steel guitar and subtle harmonies on the chorus. Dave Kirby's Streets of Chicago, a 1970 hit for Merle Haggard, is given a plaintive reading by Jeannie. This sad saga of homelessness and despair carries a hefty emotional punch. As the backing singers come together on the chorus an autumnal chill will surely creep down your spine. She also turns in soulful renditions of her Grammy-winning Don't Touch Me, Please Be My New Love and the much-recorded Help Me Make It Through the Night.
Jack Greene remains a vastly underrated country singer. Sadly forgotten and overlooked for years, he possessed one of the most distinctive and soulful vocal styles, full of emotion and pathos when called for. His version of Dallas Frazier's There Goes My Everything, remains definitive some 55 years after he recorded it. This version of the classic country ballad demands your attention. A sweeping steel-drenched arrangement accompanies his soaring vocal, which seamlessly flows through three minutes of impressive bliss. But there's more. Much more from this masterful vocalist. Mel Tillis' All The Time is a powerful anthem of passionate love in which he questions crossing the line and hurting a woman who has stood by him through thick and thin, but instead confirms his undying love. Romance is the theme of Jimmy Peppers' Love Takes Care Of Me, with a smoother countrypolitan arrangement as he shares his sentiment with a calm and caress that allows his singular performance to shine all on its own. Another of Jack's biggest hits, There's A Whole Lot About A Woman (A Man Don't Know), was co-written by a young Gary Stewart. This is given a straighter country arrangement, almost making it a honky-tonk ballad with a slinky pedal steel and soaked with longing and regret. To these ears, he's never sounded better.
December 2021