First published in Country Music People, April 1977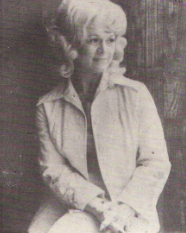 Diminutive Jean Shepard has been popular with British country fans for many years, and at long last she makes her British debut at this year's Wembley Festival. Very much a product of the 1950s, Jean's style throughout her long career has always been rooted in straight country.
She was born on November 21, 1936 in Paul's Valley, Oklahoma but was raised in the San Juaqin Valley town of Visalia in California. Her family of nine brothers and one sister with parents and assorted pets joined the famous Okie migration in the early 1940s, and took with them their love of country music. This was passed on to young Jean, and by the time she reached her teens she was keenly interested in a singing career. Her first entertainment experience was with an all-girl western swing band called The Melody Ranch Girls.
This was back in the early 1950s, and Jean was still a teenager when she came to the notice of Capitol Records. Based in Hollywood, they were building up a strong roster of country music acts, and initially teamed Jean Shepard with Felin Husky. The girl-boy duets were popular with country audiences at the time, and Jean and Ferlin had a mammoth hit on their hands with
Dear John Letter.
It was only a matter of time before Jean made her mark as a star in her own right. A string of successful singles like
A Satisfied Mind, Crying Steel Guitar
and
Have Heart, Will Love
led to her becoming a featured star on the Ozark Jubilee TV show in Springfield, Missouri. She was with the show for almost two years before being invited to appear on the Grand Old Opry in Nashville. By the end of 1955 she was an Opry regular, and has been ever since.
Throughout the 1950s Jean became one of the most popular female singers in country music, and was second only to Kitty Wells in terms of recording success. Jean's secret was quite simple, she took country love ballads and put her whole heart into telling lyrics. Here is a lady who
means it
when she sings of love gone bad, good times to look forward to, memories to cherish.
Jean Shepard's personal life has been full of ups-and-downs; heartaches, tragedies and loneliness. It is this kind of personal experience you'll discover when you hear this great lady sing. Throughout her 20 years with Capitol she produced some of the greatest hits by any girl singer. Songs like
Beautiful Lies, Under Suspicion, Second Fiddle, It's A Man Every Time
and
Your Forevers (Don't
Last Very Long)
are synonymous with Jean Shepard.
The late 1960s saw a swing away from Jean Shepard, and hit records were few and far between. She became more accepted as an album artist, but without the songs on the jukebox, her albums didn't sell as well as they should have done. In 1972 Larry Butler took over Jean's recordings and one of her last albums for Capitol, JUST AS SOON AS I GET OVER LOVING YOU, showed that Jean was still a force to be reckoned with in country music.
The following year her long association with Capitol ended, and Larry Butler took her to United Artistes. Within months she had gained her first No. 1 country single for more than 10 years with the Bill Anderson song
Slipping Away
. During the past four years Jean Shepard has re-emerged as one of the most popular female song-birds in Nashville.
The new record label seems to have given her career a new meaning, and even in Britain her albums are released with an amazing regularity. Bill Anderson has provided her with more hit records like
Poor Sweet Baby, Mercy, At The Time
and
I'm Alright
. Jean repaid Bill by devoting her album,
Poor Sweet Baby
to 11 Bill Anderson songs going back in time to early Anderson classics like
When Two Worlds Collide, City Lights
and
The Tips Of My Fingers
.
There's no doubt that Jean Shepard has won through to a new audience by singing what she sings best—country music, pure and simple. On past experience, this dedication for pure country can only help her to win an even larger British following after her long awaited British debut this Easter.