Jason Barie - Radioactive
Billy Blue Record
****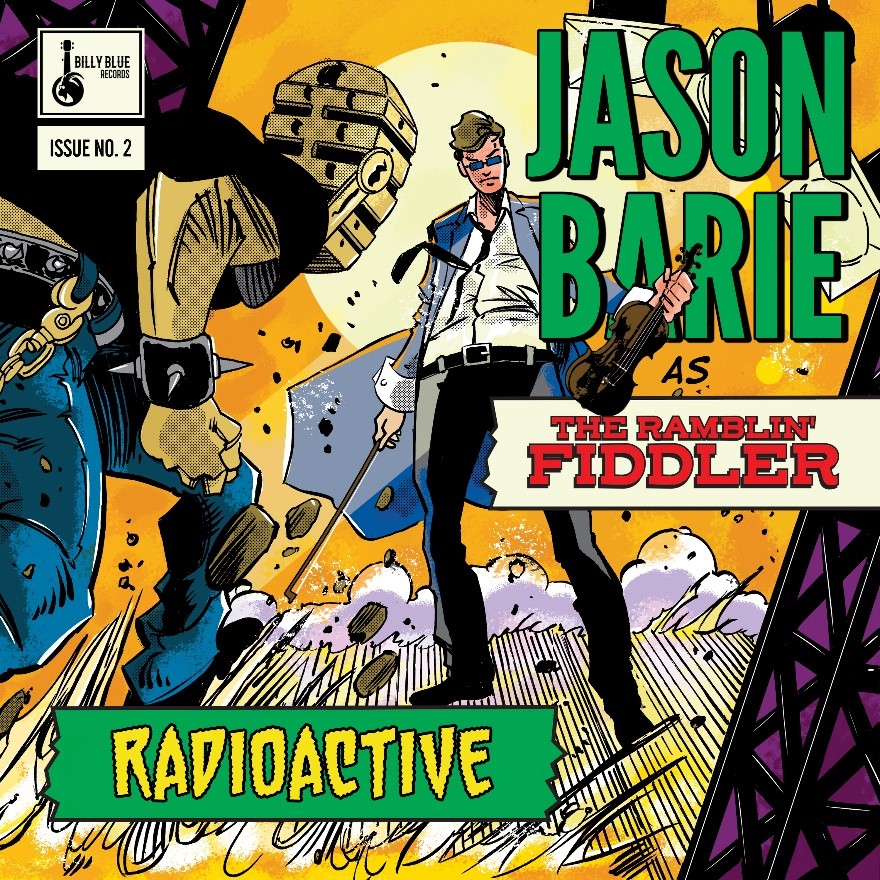 Jason Barie has flown a bit under the radar, but those who pay attention know he's a fiddling powerhouse. Some musicians are recognised for their prowess and proficiency. That's natural of course. However, there are also the rarified few who are known for their absolute passion and purpose, a commitment to the cause that assures the fact that every effort they attach their name to, will be well worth investigating. With this, his second 'solo' album, Jason and his group of musicians and special guests, does what he has done best for years—deliver solid, well-played bluegrass that moves back and forth across the traditional line, while always sounding fresh. He masterfully moves through original material, well-known and lesser known, covers with reimagined classic country tossed in for good measure. The Florida-born musician has been fiddling since he was ten years old and over the years has played a pivotal role in the Sand Mountain Boys, Lorraine Jordan and Carolina Road, the Larry Stephenson Band, Doyle Lawson & Quicksilver and since 2014, a member of Joe Mullins and the Radio Ramblers. His reputation and stature is such, that he's attracted such impeccable guest musicians and singers as Bobby Osborne, Doyle Lawson, Paul Williams, Michael Cleveland, Russell Moore, Tim Raybon, John Meador, Randy Barnes, Jeff Parker, Jake Vanover, Don Rigsby, Joe Dean, Jesse Baker, Phillip Bostic, Josh Swift, Danny Davis, Adam MacIntosh, Josiah Tyree, Paul Harrigell and Micheal Rogers to join him in the studio for this impressive collection.
Known as 'the Rambling Fiddler,' the CD packaging includes a 7-page comic book extolling his 'superpowers' as a fiddle player. He certainly lives up to the hype, whether it's the swaying serenade he employs on In the Garden, the clarity and conviction shared on intricate playing of Bottom Of The Ninth and Pickin' In The Parlor or an emotional take on the ever-enduring Lee Emerson country classic I Thought I Heard You Calling My Name, he varies the template with the reverence and dedication each offering clearly calls for. From the same era comes Carter Stanley's Keep A Memory, in which he maintains the old mountain style of the original with Jesse Baker's banjo very much to the fore, while Jason plays fiddles, guitar, bass and mandolin and adds baritone vocal to Doyle Lawson's distinctive lead and his old bandmate Russell Moore completing the classic vocal trio sound.
From the pen of Carter's brother Ralph Stanley and Osburn Thorpe comes the lithe Darling Brown Eyes. An encouraging number that retains a tone and treatment that doesn't veer decidedly from the original, it offers strong traditional fiddle work and a neat harmony arrangement with alternating vocal parts. On the lesser-known offerings such as Tom T. Hall's I Wish I Loved Somebody Else Not You, Mike Rogers' Good Love Gets Better With Time and Paul Williams' That's Why You Left Me So Blue, Jason takes the opportunity to put his stamp on the proceedings and offer listeners certain songs that deserve to shine beyond the pale veil of obscurity. The latter features the first time that Bobby Osborne and Doyle Lawson have recorded together, with Jason playing triple fiddles and providing the low tenor vocal. The Tom T. Hall song is completely transformed from the original, with the vocal harmonies reminding me of classic Tompall & the Glaser Brothers' long-forgotten recording from the late 1960s and early 1970s. The result is a tender and soulful rendition that defies you not to waltz along in your chair.
February 2023