Janette Sommers - Family Ties
First published in Country Music International, June 1996
Scottish country singer Janette Sommers has found a way of juggling motherhood and country music: her family is now her backing band. Adrian Cooke investigates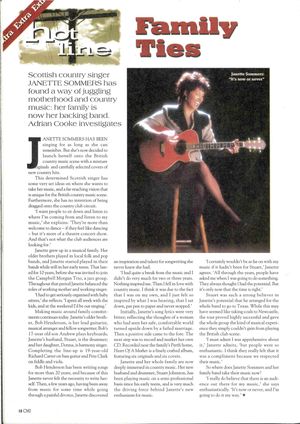 Janette Sommers has been singing for as long as she can remember. But she's now decided to launch herself on to the British country music scene with a mixture of originals and carefully selected covers of New Country hits.
This determined Scottish singer has some very set ideas on where she wants to take her music, and a far-reaching vision that is unique for the British country music scene. Furthermore, she has no intention of being dragged onto the country club circuit.
"I want people to sit down and listen to where I'm coming from and listen to my music," she explains. "They're more than welcome to dance—if they feel like dancing—but it's more of a theatre concert show. And that's not what the club audiences are looking for."
Janette grew up in a musical family. Her older brothers played in local folk and pop bands, and Janette started played in their bands while still in her early teens. That lasted for 10 years, before she was invited to join the Campbell Morgan Trio, a jazz group. Throughout that period Janette balanced the roles of working mother and working singer.
"I had to get seriously organised with babysitters," she reflects. "I spent all week with the kids, and at the weekend I'd be out singing."
Making music around family commitments continues today. Janette's older brother, Bob Henderson, is her lead guitarist, musical arranger and fellow songwriter; Bob's 17-year old son Andrew plays keyboards; Janette's husband, Stuart, is the drummer; and her daughter, Donna, is harmony singer.  Completing the line-up is 19-year-old Richard Carter on bass guitar and Pete Clark on fiddle and viola.
Bob Henderson has been writing songs for more than 20 years, and because of this Janette never felt the necessity to write herself. Then, a few years ago, having been away from music for some time while going through a painful divorce, Janette discovered an inspiration and talent for songwriting she never knew she had.
"I had quite a break from the music and I didn't do very much for two or three years. Nothing inspired me. Then I fell in love with country music. I think it was due to the fact that I was on my own, and I just felt so inspired by what I was hearing, that I sat down, put pen to paper and never stopped."
Initially, Janette's song lyrics were very bitter; reflecting the thoughts of a woman who had seen her safe, comfortable world turned upside down by a failed marriage. Then a positive side came to the fore. The next step was to record and market her own CD. Recorded near the family's Perth home, HEART OF A MOTHER is a finely crafted album, featuring six originals and six covers.
Janette and her whole family are now deeply immersed in country music. Her new husband and drummer, Stuart Johnston, has been playing music on a semi-professional basis since his early teens, and is very much the driving force behind Janette's new enthusiasm for music.
"I certainly wouldn't be as far on with my music if it hadn't been for Stuart," Janette agrees. "All through the years, people have asked me when I was going to do something. They always thought I had the potential. But it's only now that the time is right."
Stuart was such a strong believer in Janette's potential that he arranged for the whole band to go to Texas. While this may have seemed like taking coals to Newcastle, the tour proved highly successful and gave the whole group the kind of musical experience they simply couldn't gain from playing the British club scene.
"I must admit I was apprehensive about it," Janette admits, "but people were so enthusiastic. I think they really felt that it was a compliment because we respected their music."
So where does Janette Sommers and her family band take their music now?
"I really do believe that there is an audience out there for my music," she says enthusiastically. "It's now or never, and I'm going to do it my way."