James Taylor - Not Country, But….
First published in Country Music People, June 1974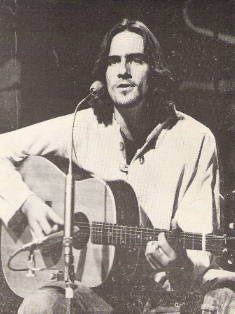 I suppose James Taylor first came to my attention around three years ago, George Hamilton IV was touring Britain at the time and he kept on about this British songwriter who had written this great song about his home State—Carolina. I had acquired Hamilton's version of the said song on his underrated BACK WHERE IT'S AT album, and was knocked out by the lyrics—no British writer could have written that song—it had a depth and an honesty that was so much a part of modern day country music. All right, the song is about Carolina—but it could have been about anywhere—it was the longing for home that caught the listener, and it caught the feeling brilliantly.
Who was this James Taylor though? He must have in some way be connected with country music? He must surely have grown up with it!
James Taylor is basically a songwriter, who because of the success of his songs turned to singing. He was born in Carolina some twenty-five years ago and was subjected to a turbulent upbringing, but he always had music to fall back on. His family were all musically inclined and his first taste of professional music was with his elder brother Alexander in a group known as The Famous Corsairs, who were more into the rock field, but a lot softer than much of the rock music around in the early 1960s.
In 1968 James got together a demo tape of songs he had written while bumming around Europe and called on the office of Peter Asher, who at that time was working for the Beatles' Apple Corporation. Peter, who had shot to fame in the early 1960s as one half of the folk/pop duo Peter and Gordon, was most impressed by Taylor's writing and singing, and that demo was almost immediately made into an album released by the Apple label. It was folksy, but pop-inclined, but the songs were American— maybe even country-influenced.
That first Taylor album didn't exactly take the world by storm, although it's still selling well today. It got a lot of critical acclaim but was not snapped up by the public. Taylor's success, in fact, has been a gradual thing—more by word-of-mouth than anything else.
After producing the album, Asher became Taylor's manager and returned to the States with him in the hope of building up a name for him—not just as a writer but also as a singer. But that first album was already being noticed. George Hamilton IV was the first country artist to see the potential of James Taylor's songs—and because the album that he lifted
Carolina In My Mind
from was British produced, he wrongly believed that the writer was British—yet Taylor had virtually grown up on Hamilton's doorstep, although for several years he had lived and worked in California. From those small beginnings, James Taylor became a legend of the early 1970s creating some really remarkable music— songs of love and loneliness, fulfillment and frustration—these are the central themes that run through his songs, and James' life seems polarised at each extreme.
James Taylor's life never appears to have pursued any middle course, and it is interesting to see how often he conveys the general concepts of good and bad in terms of sunshine and rain and night and day. His most recorded song is most probably
Fire And Rain
, a gentle little ballad that really typifies his style, and this is the song that really caught on in Nashville and established Taylor as a writer to watch for new material.
Taylor's appearance if anything matches his music. He's extremely tall and loose-limbed in the same kind of way that cowboys stride across western plains—prowling loping, with a sense of vague purpose. He is very quiet and restless with a sort of inner nervous tension.
His second album SWEET BABY JAMES, really connected him with country music and even now I'm surprised that no country artist has picked up
Country Road
and made a big hit. The lyrics are so apt, and though they appear to be more western than country-influenced, they have that contemporary flow about them and again the feeling of restlessness creeps into the song. Sadly only George Hamilton IV was able to pick a tune off this album, that beautiful title song that just rolls along in a lazy country drawl.
Unfortunately, James Taylor's connections with country music have begun to fade from his music. Gone are the lazy melodies and his constant search for Utopia which is always beyond reach—he is now writing more for his group than his own solo guitar work. The unique way he would build a song so that it would meander in tantalizing fashion until it reached its climax has gone—it's now necessary to build quicker to keep the audiences happy and group more funky.
Although the love, nostalgia, comfort and understanding is still part of his writing, most of the songs are being written as vehicles for his band The Section, to get off on some neat licks. The result is weak compositions which are only held together by the musical embroidery which is woven by the group— but for those who are on the lookout for some compositions which are adaptable to the modern Nashville sound, just give James Taylor's first three albums a listen—you won't be disappointed.