James House - Is There A Songwriter In The House
First published in Country Music International, April 1995
After jobs that included singing for Dustin Hoffman and translating lyrics for Julio Iglesias, James House fled Hollywood to become one of Nashville's top songsmiths and aspiring performers. "Now I write from the heart," he tells Alan Cackett
"I used to write about what I see around me and the people I know and care for," says James House. "Even if it's not your own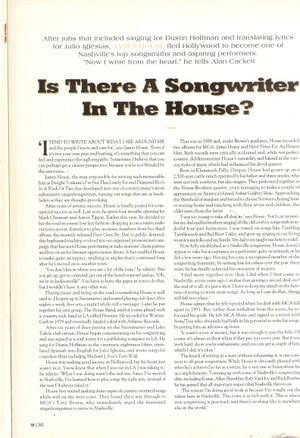 pain and hurting, it's something that you can feel and experience through empathy. Sometimes I believe that you can perhaps get a clearer perspective, because you're not blinded by the emotions."
James House, the man responsible for writing such memorable hits as Dwight Yoakam's I'm Not That Lonely Yet, and Diamond Rio's In A Week Or Two, has developed into one of country music's more substantive singer-songwriters, turning out songs that are as hook-laden as they are thought-provoking.
After years of artistic success, House is finally poised for commercial success as well. Last year  he spent  four months opening for Mark Chesnutt and Aaron Tippin. Earlier this year he decided to hit the road in a more low-key fashion, dropping in on country radio stations across America to play acoustic numbers from his third album, the recently released DAYS GONE BY. Due to public demand this haphazard road trip evolved into an organised promotional campaign that has seen House performing at radio stations' client parties and live on air for listener appreciation shows. It has enabled House to make quite an impact, resulting in airplay that's continued long after he's moved on to another town.
"You don't know where you are a lot of the time," he admits, "But you get up, get re-orientated, get out of the hotel or motel and go: 'Oh, we're in Jacksonville.' You have to have the gypsy in you to do this, but I wouldn't have it any other way."
Playing music and being on the road is something House is well used to. He grew up in Sacramento and started playing club dates (five nights a week, five sets a night) while still a teenager. Later he put together his own group, the House Band, and for a time played with a country-rock band in LA called Prisoner. He recorded for Warner-Curb in 1979 and eventually landed a deal with Atlantic Records.
After six years of dues-paying on the Sacramento and Lake Tahoe club circuit, House began concentrating on his songwriting and was signed as a staff writer for a publishing company in LA. He sang for Dustin Hoffman in the cinematic nightmare Ishtar, translated Spanish into English for Julio Iglesias and wrote songs for countless films, including Michael J, Fox's Teen Wolf.
House was making good money in Hollywood, but his heart just wasn't in it. "I now know that when I was out in LA I was faking it," he admits. "What I was doing wasn't the real me. Since I've moved to Nashville I've learned how to play songs the right way, instead of the way I'd always faked it."
House first started making demo tapes of country oriented songs while still on the west coast. They found their way through to MCA's Tony Brown, who immediately urged the frustrated singer-songwriter to move to Nashville.
That was in 1988 and under Brown's guidance, House recorded two albums for MCA. JAMES HOUSE and HARD TIMES FOR AN HONEST MAN, both records were critically acclaimed and, while not perfect country, did demonstrate House's versatility and hinted at the various style of music which had influenced his development.
Born in Klammath Falls, Oregon, House had grown up on a 2,500 acre cattle ranch operated by his father and three uncles, who were not only cowboys, but also singers. They performed together as the House Brothers quartet, even managing to make a couple of appearances on America's famed Arthur Godfrey Show. Approaching the threshold of stardom and forced to choose between chasing fame or staying home and ranching with their wives and children, the older men chose the latter.
"I was too young to take all that in," says House, "but I can remember my dad and his brothers singing all the old cowboy songs with wonderful four-part harmonies. I was raised on songs like Tumbling Tumbleweeds and Red River Valley, and grew up singing in our living room for my folks and my family, My dad even taught me how to yodel!"
Now fully established as a Nashville songwriter, Hoiuse doesn't appear to take his acceptance as a performer quite as seriously as he did a few years ago. Having become a recognised member of the songwriting fraternity, by writing hits for others over the past three years, he has finally achieved his own sense of security.
"I feel more together now  than I did when I first came to Nashville, seven years ago. I realise that getting a record deal isn't the end of it all; it's just a shot. I have to keep my mind on the business of trying to write more songs. As long as I can do that, things will fall into place."
House admits that he felt rejected when his deal with MCA fell apart in 1991, But rather than withdraw from the scene, he refocussed his goals. He left MCA Music and signed as a writer with Sony/Tree who obviously had faith in his potential to write hit songs by paying him an advance up front.
"It wasn't a ton of money, but it was enough to pay the bills. Of course it's always at their whim if they pay you every year. But if you work hard, show you're enthusiastic, and you can get a couple of hits. which I did, it's o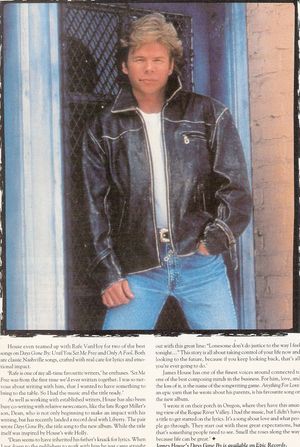 kay."
The knack of writing in a seam without exhausting it, is one common to all great songwriters. While House is obviously pleased with what he's achieved so far as a writer, he is not one to boast about his accomplishments. Teaming up with some of Nashville's songwring elite, including Kostas, Allen Shamblin, Rafe VanHoy and Rick Bowles, he has gained that all-important respect that Nashville thrives on.
"The reason I'm doing good work is because I've sought out the talent here in Nashville. This town is so rich with it. This is where true songwriting is practised, and there's nothing like it anywhere else in the world."
House even teamed up with Rafe VanHoy for two of the best songs on DAYS GONE BY, Until You Set Me Free and Only A Fool, Both are classic Nashville songs, crafted with real care for lyrics and emotional impact.
"Rafe is one of my all timer favourite writers." He enthuses. "Set Me Free was from the first time we'd ever written together. I was nervous about writing with him, that I wanted to have something to bring to the table, So I had the music and the title ready."
As well as working with established writers, House has also been busy co-writing with relative newcomers like the late Roger Miller's son, Dean, who is not only beginning to make an impact with his writing, but has recently landed a record deal with Liberty. The pair wrote Days Gone By, the title song to the new album, While the title itself was inspired by House's wife Holly.
"Dean seems to have inherited his father's knack for lyrics. When I got down to the publishers to work with him he just came straight out with this great line: 'Lonesome don't do justice to the way I feel tonight.' This story is all about taking control of your life now and looking to the future. Because if you keep looking back, that's all you're ever going to do."
James House has one of the finest voices around connected to one of the best composing minds in the business. For him, love, and the loss of it, is the name of the songwriting game. Anything For Love, an epic yarn hat he wrote about his parents, is his favourite song on the new album.
"I wrote it on their porch in Oregon, where they have this amazing view of the Rogue River Valley. I had the music, but I didn't have a title to get started on the lyrics. It's a song about love and what people go through. They start out with these great expectations, but that something people need to see: 'Smell the roses along the way, because life can be great.'"