James Bonamy - Under The Spotlight
First Published in Country Music International, January 1997
He may be riding high in the country charts, but James Bonamy first performed in a tourist office in Orlando, Florida, before beating a path to Nashville.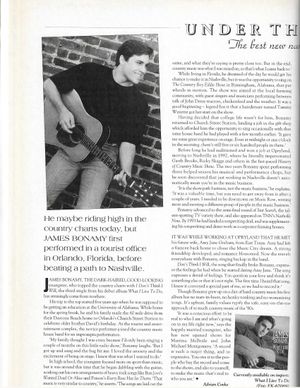 James Bonamy, the dark-haired, good-looking youngster, who topped the country charts with I Don't Think I Will, the third single from his debut album WHAT I LIVE TO DO, has seemingly come from nowhere.
His trip to the top started five years ago when he was supposed to be getting an education at the University of Alabama. While home for spring break, he and his family made the 60-mile drive from their Daytona Beach home to Orlando's Church Street Station to celebrate older brother David's birthday. At the tourist and entertainment complex, the novice performer joined the country music house band for an impromptu performance.
"My family thought I was crazy because I'd only been singing a couple of months on this little radio show," Bonamy laughs. "But I got up and sang and the bug bit me. I loved the anxiety and the excitement of being on stage. I knew that was what I wanted to do."
In high school, the youngster focused more on sport than music, but it was around this time that he began dabbling with the guitar, working out his own arrangements of heavy rock songs like Bon Jovi's Wanted Dead Or Alive and Poison's Every Rose Has Its Thorn. "That music is very similar to country," he asserts. "The songs are laid out the same, and what they're saying is pretty close too. But in the end, country music was what I was raised on, so that's what I came back to."
While living in Florida, he dreamed of the day he would get his chance to make it in Nashville, but it was the opportunity to sing on The Country Boy Eddie Show in Birmingham, Alabama, that put wheels in motion. The show was aimed at the local farming community, with guest singers and musicians performing between talk of John Deere tractors, chickenfeed and the weather. It was a good beginning—legend has it that a hairdresser named Tammy Wynette got her start on the show.
Having decided that college life wasn't for him, Bonamy returned to Church Street Station, landing a job in the gift shop which afforded him the opportunity to sing occasionally with that same house band that he had played with a few months earlier. "It gave me some great experience on stage. Even at midnight or one o'clock in the morning, there's still five or six hundred people in there."
Before long he had auditioned and won a job at Opryland, moving to Nashville in 1992, where he literally impersonated Garth Brooks, Ricky Skaggs and others in the fast-paced History of Country Music Show. The two years Bonamy spent performing there helped season his musical and performance chops, but he soon discovered that just working in Nashville doesn't automatically mean you're in the music business.
"It is the show park business, not the music business," he explains. "It was a valuable time, but you need to get away from it after a couple of years. I needed to be downtown on Music Row, writing more and meeting a different group of people in the music business."
Bonamy advanced to the semi-final round of Star Search, the talent-spotting TV variety show, and also appeared on TNN's Nashville Now. By 1993 he had landed a songwriting deal, and was supplementing his songwriting and demo work as a carpenter framing houses.
It was a while at Opryland that he met his future wife, Amy Jane Graham, from East Texas. Amy had left a fiancee back home to chase the Music City dream. A strong friendship developed, and romance blossomed. Now she travels everywhere with Bonamy, singing back-up in the band.
Don't Think I Will, the song that finally broke Bonamy, expresses the feelings he had when he started dating Amy Jane. "The song expresses a denial of feelings. You question your love and think it's something else or that it's not right. The first time I heard that song, I knew it conveyed a special part of me, so we had to record it."
Though Bonamy grew up on a diet of hard country music his first album has no tears-in-beers, no honky-tonking and no womanising songs. It's upbeat, family values typify the safe, easy-on-the-ear approach of so much country music of the 1990s.
"It was a conscious effort to be real to who I am and what's going on in my life right now," says the happily married youngster, who has now opened shows for Martina McBride and John Michael Montgomery. "A record is such a major thing, and so expressive. You owe it to the people who buy the record and come to the shows, and also to yourself, to make the music that's real to who you are."