Jake Ybarra - Something In the Water
Charlotte Avenue Entertainment
*****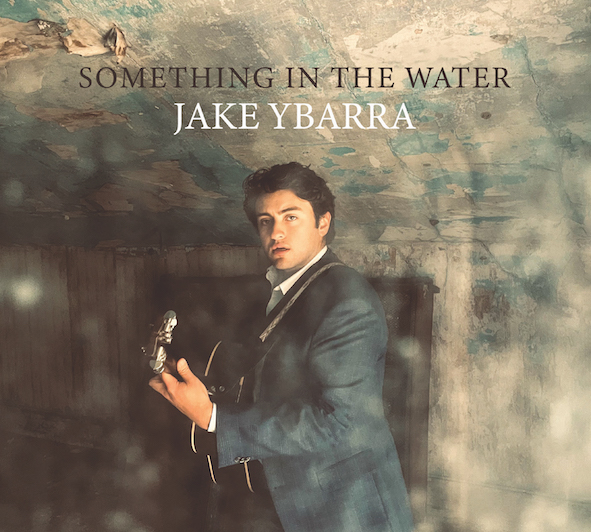 This quietly mind-blowing, debut has been the soundtrack for my life the past week or so. I really love this whole album, so much that I just cannot stop placing it on repeat. If the soli-based internet knows what's good for it, it will have fully absorbed the manifold wonders Jake Ybarra is humbly offering to the world by this time next week at the latest. He is a young Texas-born, Carolina-raised artist who belongs among the great country-Americana songwriters—Guy Clark, Rodney Crowell, John Prine, Townes Van Zandt—and will certainly join their ranks soon. His unique songwriting shines with a literary sensibility and his ability to craft characters is on full display on a well-seasoned set of songs, one that creates an immediate impression and resonates well beyond. It's always striking when a young artist eschews the temptation to simply come across as trendy, or as if they're beholden only to current fads or tapestries. Jake's innate ability to create songs that are deeply rooted in the country world with strong lyrical stories that connect with listeners across the world, not forgetting that he also has one of the best new voices in the genre. It should also come as no surprise that he comes across with such absolute authenticity. One couldn't convey these sentiments this convincingly unless there was true connection to country's rich roots and heritage. Simply put, SOMETHING IN THE WATER is one of the best and most consistent records you'll hear this year.
He offers no shortage of rhythm-ready offerings, which ensure the enthusiasm remains at a constant peak. That's clear from the first scampering guitar lick on opener Late November. There is an infectious quality to his brooding lyrics and the runaway sound, that reminds me of Rodney Crowell's DIAMONDS & DIRT days, that leaves you excited for more. There's no question that Jake knows his stuff: Whether it's the gentle confessional Call Me By My Name or the hard-hitting stomp of BloodFire, Jake and his studio band tackle the tracks' textures with confidence and aplomb. Recorded at Nashville's legendary Castle Studios, alongside Jake's inventive acoustic guitar work, there's David Flint (acoustic guitar, electric guitar, mandolin); Dow Tomlin (bass); Dane Bryant (piano, organ), and Billy Thomas (drums; backing vocals).
Jake's vocals are often clearly the star of the show, but he also demonstrates a lyrical depth that shows his level of wisdom as a songwriter. Lyrically vulnerable and musically explosive, There's Something In the Water takes the listener on a journey through his insecurities. The song explores the contradictions and polarities found in the uncomfortable and ugly sides of being human. Like so many of us these days, it feels vaguely unstuck from time, and yet, firmly rooted in the present moment. The rockabilly styled A Whole Lot To Remember examines where there is confusion in the chaotic and feels like a useful resource for modern living. 
Filled with tiny, personal details, it is also an uncanny ode to viewing the world from inside our windows. Long Winter feels like sitting on a porch on a hot summer day as a gentle wind cools your skin: it's easy, refreshing, and the perfect way to pass time. As if drawing from vivid photographs, he offers snapshots of a bickering, yet loving couple, stuck in isolation that has moments of small joy and indifference that are both gratifying and universal.
It always amazes me that someone can take their pain and turn it into not only healing energy but a catchy tune with a positive force, and that's what Jake has done with Disappear. No Reason Or Right is a compelling yarn about the discovery of a 120 year old love letter. It's quite a story … whatever he's writing, he's never less than totally honest and always believable … this is indeed a superb album, let alone a debut. Open your ears and let this Jake Ybarra into your life. You might be very glad you did.
March 2023