Darth Jadea Music/Tonetree
****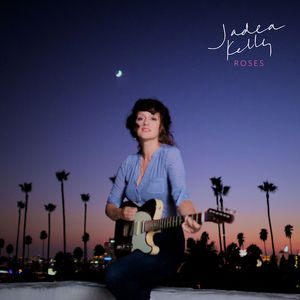 Multi-award-winning Canadian singer-songwriter Jadea Kelly, from rural Whitby, Ontario, splits her time between her birthplace and adopted Los Angeles home. Her fifth album is a beautifully arranged and intimate set that fans of female singer songwriters who sit just left of centre would be well advised to explore. Throughout the 13 tracks Jadea never shies away from vulnerability, she leads with it—leans into it—and in doing so finds new avenues to explore the emotions that can sometimes keep her, and us, up past midnight and beyond. ROSES emerges as a remarkable storytelling vessel … it's as if she were recording an audio book for a memoir that she's yet to have written. When music is made well, it sidesteps the clumsiness of speech and communicates in the language of emotions. A stunning and often revelatory work that sounds better each time it's played, her music is a summer storm. It's dark and heavy, but ultimately reveals itself to a brightness that leaves you feeling optimistic. It's truly one for the ages.
Jadea shows a knack for composing lush, mid-tempo tracks that provide a nice backdrop for her voice. When she sings about remembrance and reflection on the melancholy Driveway, one can't help but embrace that warm whiff of nostalgia. Several of the songs are about moving on and new beginnings. Temporary Farewell digs deep into our all-too-human ability to make things harder than they need to be—and how rarely this serves us. She swerves delicately into the age-old dilemma of unrequited love in Stupid Goddam Face. The spare arrangement with nothing except Jadea's voice and Austin Myles Grant's acoustic guitar provides just the right amount of pathos for the brutally honest lyrics that are plaintively delivered. If the sadness is expected, the surprise of the album is Happy a poppy track that sways along joyfully with its positive theme of grabbing freedom while you can. Jadea charges forward with irrepressible energy, bolstered by rippling guitars and rollicking percussion.
On songs like the captivating love song Any Old Boat and Picking Flowers her vocals float over gorgeous melodies provided by Joel Schwartz (guitars, keyboards, mandolin, banjo) to create a dramatic, fascinating sound. Ten Roses features dreamy songwriting, a beautiful, sighing vocal and exquisite instrumentation, reminiscent of Cocteau Twins. When I Fly is a deeply personal sentimental song. As the title suggests, the theme is another one of freedom and flying the nest. There's no way to fake such sweet sentiments, and in each word, the sincerity shines through. That same slow burn, sombre mood penetrates the groovy, mid-tempo Pitch Black with Mike Erwin's keyboards and Wurlitzer lurking in and out of the funky Memphis-styled rhythm and Jadea opening up with her most assertive vocal delivery. This is a song that taps into a sense of dislocation that can anchor anyone at any moment and, with its cool and sleek arrangement, re-enforces Jadea Kelly as a songwriter of real talent. With a voice that's quiet, yet powerful, Jadea creates a well-rounded album that tackles complex subject matter with intellect and empathy. One of the facets that makes the album so intriguing is how she balances elegant instrumentation with thought-provoking messages that ponder relationship uncertainties we've all encountered.
August 2022