Iron Horse - Pickin' On Pearl Jam
CMH Records
***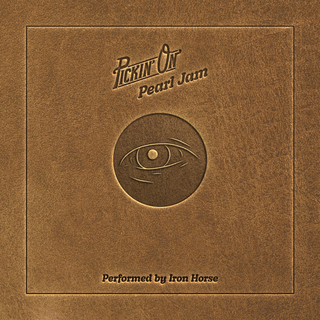 Alabama bluegrass quartet Iron Horse has been re-imagining rock and pop classics in a bluegrass vein for close on 20 years, with more than a dozen albums to their credit. This latest set turns the spotlight on Seattle's grunge masters Pearl Jam, the biggest-selling rock band of the 1990s. The music on the album is accomplished, the singing tuneful, the arrangements pedestrian. It's hardly what one might call classic bluegrass, but it does provide proof that an open mind can reap a modicum of enjoyment. If slick is something on your musical agenda, this is something that will fill your ear nicely. Yes, this album is 'nice.' I don't mean to damn it with faint praise by using such a mealy-mouthed term, but that is the word that kept entering my mind as I listened. There is nothing wrong with 'nice,' of course, and the album is certainly listenable. It is just that in this context it suggests something that promises more but doesn't supply it. None of this is meant to put people off listening to the record. Some will love it. I just kept thinking: 'This is nice, when is the punch coming?' I just kept wanting some oomph!    
Comprising Vance Henry (guitar, lead and tenor vocals), Anthony Richardson (banjo, baritone and bass vocals), Ricky Rogers (upright bass, lead and baritone vocals) Tony Robertson (mandolin, lead and tenor vocals), the band captures a pure acoustic sound, with clean guitar tones, fine banjo picking and mandolin work, underpinned by solid bass with clear vocals and harmonies, aiming at minimum production density and an organic feeling. While Corduroy and Daughter are a couple of songs with power, authority, refinement, and grace, the bulk of this set takes on a more business-like aspect. It gives the listener everything but the heart.
The entreaties are obvious, even at the outset. Once is an ideal album opener, a rallying cry flush with abject enthusiasm. It's a fine, textbook example of straightforward bluegrass; the guys jump right in and don't let up until the last note. The poppy Better Man is well-articulated, with rough-hewed vocals that remain sensitive and eloquent. Spin The Black Circle is an encouraging number that offers strong Scruggs-style banjo and a neat harmony arrangement with well-choreographed alternating vocal parts. The closing Nothingman is a modest and stripped-back take, and it doesn't have to fundamentally alter the song's DNA to make it work as a country song. 
May 2023