International Festival of Country Music, Wembley Monday, April 7, 1980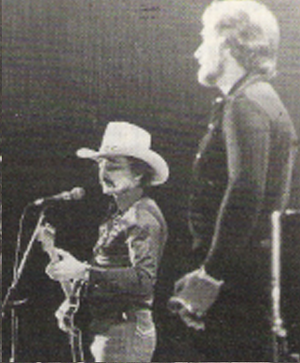 The Monday night show at Wembley was destined to be the longest of the four-day festival, and just after 11pm, more than seven hours after I had first taken my seat, I knew it had been the best day. A fitting climax to a highly successful festival with Emmylou Harris easing encore after encore from an audience that by rights should have been sick to the back teeth of country music.
Four hours earlier it had been a different story. All of the major acts had been delayed on their flight from Holland and then got stuck in the Easter traffic jams, so we were treated to one mediocre act following another as the programme was hastily reshuffled and altered. The audience were becoming so listless and bored by the succession of lifeless acts that when Bjorn Halaand & Country Snakes took to the stage half-way through the evening, they were ready to cheer anyone who sang familiar songs with a half-decent voice and a little stage presence.
He proved that the majority of British country fans are enslaved to the past as he earned an undeserved encore by pairing two Jim Reeves classics,
Four Walls
and
I Love You Because
to close an act that was pleasant but all too predictable. Unwittingly, he came back with the perfect encore—
Crystal Chandeliers
—it was like Manna from heaven to the audience. Yet less than two hours later most couldn't remember this Norwegian's name, let alone what he looked like!
But that is the secret of Wembley's long-lasting success story; the element of surprise, the unpredictable nature of the audience, and the way 'unknowns' can become stars; almost 'overnight.'
The evening's entertainment was kicked-off by Peggy Sue and Sonny Wright, who performed adequately and settled the audience for the lengthy programme that was to follow. Fellow American Kenny Serratt followed, proving that a voice like Merle Haggard can be a hindrance and at the same time an asset. It was uncanny hearing him singing
Ramblin' Fever
, but a three or four-song set doesn't give an artist the chance to make an impression.
The short time on stage certainly didn't deter Frank Ifield, who proved to be one of surprise hits of the evening. Tall and slender, he radiates the need to be before an audience. He opened his set with
Touch The Morning
, which got the adrenaline flowing nicely. His band, Barbary Coast (including vocal support from Ann and Ray Brett), provided a warm and full background to the powerful yet sensitive Ifield vocals. It became apparent that he had managed to defeat the oldie trap that plagues so many artists returning to the big time after a long lay-off, when he received such good reaction to new songs like
Country Comfort, Three Good Reasons
and
Cotton Jenny
. He closed with
Lovesick Blues
, but was on too early in the day to win the encore he so richly deserved.
Whilst the acts were changing over, Pete Sayers did a grand job filling in the gaps with music and keeping things moving smoothly. Though this did not go down too well with sections of the audience (some who were down right rude, especially, should be ashamed), with the problems being experienced due to lack of soundchecks during the day, I believe we owe a lot to Pete Sayers for doing a tough job with patience and professional etiquette.
British rockabilly band Matchbox surprised many, myself included, with their exciting act. They geared their music to the audience, beginning with the old Buddy Holly/Bob Montgomery tune
Got To Get You Near Me Blues
, throwing in their own hit
Rockabilly Rebel
and including a powerhouse treatment of
Settin' The Woods On Fire
.
Norwegian Teddy Nelson (who sounded like Willie Nelson), Japanese fiddle player Shoji Tabuchi and our own Raymond Froggatt all failed to infuse the audience, though it must be added that they all gave a good account of themselves.
I felt especially sorry for Canadian songbird Colleen Peterson. She had the task of following Bjorn Halaand's encore, and though musically, she was ten times superior, a poor sound mix and unfamiliar material gave her little chance to communicate with the audience. She did a very good version of Gail Davies'
Bucket To The South
, but with an audience wanting familiar songs to sing along with, they were just not interested.
Don Everly was more to their liking. His performance broke no new ground, confining himself to established oldies like
Walk Right Back, Bye Bye Love
and
All I Have To Do Is Dream
, but unless Don finds himself a bigger following in this country by bringing new material into his act, his visits will be confined to once a year at Wembley.
A double-barrelled 40 minutes of high quality, sophisticated, contemporary country-rock music was served up by David and Howard Bellamy and their band. Their numbers mainly last three minutes, and they each get to the point very quickly. They spin from the wistful country sounds of
Dancin' Cowboys
to the rock of
Satin Pillows
and proved to be more than accomplished.
The entire act was slick, professional and believable in bringing responsive reaction from the audience. They opened on a strong note with their first big hit
Let Your Love Flow
, included
Spiders And Snakes
, the song they wrote for Jim Stafford, and finished with their own biggie,
If I Said You Had A Beautiful Body
, leaving the stage to the strains of
Let Your Love Flow
and incredible audience response that pulled them back for an encore with
Miss Misunderstood
.
The Wembley debut of Joe Sun and his band Shotgun proved to be a great success, musically and artistically, even if the audience was not really in tune with this new kind of 'country' music. Always in complete control of his voice and his band, Joe is capable of producing either raw power as in
Shotgun Rider
or a tender caress as in
I Came On Business For The King
.
His music was an exciting fusion of country, blues and rock. Merle Haggard's
The Bottle Let Me Down
was a good example of the different musical modes of Sun and his band as it swayed into a disco-flavoured rocker. Joe Sun has the magnetism of an artist who is heading toward the status of the established giants. It's just a matter of time. But for now he is a good ten years ahead of the British country fan, so his acceptance this side of the Atlantic is likely to be a slow and gradual event.
After a lengthy pause whilst instruments were set up and sound balances checked, Emmylou Harris took to the stage completely alone and opened with an acoustic version of
To Daddy
, which sounded excellent and was further helped by a crisp sound system. It was a brave move by Emmylou, as by this time the audience were rather restless and impatient, and it took a star of her reputation to win them back.
The Hot Band quietly took their places behind the singer and the audience were treated to an hour of the finest music of the evening, the weekend and maybe the year. The performance included such classics as
You Never Can Tell
which featured nice solo work by special guest Albert Lee on lead guitar,
Sin City
with a brilliant steel solo by Hank DeVito, and
Here, There And Everywhere
which features Emmylou's superb vocal ability and proved to be the highlight of the evening.
It comes as an undeniably exciting pleasure when a singer and band delivers both music and magic befitting their reputation. Emmylou received thunderous applause, gained two encores and could have gone on singing all night if the hour hadn't been so late, and the audience by this time fulfilled and slightly weary.
First published in Country Music people, June 1980