First published in Country Music People, September 1974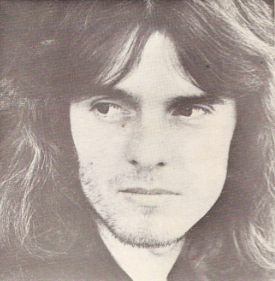 It's sad, but it would seem almost inevitable that Ian Matthews would eventually be living and recording on the West Coast of America. From the start of his involvement with music he has been deeply influenced by much of the music stemming from that part of the World. In the mid-1960s working with The Pyramids, his first professional ties with music, he was playing a form of surfing music based loosely on the harmonies of the Beach Boys and the jangling guitar style that typified the freedom of the West Coast.
After this short apprenticeship served mainly in the pubs and clubs of South London he joined Fairport Convention, a group that's never really achieved the commercial success it deserved, but nevertheless has carved its own niche in the British pop scene. Although The Fairports were basically an acoustic/electric English folk group, much of the material they record and performed during the days that Ian Matthews was with them was American-styled music. Their own songs had that same flavour and their stage act in particular ranged from the contemporary folk songs like Leonard Cohen's
Suzanne
and Tim Buckley's
Morning Glory
and in the later days to the country stuff like
Reno Nevada
.
Following Matthews departure from the group in 1969 it seemed to drift strongly into a traditional folk vein and away from the country-rock influences. Ian Matthews was left completely on his own following the split. The Fairports were still on their way to notoriety so they hadn't left him too much in the way of funds for a solo career. After several months of deciding exactly in which direction he was going to head musically, he finally formed the nucleolus of Matthews Southern Comfort. In the spring of 1970 he released the debut album MATTHEWS SOUTHERN COMFORT, which strangely enough featured the services of several members of Fairport Convention along with Gordon Huntley and Pete Willshier on steel guitar. Shortly after the album was cut Matthews actually formed the group that was going to present his own softly rocking country music to the English public.
He integrated the country-styled pedal steel guitar playing of Gordon Huntley into what was basically a pop/rock group that was going to specialise in gentle, melodic, harmonic sounds. At the time Matthews was confident that country-rock was going to grow in popularity and he wanted to be the one to present it to the English public. His idea was to start a band in England with a country feel without actually copying the style of any American country-rock. This was obviously a different entity to establish here, but amazingly Matthews Southern Comfort did appeal to the public in no uncertain terms.
Matthews Southern Comfort with their effortless style of country music managed to put Joni Mitchell's
Woodstock
into the best sellers where two earlier contrived versions had failed to impress. Country music was easily the strongest element in Southern Comfort's music, and in the same way that Fairport Convention never suffered any serious competition in what they were doing, neither did Southern Comfort. As far as English music goes, the group was unique, just in terms of the music, and it's feel, not in terms of the quality or anything like that. They were a countryish band, and as such generated a lot of influence that British country groups picked up on.
Just when the group seemed to be approaching the pinnacle of success Ian Matthews dropped a bombshell—he was going to quit the group that he had both formed and carried his name. It all happened within one year 1970—the group was formed, cut three albums, got a number one single and disbanded. The remaining members of the group picked up the pieces and continued under the shortened name of Southern Comfort, while Matthews again picked up the threads and began a new solo venture.
Though his TIGERS WILL SURVIVE album was a sideways step away from country, with Plainsong he stepped right back again. The group came close to achieving the prefect modern country sound of the West Coast; on stage they could do real justice to songs by such country luminaries as Merle Haggard and Don Gibson mixed in with contemporary heavyweights like Neil Young, James Taylor and, of course Matthews' own perceptive writing.
Plainsong's beautiful In Search Of Amelia Earhart album was exceptionally well received by the critics and by the music business but it missed out somewhere in getting across to the public. Matthews was allowed a free hand on the album production and his mark is unmistakable. Paul Siebel's
Louise
is a pure delight of beauty, while Albert Brumley's
I'll Fly Away
is given a new breath of life with a most unusual arrangement that works brilliantly.
It was the lack of acceptance of this album that brought about the break-up of the group towards the end of 1972 and the subsequent decision of Ian Matthews to move out to America. His music has always been very Californian in feeling and the move to his spiritual home seems to have done him the world of good. His latest album VALLEY HI is his first to be cut in the States at the fast-growing Countryside studios in Los Angeles. It's by no means straight country, but then to talk about just country music is perhaps misleading—except that country music is a very personal music, and Ian Matthews' music affects me in just that way—a personal statement from a man who has a deep feeling for certain aspects of country music.
What is so striking about this album us the sound it achieves—beautifully produced by Mike Nesmith, the playing and singing are really good. The album includes a number of Ian's own songs and, as is expected from him, a few well chosen ones by other people. Mike Nesmith's
Propinquity
, a song which is destined to become a country classic, is handled in a commercial setting with Red Rhodes' steel guitar hanging around Matthews plaintive vocal giving a very pained experience of lost love.
Surprisingly Richard Thompson's
Shady Lies
comes over as an authentic country number with the fiddle sawing away in the background commiserating with Ian over the problems of a love that is all but ended. Jackson Browne's
These Days
is a real delicate number, and though Browne has not yet been recognised by the country fraternity for his thoughtful, melodic writing, his day must soon be due. The acoustic guitar work is tidy behind Matthews' vocal which gives the song more depth than Browne's original and its full marks to Red Rhodes who understands just when it's necessary to slide his steel guitar into the limelight without detracting at all from the vocal.
The overall sound throughout this album is clean. Listening to the album you can hear that it could never have been recorded in England. Over here simplicity would have been lost in a cluttered assortment of sounds that would have distracted from the basic beauty of it all. Again Matthews demonstrates his own unique talent as a writer and as on his previous albums his very own songs stand up well against those by others who are more recognised by the trade.
Leaving Alone
is a gem of purity and clarity that just rolls off the player and surrounds the listener with its beauty while
Keep On Sailing
almost steals the limelight from Steve Young's
Seven Bridges Road
as the best song of the album.
Ian Matthews is a natural musician with good taste in whatever he does and he always succeeds in injecting something of himself into his records. With this record I caught something of the warmth and perfectionist attitude he gives to his music. Britain has lost a major contemporary musician in the shape of Ian Matthews to America and this album proves he has the talent and strength of character to really produce something worthwhile and make a career Stateside. Britain's loss is America's gain and there appears on the British contemporary country scene a void that's going to be hard to fill.