Howdy Glenn - I Can Almost See Houston: The Complete Howdy Glenn 
Omnivore Recordings  
***1/2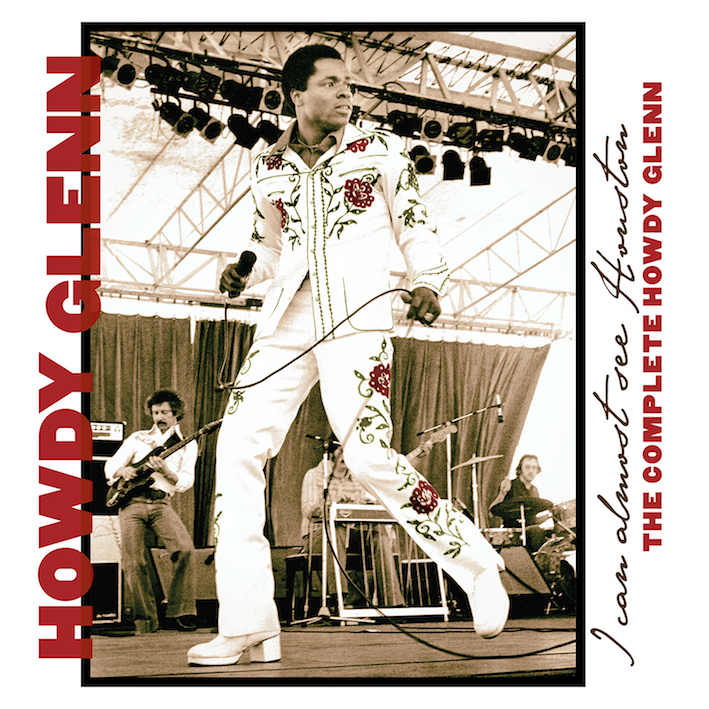 I must admit upfront that country singer Howdy Glenn somehow slipped by me in the 1970s. That shouldn't be too surprising. The Californian firefighter had a rather short-lived four-year period in the spotlight. Signed to Warner Bros, he scored a couple of minor country hits with Touch Me (No. 62 – 1977) and You Mean The World To Me (No. 72 – 1978). Despite this, some 45 years later, the good folks at reissue label Omnivore Recordings, have released this 23-track compilation of all of his known recordings. The retrospective set has been produced for release by Grammy nominee Scott B. Bomar and Grammy winner Cheryl Pawelski with restoration and mastering by Grammy winner Michael Graves. No expense has been spared with the CD booklet featuring extensive photos and new liner notes from Bonar, outlining not only a brief history of black artists in country music, but also Howdy Glenn's place in that story.   
Known at the time as the Singing Fireman, Howdy Glenn arrived on the American country scene in 1975 with a slight twang in his voice and plenty of songs in his heart. A lovely batch of songs, dusty and a little lonesome, with some nice orch-pop and string flourishes, on this sprawling compilation he's an everyman charmer, Nashville-style, expanding his palette as he assumed the role of a country music jack of all trades. He possessed the voice of a country-pop crooner, with just enough grit to make it real. And he had a great knack for choosing material that suited his style.  The songs sound fresh and exuberant, but they also possess a certain familiarity factor that makes each offering that much easier to readily embrace. His soft, soulful vocals carry most of these songs, but occasionally are lost in the smoothly produced pop-country arrangements that surrounds them. It's undoubtedly country—very much of a mid-1970s vintage—grounded by its well-constructed songs that retain their charms after multiple plays due to their sculpted melodies and Howdy Glenn's light touch … evidence that he was as savvy a vocalist as he was a budding country star. A smart study in Charley Pride sheen and slinky, soft-focus 1970s country, it could have come out of the jukebox at Gilley's in the pre-Urban Cowboy era. It's never-less than a pleasant set, full of tight, honeyed country songs that would be a great addition to anyone's easy listening album collection,  
The opening title song is a beautifully crafted slice of pop-country with a lushly layered backdrop of orchestrated strings, soft guitars and just a hint of pedal steel way back in the mix. You cannot help but to be beguiled and blown away by his emotional performance; even the brief, spoken interlude doesn't sound too cheesy. Released as a single in the summer of 1975, the record was a regional hit, but being on a small indie label failed to make the national country charts. It did garner cover versions, initially by Katy Moffatt (a minor country hit in early 1976), then Freddie Hart, Ronnie Milsap and later several others including Bobby Bare. Milsap's version became the best-known, as he included it on his 1976 RONNIE MILSAP LIVE album. Strangely, he never recorded the song in the studio and though it was never released as a single, it remained part of his live act for a number of years. Howdy's follow-up singles, Where Did The Years Go and Old Dogs, Children And Watermelon Wine failed to make an impact, despite his regularly sold-out shows all across the West Coast and appearances on the Academy of Country Music Awards Show following his 1975 nomination for Top New Male Vocalist.  
Howdy had made an impact with those in the music business and in early 1977 he was signed by Andy Wickham to Warner Bros. Records. He was now given the full production treatment, working with some of the West Coast's top session players including James Burton (guitar), Billy Walker (guitar) JayDee Maness (steel), Curtis Stone (bass), Ron Tutt (drums), Larry Muhoberac (piano), Ian Whitcomb (organ) and Jay Migiliore (sax). The difference in recording quality is immediately noticeable from the first session in April 1997 on Howdy's rendition of Merle Haggard's White Line Fever. It starts out with finger-picked guitar and gradually adds walking bass, pedal steel and electric guitar moving it along before strings sweep in. Solid and assured, his vocal reflects both his confidence and conviction. Coupled with Don't Take Pretty To The City, it became his first Warner Bros. single. While the studio musicians' contributions add sonic depth to the latter song's arrangement and reflect a welcome understanding of country music structures, lyrically the song was too weak for the A-side of the single.
The next single, a revival of Willie Nelson's Touch Me, allows Howdy to explore his pop crooner territory a bit more and does indeed sound like a forgotten soft -country gem from the mid-1970s. It also became the first of his two country chart entries, peaking at a disappointing number 62 in September 1977.
That Lucky Old Sun is meditative and mesmerizing; the song gently rises and shines to a powerful climax. It would've made for a good album track to demonstrate his vocal versatility, but strangely, Warner released it as his third single, and it sunk without trace.  More in keeping with Howdy's live performances was the upbeat You Mean The World To Me. Previously a country chart-topper for David Houston in 1967, it's a bright, quick number that, at its core, is a cheery love song. Sweet n' soaring singalong ready to rouse smiles and lift souls, a spirited and irresistible outpouring of sunshine and jingle-jangle charm it made number 72 on the charts in July 1978, and sadly it was the beginning of the end of Howdy Glenn's career as a successful country singer.  
He carried on performing up and down the California coast into the early 1980s before returning to firefighting full-time. He left behind a reasonable body of work, showcasing his wide vocal range through a varied selection of songs. Earl Thomas Conley's When You Were Blue And I Was Green gives his soulful voice space to breathe. Other songs follow suit, from the easy stride of Hello Out There to the sprightly Tucson, the easy gait of Cowboys Ain't Supposed To Cry to the honky-tonk of I'm Here To Drink It All and on to the emotional outpouring of You Ought To Hear Me Cry.     
January 2023