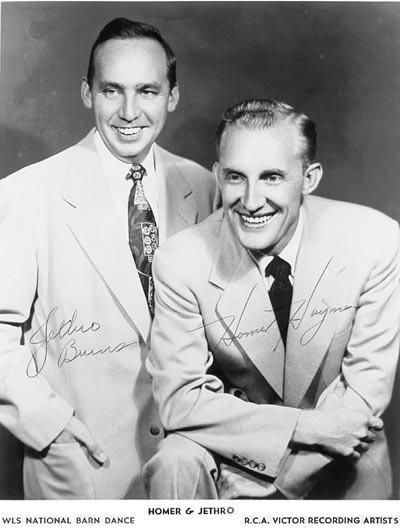 Comedy duo Homer & Jethro specialised in parodies of popular songs, and all too often their humorous material concealed their musical skills. Both Homer Haynes and Jethro Burns were accomplished instrumentalists on guitar and mandolin respectively. Known as 'the thinking man's hillbillies,' they got a lot of mileage out of an act that should not have lasted or gone as far as it did, at least on the surface of things. Certainly there were other, far more established duos mining similar turf on the country music circuit, with Lonzo and Oscar leading the way. But Homer & Jethro were far more than just two hayseeds doing cornball send-ups of pop tunes. Underneath the cornpone facade were two top-flight musicians with a decidedly perverse sense of humour and a keen sense of satire.

Henry D. Haynes (Homer) was born in Knoxville, Tennessee on July 27, 1920, and Kenneth D. Burns (Jethro) also in Knoxville on March 10, 1923. The duo met in their early teens and started playing music together almost immediately, with Haynes on guitar and Burns alternating between mandolin and banjo. The pair made their radio debut on local radio station WNOX in the mid-1930s as part of a larger group, the String Dusters, but continued to work local shows as a duo. One night, they were listening to a radio show and a pop singer was doing a broad and fairly denigrating takeoff of a hillbilly singer singing a country tune. The singer's performance irked Homer & Jethro no end. They decided right then and there that payback was the only logical solution to this kind of insult. They interspersed their act with send-ups of current popular songs, giving them a mock hillbilly rendition. Discovering that their parodies were gaining more attention than their straight material, they opted to become country comics.

By 1938, they had broken off from the String Dusters and moved up to the more prestigious Renfro Valley Barn Dance in Kentucky, later broadcasting on the Chicago-based Plantation Party, until World War II service caused a temporary halt to their career. Getting back together after their respective discharges, they started up their radio appearances again, and became cast members on the National Barn Dance on Chicago's WLS. They also guested on the Grand Ole Opry and the Cincinnati based Midwestern Hayride. Their recording careers also began during this time period, signing with King Records out of Cincinnati, and releasing several singles between 1946 and 1948, including their first national chart entry, I Feel That Old Age Creeping On.

Legendary record producer Steve Sholes signed them to RCA Victor in 1949, a label affiliation that was to last throughout their recording career. Their first big hit was a take off on Baby, It's Cold Outside with a quite young June Carter contributing on vocals. The duo joined up briefly with Spike Jones & His City Slickers, appearing in the stage show for a while, recording at least one session with him in 1950 (Pal-Yat-Chee), and letting Jones'agency handle all their bookings. The 1950s found them scoring big with numerous guest spots on television, and the hit singles continued right through to the mid 1960s, the most notable being (How Much Is) That Hound Dog In the Window, Hernando's Hideaway, The Battle Of Kookamonga (a parody of The Battle Of New Orleans) and I Want To Hold Your Hand. The duo also recorded a number of instrumental albums, at one time teaming up with Chet Atkins to form a recording group known as the Nashville String Band (Jethro was Atkins' brother-in-law).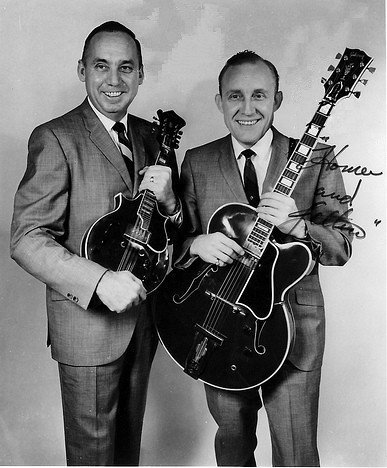 But it was always the comedy tunes that endeared Homer & Jethro to generations of both new and old fans. Unlike many of the hillbilly acts of the time, Homer & Jethro appealed to audiences in the north as well as the south. They could be on the bill with Roy Rogers or trading cornball putdowns with Jimmy Dean or slickly one-upping Johnny Carson and they always held their own. As time went on, their act became more deadpan and if anything, even more polished, as if to distance themselves from everything else that had existed before them in their little corner of the country world. Homer & Jethro never had to dress up in bib overalls and play hicks to get their act over. If anything, the straighter they dressed, the straighter they acted, the funnier they were. In 1959, the duo won a Grammy award for The Battle of Kookamonga, their hilarious spoof of Johnny Horton's The Battle of New Orleans. When Southern country humour became a small phenomenon of the 1960s with the success of television shows like The Beverly Hillbillies, Petticoat Junction, and Green Acres, Homer & Jethro's career went into overdrive. They released an avalanche of records like there was no tomorrow, issuing eight albums of new material between 1966 and 1967 alone. Their studio efforts were produced by Chet Atkins with the cream of Nashville sidemen and one album, PLAYING IT STRAIGHT, found them in an all-instrumental setting.

The 39-year-old partnership terminated with the death of Henry Haynes on August 7, 1971. Jethro Burns went into semi-retirement for a few years, being coaxed back into show business by folk singer Steve Goodman, who brought him out on tour. A brilliant mandolinist, he became involved with country-jazz, playing almost in Django Reinhardt fashion. Following a short illness, Burns died on February 4, 1989. Homer & Jethro were inducted into the Country Music Hall of Fame in 2001.

Recommended Listening

Barefoot Ballads (Stetson 1988)
Assault The Rock & Roll Era (Bear Family 1989)
The Best of Homer & Jethro (RCA 1992)
America's Favourite Song Butchers: The Weird World of Homer & Jethro (Razor & Tie 1997)
Jethro Burns -Jethro Live (Flying Fish 1989)
The Nashville String Band -The World's Greatest Melodies (RCA 1972)