Heather Myles - Traveller's Choice
First published in Country Music International, May 1996
Heather Myles, honk-tonk heroine and the one they call 'the female Dwight Yoakam' picks her favourite songs for the long road ahead
Most of my memories of music and certainly my favourite songs come from my childhood. Those were the important years when I discovered most of the music I liked. Many of the artists I picked up on then have stayed with me ever since.
People like Loretta Lynn and Tammy Wynette—two of my genuine, all-time favourites—will always be associated in my mind with being a kid, living on a ranch and listening to my mom's eight-track in the car. Remember eight-tracks? Every song I heard as a kid seemed to be on an eight-track. I've still got a stack of them at home somewhere, but nothing to play them on.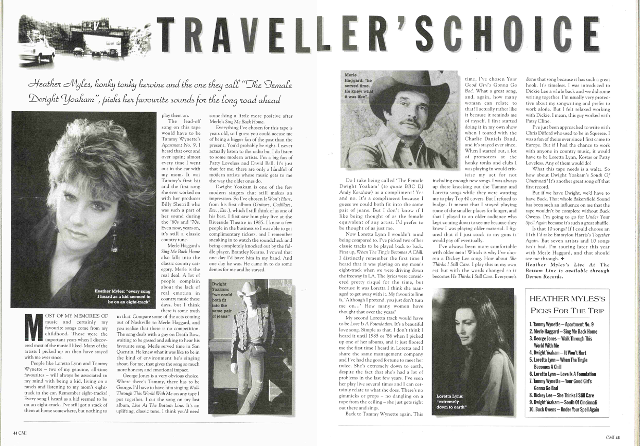 The lead-off song on this tape would have to be Tammy Wynette's Apartment No. 9. I heard that over and over again; almost every time I went out in the car with my mom. It was Tammy's first hit and the first song she ever worked on with her producer Billy Sherrill, who was such a part of her sound during the 1960s and 1970s. Even now, years on, it's still a classic country tune.
Merle Haggarďs Sing Me Back Home also falls into the classic country category. Merle is the real deal. A lot of people complain about the lack of real emotion in country music these days, but I think there is some truth in that. Compare some of the acts coming out of Nashville to Merle Haggard, and you realise that there is no competition. The song deals with a guy on Death Row, waiting to be gassed and asking to hear his favourite song. Merle served time in San Quentin. He knew what it was like to be in the kind of environment he's singing about. For me, that gives the song so much more honesty and emotional impact.
George Jones is a very obvious choice. Where there's Tammy, there has to be George. I'd have to have him singing Walk Through This World With Me on any tape I put together. I cut the song on my last album, LIVE AT THE BOTTOM LINE. It's an uplifting, classic tune. I think you'd need something a little more positive after Merle's Sing Me Back Home.
Everything I've chosen for this tape is years old, so I guess you could accuse me of being a bigger fan of the past than the present. You'd probably be right. I never actually listen to the radio, but I do listen to some modern artists. I'm a big fan of Patty Loveless and David Ball. It's just that for me, there are only a handful of modern artists whose music gets to me the way the older ones do.
Dwight Yoakam is one of the few modern singers that still makes an impression. So I've chosen It Won't Hurt, from his first album (GUITARS, CADILLACS, ETC., ETC.), which I still think of as one of his best. I first saw him play live at the Riverside Theatre in 1985. I knew a few people in the business so I was able to get complimentary tickets, and I remember sneaking in to watch the soundcheck and being completely knocked out by the fiddle player, Brantley Kearns. I vowed that one day I'd have him in my band. And one day he was. He came in to do some demos for me and he stayed.
Do I take being called 'The Female Dwight Yoakam' (to quote BBC DJ Andy Kershaw) as a compliment? Yes and no. It's a compliment because I guess we could both fit into the same pair of jeans. But I don't know if I like being thought of as the female equivalent of any artist. I'd prefer to be thought of as just me.
Now Loretta Lynn I wouldn't mind being compared to. I've picked two of her classic tracks to be played back to back. First up, When The Tingle Becomes A Chill. I distinctly remember the first time I heard that it was playing on my mom's eight-track when we were driving down the freeway in L.A. The lyrics were considered pretty risqué for the time, but because it was Loretta I think she managed to get away with it. My favourite line is, 'Although I pretend, you just don't turn me on …' How many women have thought that over the years?
My second Loretta track would have to be Love Is A Foundation. It's a beautiful love song. Simple as that. I don't think I heard it until 1985 or 1986 when I picked up one of her albums, and it just floored me the first time I heard it. Loretta and I share the same management company and I've had the good fortune to meet her twice. She's extremely down to earth, despite the fact that she's had a lot of problems in the last few years. I've seen her play live several times and I can certainly relate to what she does. There's no gimmicks or props—no dangling on a rope from the ceiling—she just gets right out there and sings.
Back to Tammy Wynette again. This time, I've chosen Your Good Girľs Gonna Go Bad. What a great song, and, again, how many woman can relate to that? I actually rather like it because it reminds me of myself. I first started doing it in my own show when I toured with the Charlie Daniels Band, and it's stayed ever since. When I started out, a lot of promoters at the honky-tonks and clubs I was playing in would criticise my act for not including enough new songs. I was always up there knocking out the Tammy and Loretta songs while they were wanting me to play Top 40 covers. But I refused to budge. It meant that I stayed playing some of the smaller places for longer, and that I played to an older audience who kept coming down to see me because they knew I was playing older material. I figured that if I just stuck to my guns it would pay off eventually.
I've always been more comfortable with older men! Which is why I've chosen a Dickey Lee song. How about She Thinks I Still Care. I play this in my own set but with the words changed so it becomes He Thinks I Still Care. Everyone's done that song because it has such a great hook. It's timeless. I was introduced to Dickey Lee a while back and we did some writing together. I'm usually very protective about my songwriting and prefer to work alone. But I felt relaxed working with Diciye. I mean, this guy worked with Patsy Cline.
I've just been approached to write with Chris Difford, who used to be in Squeeze. I was a fan of theirs ever since I first came to Europe. But if I had the chance to work with anyone in country music, it would have to be Loretta Lynn, Kostas or Patty Loveless. Any of them would do!
What this tape needs is a waltz. So how about Dwight Yoakam's South Of Cincinnati? It's another great song off that first record. But if we have Dwight, we'd have to have Buck. That whole Bakersfield Sound has been such an influence on me that the tape wouldn't be complete without Buck Owens. I'm going to go for Under Your Spell Again because it's such a great shuffIe.
Is that 10 songs? If I could choose an 11th, I'd take Emmylou Harris' Together Again. But seven artists and 10 songs isn't bad. I'm touring later this year with Merle Haggard, and that should see me through.