Harley Allen - The Nashville Cats
First Published in Country Music International, July 1997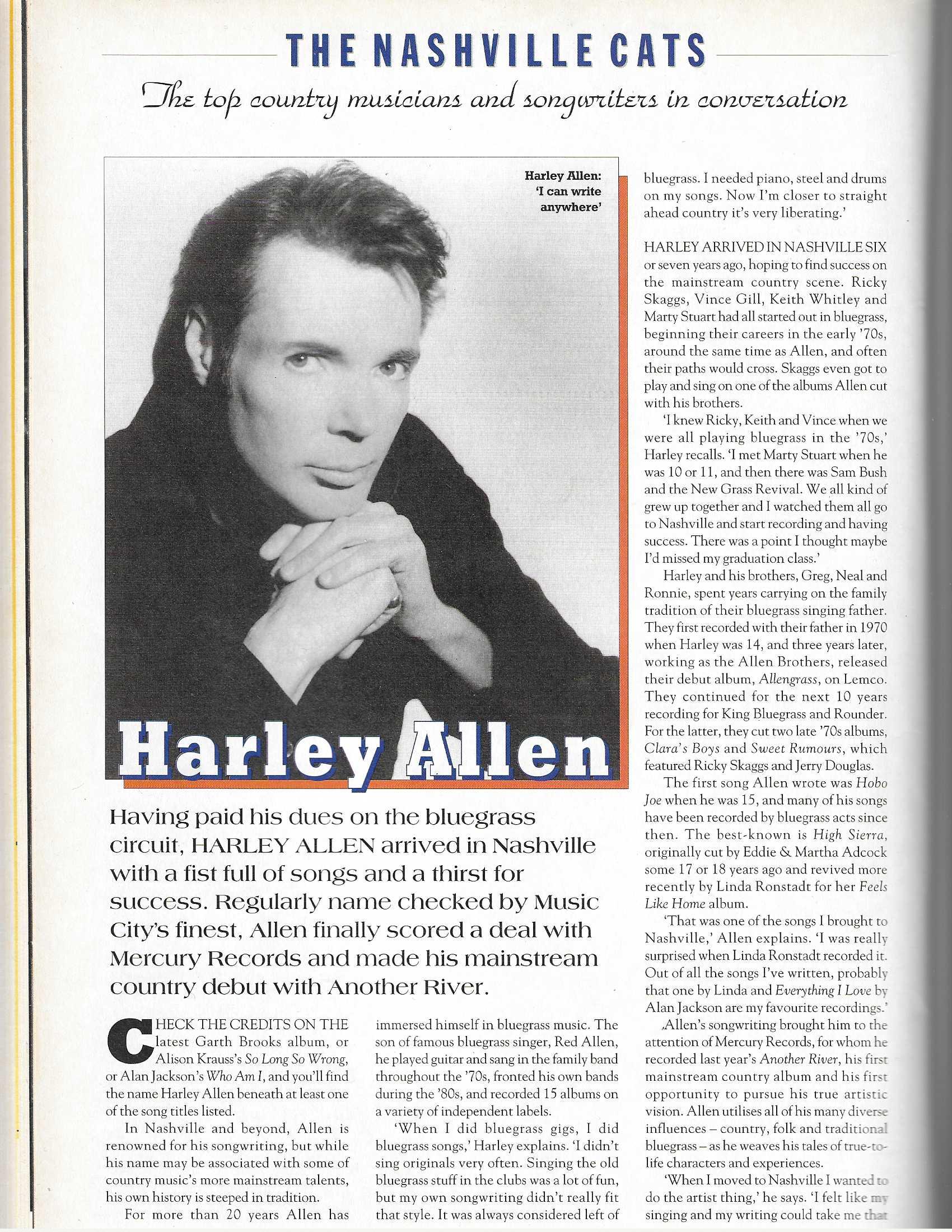 Having paid his dues on the bluegrass circuit, Harley Allen arrived in Nashville with a fist full of songs and a thirst for success. Regularly name checked by Music City's finest. Allen finally scored a deal with Mercury Records and made his mainstream country debut with ANOTHER RIVER.
Check the credits on the latest Garth Brooks album, or Alison Krauss's SO LONG SO WRONG, or Alan Jackson's WHO AM I, and you'll find the name Harley Allen beneath at least one of the song titles listed.
In Nashville and beyond, Allen is renowned for his songwriting, but while his name may be associated with some of country music's more mainstream talents, his own history is steeped in tradition.
For more than 20 years Allen has immersed himself in bluegrass music. The son of famous bluegrass singer, Red Allen, he played guitar and sang in the family band throughout the 1970s, fronted his own bands during the 1980s, and recorded 15 albums on a variety of independent labels.
"When I did bluegrass gigs, I did bluegrass songs," Harley explains. "I didn't sing originals very often. Singing the old bluegrass stuff in the clubs was a lot of fun, but my own songwriting didn't really fit that style. It was considered left of bluegrass. I needed piano, steel and drums on my songs. Now I'm closer to straight ahead country it's very liberating."
Harley arrived in Nashville six or seven years ago, hoping to find success on the mainstream country scene. Ricky Skaggs, Vince Gill, Keith Whitley and Marty Stuart had all started out in bluegrass, beginning their careers in the early 1970s, around the same time as Allen, and often their paths would cross. Skaggs even got to play and sing on one of the albums Allen cut with his brothers,
"I knew Ricky, Keith and Vince when we were all playing bluegrass in the 1970s," Harley recalls. "I met Marty Stuart when he was 10 or 11, and then there was Sam Bush and the New Grass Revival. We all kind of grew up together and I watched them all go to Nashville and start recording and having success. There was a point I thought maybe I'd missed my graduation class."
Harley and his brothers, Grey, Neal and Ronnie, spent years carrying on the family tradition of their bluegrass singing father. They first recorded with their father in 1970 when Harley was 14, and three years later, working as the Allen Brothers, released their debut album, ALLENGRASS, on Lemco. They continued for the next ten years recording for King Bluegrass and Rounder. For the latter, they cut two late 1970s albums, CLARA'S BOYS and SWEET RUMOURS, which featured Ricky Skaggs and Jerry Douglas.
The first song Allen wrote was Hobo Joe when he was 15, and many of his songs have been recorded by bluegrass acts since then. The best-known is High Sierra, originally cut by Eddie & Martha Adcock some 17 or 18 years ago and revived more recently by Linda Ronstadt for her FEELS LIKE HOME album.
"That was one of the songs I brought to Nashville," Allen explains. "I was really surprised when Linda Ronstadt recorded it. Out of all the songs I've written, probably that one by Linda and
Everything I Love 
by Alan Jackson are my favourite recordings."
Allen's songwriting brought him to the attention of Mercury Records, for whom he recorded last year's ANOTHER RIVER, his first mainstream country album and his first opportunity to pursue his true artistic vision. Allen utilises all of his many diverse influences—country, folk and traditional bluegrass—as he weaves his tales of true-to-life characters and experiences.
"When I moved to Nashville I wanted to do the artist thing," he says. "I felt like my singing and my writing could take me that way. By that point I was writing a lot of mainstream country songs. It takes quite a while—I think it took Keith Whitley four or five years."
Though Allen had made quite an impact as a writer, he found it tough trying to land a record deal. He did numerous showcases and songwriter's nights at the Bluebird Café and other small clubs. Alan Jackson, Hal Ketchum and Garth Brooks were forever talking about Allen's talent as a singer as well as a writer, but the labels were reluctant to sign him.
"I had about four or five different labels that were interested in me as an artist," he recalls. "Most of them loved the singing and the songs, but were put off when they found how old I was. At that point they were all signing 20-year-old kids."
Despite this setback, Allen's songwriting sustained him. His ability to capture human nature in verse was recognised by Hal Ketchum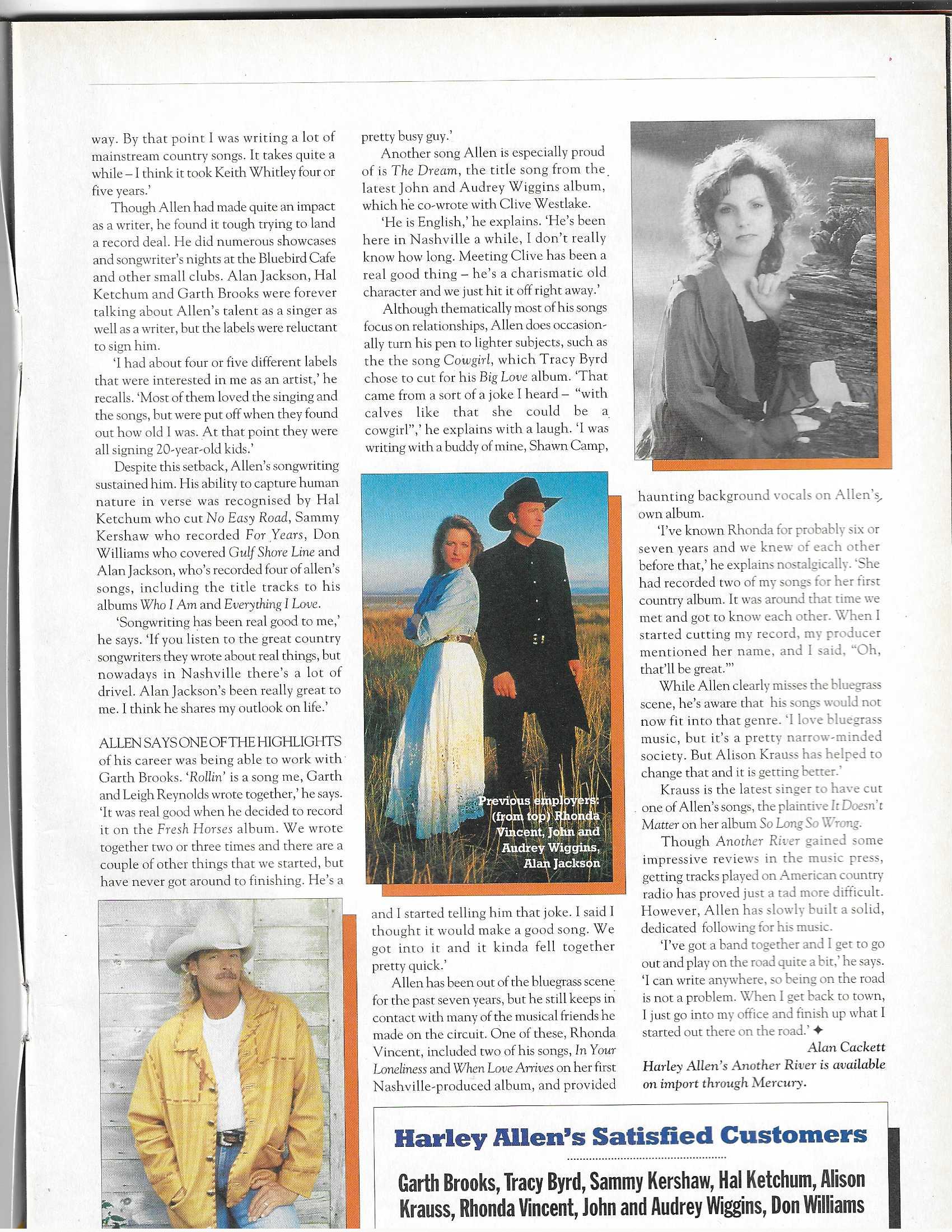 who cut
No Easy Road, 
Sammy Kershaw who recorded
For Years, 
Don Williams who covered
Gulf Shore Line 
and Alan Jackson, who's recorded four of Allen's songs, including the title tracks to his albums WHO I AM and EVERYTHING I LOVE.
"Songwriting has been real good to me," he says. "If you listen to the great country songwriters they wrote about real things, but nowadays in Nashville there's a lot of drivel. Alan Jackson's been really great to me. I think he shares my outlook on life."
Allen says one of the highlights of his career was being able to work with Garth Brooks. "Rollin' is a song me, Garth and Leigh Reynolds wrote together," he says. "It was real good when he decided to record it on the FRESH HORSES album. We wrote together two or three times and there are a couple of things that we started, but have never got around to finishing. He's a pretty busy guy."
Another song Allen is especially proud of is
The Dream, 
the title song from the latest John and Audrey Wiggins album, which he co-wrote with Clive Westlake.
"He is English," he explains. "He's been here in Nashville a while, I don't really know how long. Meeting Clive has been a real good thing—he's a charismatic old character and we just hit it off right away."
Although thematically most of his songs focus on relationships, Allen does occasionally turn his pen to lighter subjects, such as the song
Cowgirl, 
which Tracy Byrd chose to cut for his BIG LOVE album. "That came from a sort of a joke I heard—'with calves like that she could be a cowgirl'," he explains with a laugh. "I was writing with a buddy of mine, Shawn Camp, and I started telling him that joke. I said I thought it would make a good song. We got into it pretty quick."
Allen has been out of the bluegrass scene for the past seven years, but he still keeps in contact with many of the musical friends he made on the circuit. One of these, Rhonda Vincent, included two of his song, In Your Loneliness and When Love Arrives on her first Nashville-produced album, and provided haunting background vocals on Allen's own album.
"I've known Rhonda for probably six or seven years and we knew each other before that," he explains nostalgically. "She had recorded two of my songs for her first country album. It was around that time we met and got to know each other. When I started cutting my record, my producer mentioned her name, and I said, 'Oh, that'll be great.'"
While Allen clearly misses the bluegrass scene, he's aware that his songs would not now fit into that genre. "I love bluegrass music, but it's a pretty narrow-minded society. But Alison Krauss has helped to change that and it is getting better."
Krauss us the latest singer to have cut one of Allen's songs, the plaintive
It Doesn't Matter 
on her album SO LONG SO WRONG.
Though ANOTHER RIVER gained some impressive reviews in the music press, getting tracks played on American country radio has proved just a tad more difficult. However, Allen has slowly built a solid, dedicated following for his music.
"I've got a band together and I get to go out and play on the road quite a bit," he says. "I can write anywhere, so being on the road is not a problem. When I get back to town, I just go into my office and finish up what I started out there on the road."