Harlan Howard - The Nashville Cats
First Published in Country Music International, October 1997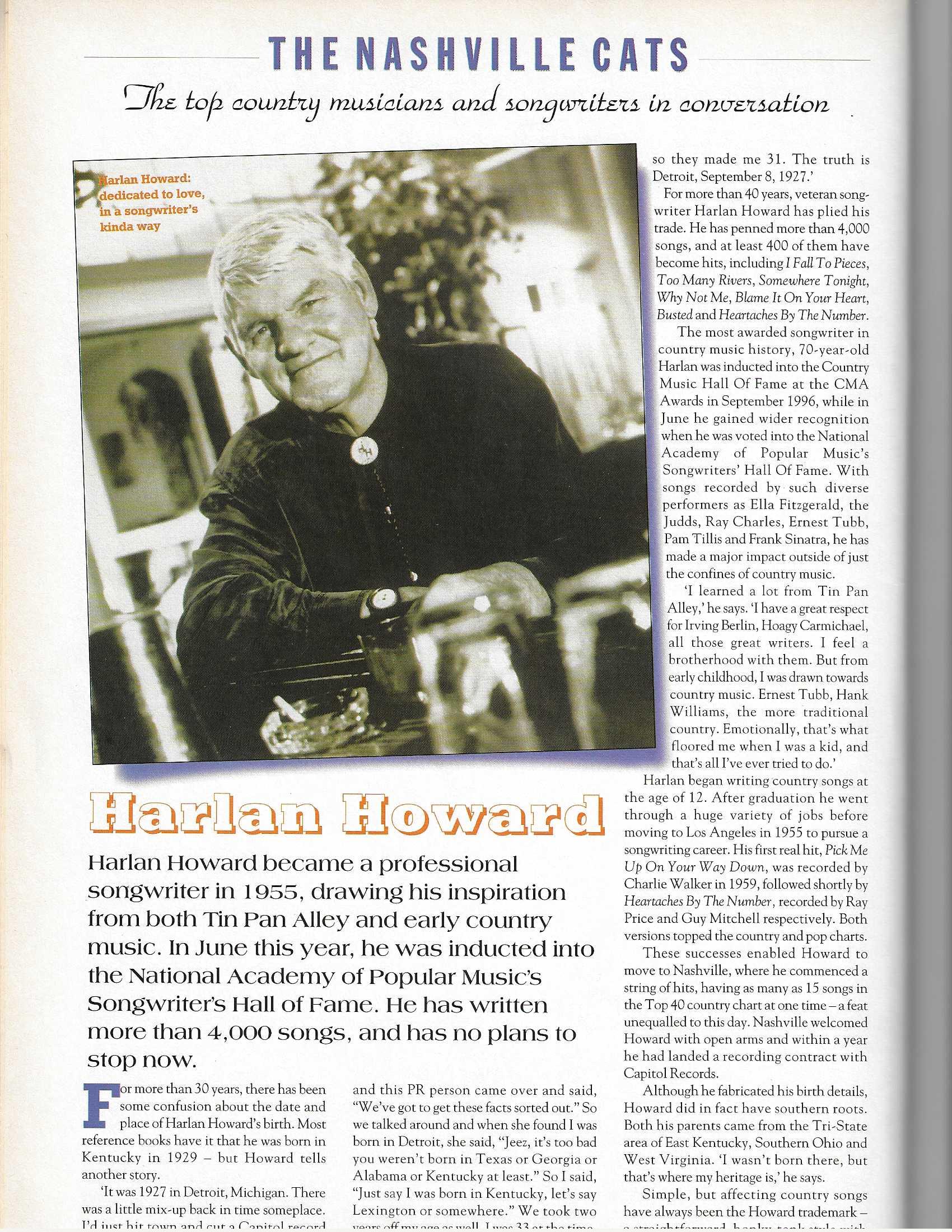 Harlan Howard became a professional songwriter in 1955, drawing his inspiration from both Tin Pan Alley and early country music. In June this year, he was inducted into the National Academy of Popular Music's Songwriter's Hall of Fame. He has written more than 4,000 songs, and has no plans to stop now.
For more than 30 years, there has been some confusion about the date and place of Harlan Howard's birth. Most reference books have it that he was born in Kentucky in 1929—but Howard tells another story.
"It was 1927 in Detroit, Michigan. There was a little mix-up back in time someplace. I'd just hit town and cut a Capitol record and this PR person came over and said: 'We've got to get these facts sorted out.' So we talked around and when she found I was born in Detroit, she said: 'Jeez, it's too bad you weren't born in Texas or Georgia or Alabama or Kentucky at least.' So I said: 'Just say I was born in Kentucky, let's say Lexington or somewhere.' We took two years off my age as well. I was 33 at the time, so they made me 31. The truth is Detroit, September 8, 1927."
For more than 40 years, veteran songwriter Harlan Howard has plied his trade. He has penned more than 4,000 songs, and at least 400 of them have become hits, including I Fall To Pieces, Too Many Rivers, Somewhere Tonight, Why Not Me, Blame It On Your Heart, Busted and Heartaches By The Number.
The most awarded songwriter in country music history, 70-year-old Harlan was inducted into the Country Music Hall Of Fame at the CMA Awards in September 1996, while in June he gained wider recognition when he was voted into the National Academy of Popular Music's Songwriters' Hall of Fame. With songs recorded by such diverse performers as Ella Fitzgerald, the Judds, Ray Charles, Ernest Tubb, Pam Tillis and Frank Sinatra, he has made a major impact outside of just the confines of country music.
"I learned a lot from Tin Pan Alley," he says. "I have a great respect for Irving Berlin, Hoagy Carmichael, all those great writers. I feel a brotherhood with them. But from early on, I was drawn towards country music. Ernest Tubb, Hank Williams, the more traditional country music. Emotionally, that's what floored me when I was a kid, and that's all I've ever tried to do."
Harlan began writing country songs at the age of 12. After graduation he went through a huge variety of jobs before moving to Los Angeles in 1955 to pursue a songwriting career. His first real hit, Pick Me Up On Your Way Down, was recorded by Charlie Walker in 1959, followed shortly after by Heartaches By Number, recorded by Ray Price and Guy Mitchell respectively. Both versions topped the country and pop charts.
These successes enabled Howard to move to Nashville, where he commenced a string of hits, having as many as 15 songs in the Top 40 country chart at one time – a feat unequalled to this day. Nashville welcomed Howard with open arms and within a year he had landed a recording contract with Capitol Records.
Although he fabricated his birth details, Howard did in fact have southern roots. Both his parents came from the Tri-State area of East Kentucky, Southern Ohio and West Virginia. "I wasn't born there, but that's where my heritage is," he says
Simple, but affecting country songs have always been the Howard trademark—a straightforward, honky-tonk style with the subject matter being love in all of its intricacies.
"Most people want to hear about love and the quest for love," he says. "That's so dominant in people's lives that it's almost foolish to waste your time writing something that doesn't have to do with a man and a woman and their need for each other. That's the only thing that counts."
Harlan has an affinity with the fairer sex. "I write songs almost exclusively for women. I really love women, I think women are better people than guys. I know us pretty well and I know them pretty well and I get along great with women. Most of my friends that I hang around with are women. I'd rather sit around a table full of women than guys anytime. I feed off them and give them a whole lot of trash talk, but they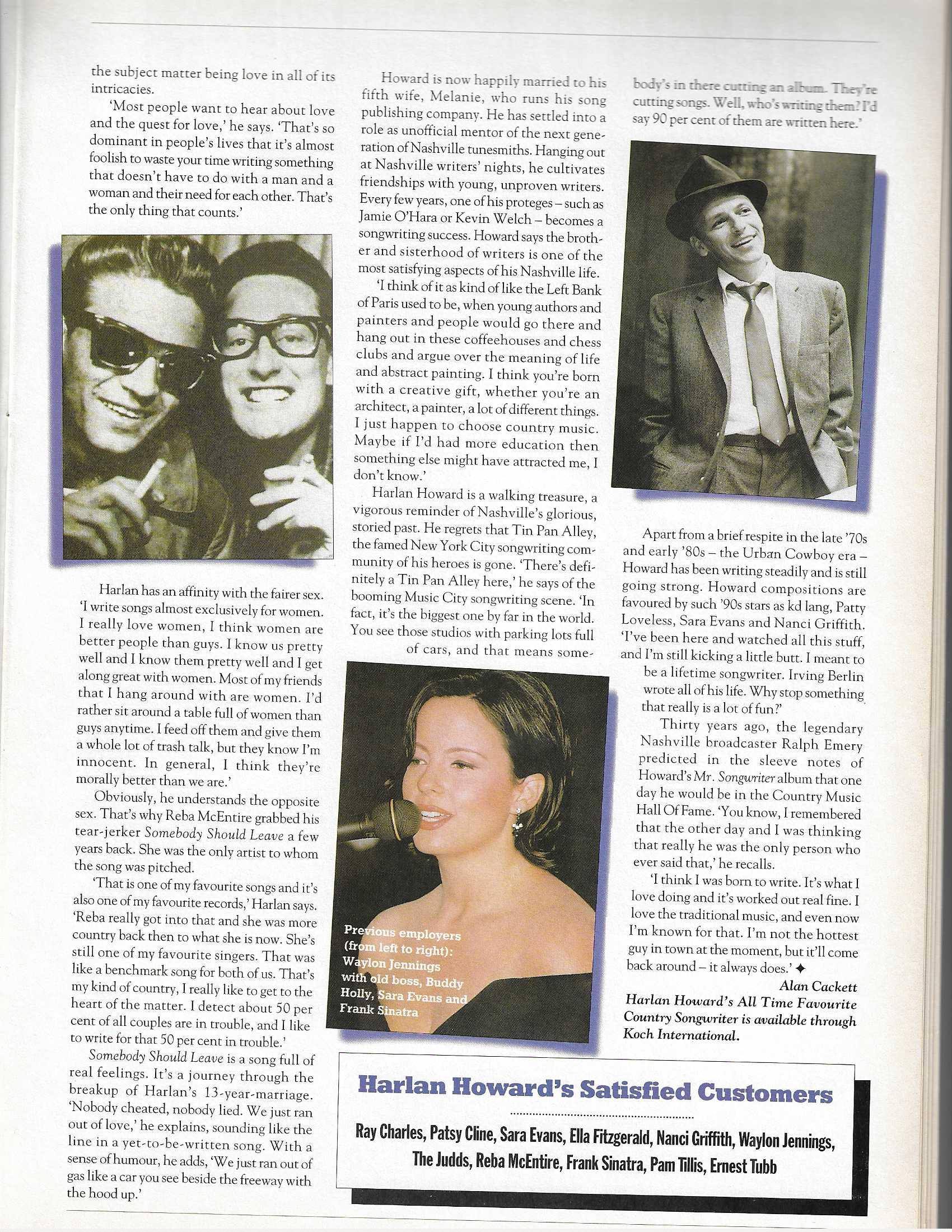 know I'm innocent. In general, I think they're morally better than we are."
Obviously, he understands the opposite sex. That's why Reba McEntire grabbed his tear-jerker Somebody Should Leave a few years back. She was the only artist to whom the song was pitched.
"That is one of my favourite songs and it's also one of my favourite records," Harlan says. "Reba really got into that and she was more country back then to what she is now. She's still one of my favourite singers. That was like a benchmark song for both of us. That's my kind of country, I really like to get to the heart of the matter. I detect about 50 per cent of all couples are in trouble, and I like to write for that 50 per cent in trouble."
Somebody Should Leave is a song full of real feelings. It's a journey through the breakup of Harlan's 13-year-marriage. "Nobody cheated, nobody lied. We just ran out of love," he explains, sounding like the line in a yet-to-be-written song. With a sense of humour, he adds, "We just ran out of gas like a car you see beside the freeway with the hood up."
Howard is now happily married to his fifth wife, Melanie, who runs his song publishing company. He has settled into a role as unofficial mentor of the next generation of Nashville tunesmiths. Hanging out at Nashville writers' nights, he cultivates friendships with young, unproven writers. Every few years, one of his proteges—such as Jamie O'Hara or Kevin Welch—becomes a songwriting success. Howard says the brother and sisterhood of writers is one of the most satisfying aspects of his Nashville life.
"I think of it as kind of like the Left Bank of Paris used to be, when young authors and painters and people would go there and hang out in these coffeehouses and chess clubs and argue over the meaning of life and abstract painting. I think you're born with a creative gift, whether you're an architect, a painter, a lot of different things. I just happen to choose country music. Maybe if I'd had more education then something else might have attracted me, I don't know."
Harlan Howard is a walking treasure, a vigorous reminder of Nashville's glorious, storied past. He regrets that Tin Pan Alley, the famed New York City songwriting community of his heroes is gone. "There's definitely a Tin Pan Alley here," he says of the booming Music City songwriting scene. "In fact, it's the biggest one by far in the world. You see those studios with parking lots full of cars, that means somebody's in there cutting an album. They're cutting songs. Well, who's writing them? I'd say 90 per cent of them are written here."
Apart from a brief respite in the late 1970s and early 1980s—the Urban Cowboy era—Howard has been writing steadily and is still going strong. Howard compositions are favoured by such 1990s stars as k d lang, Patty Loveless, Sara Evans and Nanci Griffith. "I've been here and watched all this stuff and I'm still kicking a little butt. I meant to be a lifetime songwriter. Irvin Berlin wrote all his life. Why stop something that really is a lot of fun?"
Thirty years ago, the legendary Nashville broadcaster Ralph Emery predicted in the sleeve notes of Howard's MR SONGWRITER album that one day he would be in the Country Music Hall of Fame. "You know, I remembered that the other day and I was thinking that really he was the only person who ever said that," he recalls.
"I think I was born to write. It's what I love doing and it's worked out real fine. I love the traditional music, and even now I'm known for that. I'm not the hottest guy in town at the moment, but it'll come back around—it always does."