First published in Country Music People, December 1972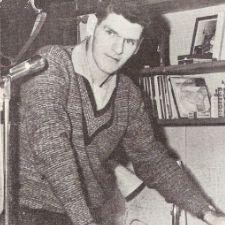 The most consistent and successful songwriter in country music is Harlan Howard. Since his first major success in 1958 with
Pick Me Up On Your Way Down
, he's had more than 500 songs published, with a good quarter of those being top ten country hits. And when you consider that Harlan has always maintained a set formula for his songs of keeping them simple so that ordinary country fans can easily understand them, this makes this achievement even more remarkale.
Harlan Howard was borin in Lexington, Kentucky, in the rural area of Harlan County, on September 8, 1929, but the country surroundings were soon to be lost to Harlan, as the Howard family all moved to Detroit when young Harlan was only two years old. But like so many country families who'd moved from their rural surroundings to the big cities, the Howard family still kept their ties with country music, and every Saturday night the whole family would sit around the radio set listening in to The Grand Ole Opry. It was while listening to these broadcasts that Harlan began to develop his talen as a songwriter. He found it very easy to remember the melodies of tunes that he heard, but sometimes he missed the words of the songs, so he would often substitute his own lyrics, and eventually end up with a completed song, which, of course, was rather different from the original.
After graduating from high school, Harlan began a four-year stint with the paratroopers. These four years really began to shape Harlan for his later success as a songwriter. For the first time he learned to play guitar, this was primarily due to a fellow paratrooper who really worked hard teaching Harlan to pick the guitar. Also, being stationed in Fort Benning, Georgia, Harlan was able to actually get to see the Grand Ole Opry—and only one ambition really burned in young Harlan, and that was to be able to write songs like his idol Ernest Tubb. In the past all the big stars used to write their own songs, and Ernest Tubb was, during the late 1940s one of the most successful, with songs like
Walking The Floor Over You
and
Soldier's Last Letter
to his credit.
Following his four years with the paratroopers, Harlan tried his hand at many jobs and travelled widely, but his burning ambition was still to be a country songwriter. Not having either the nerve or the desire to perform Harlan Howard found it very difficult to get his songs accepted, and it wasn't till he was nearing his 30th birthday that things began to happen for him. At the time he was working as a book-binder in Huntington Park, California. He had approached several publishers with his large collection of songs, but none took any notice till he knocked on the door of the publishing offices owned by Tex Ritter and Johnny Bond, two very notable songwriters themselves. Johnny Bond was working in the office when Harlan called in and was suitably impressed by the songs that Harlan had written. So impressed that Bond himself recorded several of the songs, and within months Wynn Stewart had recorded
You Took Her Off My Hands
. But the really big one came when Harlan wrote
Pick Me Up On Your Way Down
, for Ray Price, with whom he'd struck up a strong friendship. Ray thought the song was unsuitable for himself, and persuaded Charlie Walker, a young San Antonio singer and disc jockey to record the song. Well,
Pick Me Up On Your Way Down
, helped two careers to get started at once, both Walker's and Harlan Howard's. And naturally Ray Price didn't turn down the next song that Harlan offered him, and soon he too was in the charts with
Heartaches By The Number
. Harlan was really given a lift with this song, as Guy Mitchell, the well-known pop singer, covered Price's version, and soon
Heartaches By The Number
was being played all around the world.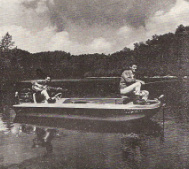 With this sudden success came offers from New York and Tin Pan Alley publishers, but Harlan turned all these offers down, and instead moved to Nashville because of his determination to write only country songs. "I have no desire to write pop songs. I love country music. If one of my songs goes to pop, I'm tickled to death. It's a bonus," says Harlan, whose songs are rarely built on more than three or four chords. He also likes the forthrightness of lyrics in country songs. His songs reflect the thoughts and aspirations of the average man, exploiting such common themes as lost love, the eternal triangle and suffering and rejection. One of his most artistic songs is
Busted
, a lament about rural poverty that so many people found easy to associate with.
Before moving to Nashville in early 1960 Harlan became very involved with the West Coast country music crowd which included up-and-coming artists like Buck Owens, Red Simpson, Wynn Stewart, etc. Stewart was one of the first artists to record Harlan's songs, and Buck Owens soon followed. In fact Buck and Harlan often wrote together and some of their most notable creations include
Above and Beyond (The Call Of Love), Excuse Me (I Think I've Got A Heartache), Foolin' Around
and
Mommy For A Day
all written in the early 1960s, and
Tiger By The Tail
written in 1964. While on the West Coast Harlan met Jan Howard, who at the time was singing with Wynn Stewart's band, and in early 1960 they were married. This marriage eventually ended in divorce, but there's no doubt that Jan Howard's own recording career blossomed because of Harlan's songwriting. Among her hits, most of which were written by Harlan, are such typical Harlan Howard songs as
Evil On Your Mind, What Makes A Man A Wander, Wrong Company
and
I Don't Mind.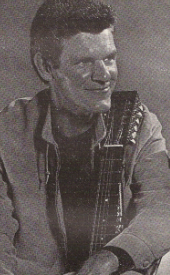 During the early 1960s Harlan Howard was really at his peak, with all the country singers clamouring for his songs. Kitty Wells was successful with several of his songs, her simple basic country styling suiting Harlan's equally simply constructed songs like
Mommy For A Day
and
Heartbreak USA.
Patsy Cline was another female singer who was grateful for Harlan's songs, and who can ever forget her biggest hit
I Fall To Pieces
, which Harlan wrote with Hank Cochran in early 1961. Other successes included Jim Reeves who recorded the unusual tale of
The Blizzard
, which then formed the basis one of his best albums—TALL TALES AND SHORT TEMPERS, George Hamilton IV whose first Nashville success was with
Three Steps To The Phone
, Burl Ives who scored with
Call Me Mr. In-between
and
Mary Ann Regrets
, Ray Charles who lifted
Busted
from his MODERN SOUNDS IN COUNTRY & WESTERN MUSIC, album and many more.
Throughout his songwriting career Harlan Howard has never strayed from his belief of keeping his songs simple and country. He never tries to disguise situations in his songs, and always keeps his stories simple and about everyday happenings. In 1964 he formed his own publishing company Wilderness Music, and this company now includes Conway Twitty's Twitty Bird Music and Waylon Jennings' Baron Music. Although it would appear that perhaps Harlan Howard has become a businessman, nothing could be further from the truth. Harlan Howard is still a basic country person, and this is still reflected in his songs. In June 1969 he married Donna Gail Taylor, a secretary in his offices and the happy pair are now proud parents of a son, Harlan Jr. Harlan does most of his songwriting at home and doesn't really enjoy mixing with all the big names in country music, much preferring to keep out of the limelight. At one time his career was thrust more into the limelight, this was soon after he began recording his own songs, and with the success of
She Called Me Baby
for Capitol in 1961, he was persuaded to go on the road to promote his own records. This sort of life just didn't suit Harlan, and I'm sure he'd be the first to agree that performing and writing songs just didn't mix.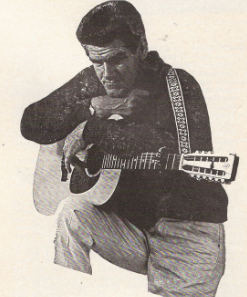 Harlan Howard did maintain his recording career, but dropped the idea of performing in public. The result has been some very interesting albums, that again prove that a songwriter singing his own songs injects intimacies that really improves the overall result. Although he began recording for Capitol, it wasn't until he joined Monument in 1964 that his first album was released. Whilst with Monument he made the excellent BILLBOARD AWARD SONGWRITER (Monument SLP-18038), album which contained a dozen of his biggest songwriting successes all performed in an easy-going country manner that makes for pleasant listening. He has since recorded for RCA Victor, with two albums to his credit—MR. SONGWRITER (LSP-3729) and DOWN TO EARTH (LSP-3886), both of which contained lesser known Howard songs, and even some songs written by other writers.
The title of that last album really sums up Harlan Howard—he is very much 'down to earth,' both with his songwriting and his attitude to life. This is the reason why for the past fifteen years he's been the most successful songwriter in country music.