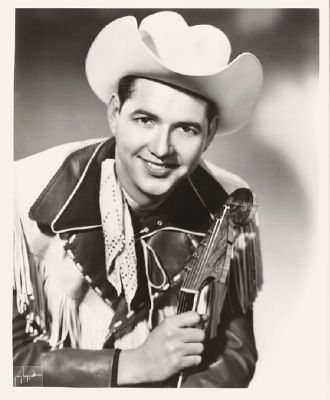 Hank Thompson was a stalwart of country music for more than fifty years. With his Brazos Valley Boys, he was long-time champion of western swing music and for thirteen years, from 1953 to 1965, he won every western swing band poll. He was also a major influence on the contemporary country-rock scene, and his Wild Side Of Life was turned into a major pop hit by Status Quo. Always a musical maverick Hank took western swing to a new big-band level with concerts in metropolitan ballrooms with his twin-fiddle and steel-guitar attack. Probably the only country artist to have attended New Jersey's Princeton University, Hank was the first country act to play Las Vegas. His epochal HANK THOMPSON: LIVE AT THE GOLDEN NUGGET IN LAS VEGAS in 1960 was the first live album by a country artist. He was the first country entertainer to travel with his own light and sound system, the first to have a corporate sponsor, the first to record in high fidelity stereo and the first to broadcast his television show in colour. He was also a pilot and was the first country artist to fly himself to his gigs. Though steeped in Texas swing music, Hank tackled other styles of music, including a fling with rock'n'roll with his 1956 hit Rockin' In The Congo. Twenty years later he recorded a tribute album to the Mills Brothers and also tackled popular standards, waltzes and saga songs. During the 1970s and 1980s he made several visits to Britain to play the annual Wembley Festival.

Born Henry William Thompson in Waco, Texas on September 3, 1925, to immigrant parents from Bohemia, he grew up idolising singers like Jimmie Rodgers, Gene Autry, The Carter Family, Bob Wills and Vernon Dalhart. Initially he became a harmonica ace, winning many talent contests with his playing, later he graduated to guitar, learning to play on a second-hand instrument costing only four dollars. During the early 1940s he began appearing on a local radio station and found a sponsor in a flour company. A few months later, in 1943, Hank joined the US Navy as a radio technician for a three-year stint. Following discharge he attended Princeton University in New Jersey, then went to the University of Texas in Austin. Back in Waco, he secured a local radio show, formed a western swing band, The Brazos Valley Boys and in 1946 began recording for Globe Records. Whoa Sailor became a regional hit and a meeting with Tex Ritter led to him signing with Capitol Records the following year. His debut single, Humpty Dumpty Heart, raced to number two on the country charts in early 1948. From then on came a perpetual stream of hits, including Green Light, and a new version of Whoa Sailor. In 1952 his version of The Wild Side Of Life stayed at the top of the country charts for 15 weeks. It inspired an answer-record from Kitty Wells called It Wasn't God Who Made Honky Tonk Angels, a recording that made Wells into a star.

Thompson enjoyed further hits with Waiting In the Lobby Of Your Heart, Rub-A-Dub-Dub, Wake Up Irene, Honky Tonk Girl, Wildwood Flower and Squaws Along the Yukon. Unlike other major acts of the period, Hank never joined any of the well-known radio barn dance shows. Instead he maintained a heavy touring schedule with his Brazos Valley Boys, which at its peak numbered as many as a dozen musicians. The band also recorded several albums of standard western swing songs and instrumentals.

He left Capitol Records in 1965, signed briefly with Warner Bros, before starting a lengthy association with Dot Records. Now firmly ensconced in Nashville, he broke up his large band, started using session musicians on his recordings and gravitated more toward a smooth, honky-tonk style with hits like On Tap, In the Can, Or In The Bottle, Smoky The Bar and The Older The Violin, The Sweeter The Music. By the early 1980s, Dot had been absorbed into ABC and then finally MCA. Along the way, Hank's hold on the country charts was considerably lessened. He recorded briefly for Churchill Records and Step One Records and in 1989 was elected to the Country Music Hall Of Fame.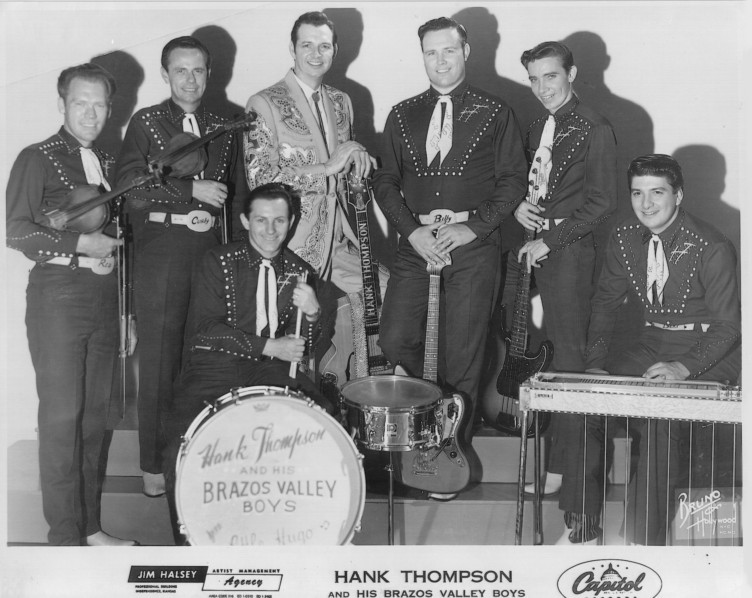 The all-round country music pioneer was still in demand as a touring artist throughout the 1990s and on, usually working with a stripped-down four-piece group, but had not been with a major label since the early 1980s, when a purge of older acts took place. His 1997 album, HANK THOMPSON AND FRIENDS, featured contemporary country acts like Vince Gill, Lyle Lovett, George Jones, Brooks & Dunn, Delaney & Bonnie, Junior Brown and Marty Stuart, that brought his distinctive blend of western swing and honky-tonk to a new, younger modern audience.

He continued to entertain until just a few weeks before he died on November 6, 2007 from aggressive lung cancer, undertaking his last performance on October 8, 2007 in his hometown of Waco. All told Hank Thompson recorded twenty-one songs that reached the top twenty on the country charts and sold over sixty million records during his career. He became the first country entertainer to record in seven different decades having released his final album, PERSONAL FAVOURITES in the summer of 2006.

One of the most popular western swing musicians of the 1950s and 1960s, Hank Thompson's music was a hard-driving, crowd-pleasing blend of honky-tonk and western swing, and his deep, resonant voice, keen sense of humour and warm smile endeared him to generations of music lovers.

Recommended Listening

Songs For Rounders (Capitol 1959; Stetson 1987)
Cheyenne Frontier Days (Capitol 1962)
Here's To Country Music (Step One 1987)
Hank Thompson & His Brazos Valley Boys
(Bear Family box set 1996)
Hank Thompson And Friends (Curb 1997)
A Six Pack To Go/Breakin' In Another Heart (EMI 1999)
Seven Decades (Hightone 2000)
A Six Pack To Go (Bear Family 2008)