Hank Cochran - The Nashville Cats
First Published in Country Music International, April 1997
The composer of such country classics as I Fall To Pieces, Make The World Go Away and Don't Touch Me, Hank Cochran has had more than a thousand of his songs recorded, with more than 50 topping the country charts. And he's still writing ...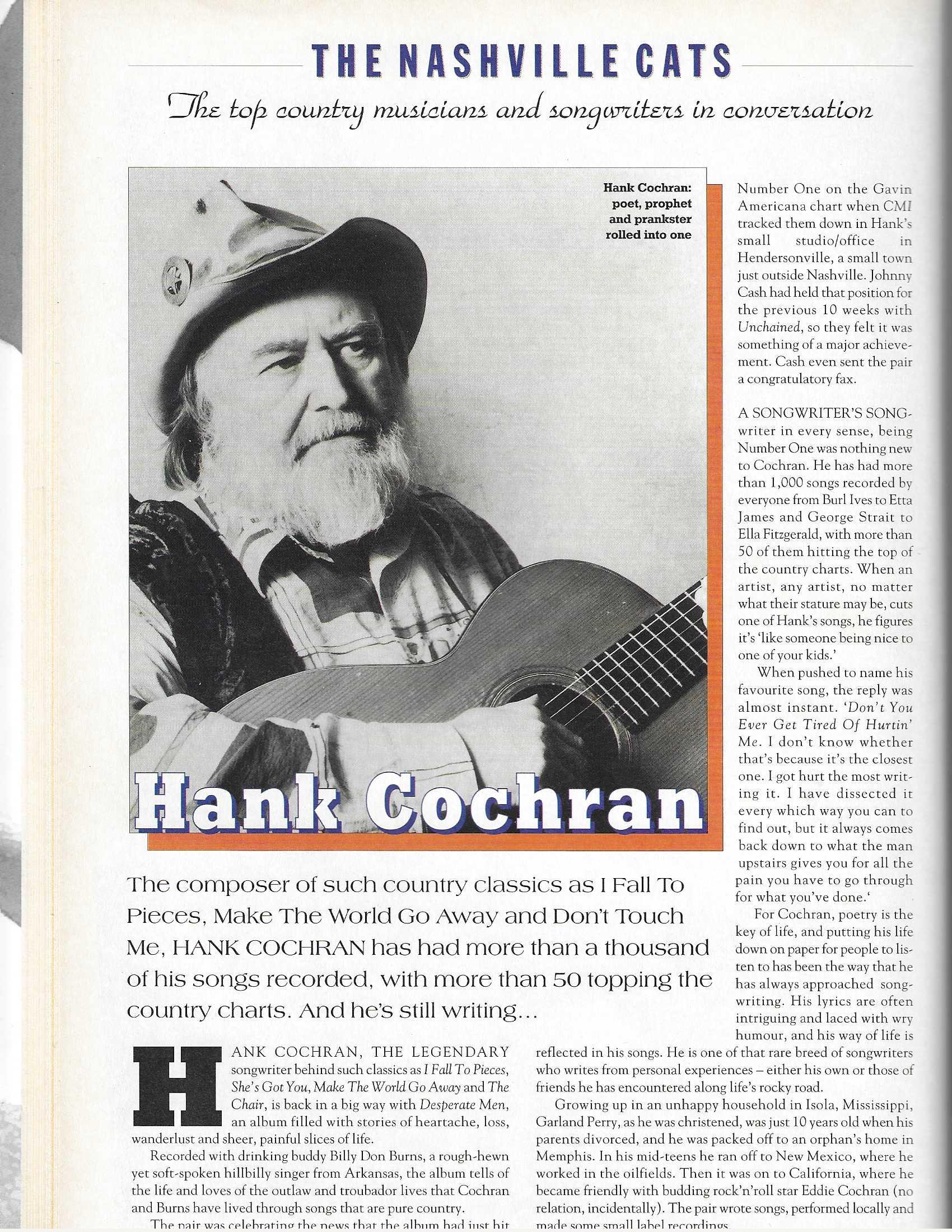 Hank Cochran, the legendary songwriter behind such classics as I Fall To Pieces, She's Got You, Make The World Go Away and The Chair, is back in a big way with DESPERATE MEN, an album filled with stories of heartache, loss, wanderlust and sheer, painful slices of life.
Recorded with drinking buddy Billy Don Burns, a rough-hewn, yet soft-spoken hillbilly singer from Arkansas, the album tells of the life and loves of the outlaw and troubadour lives that Cochran and Burns have lived through songs that are pure country.
The pair was celebrating the news that the album had just hit number one on the Gavin Americana chart when CMI tracked them down in Hank's small studio/office in Hendersonville, a small town just outside Nashville. Johnny Cash had held that position for the previous ten weeks with UNCHAINED, so they felt it was something of a major achievement. Cash sent the pair a congratulatory fax.
A songwriter's songwriter in every sense, being number one was nothing new to Cochran. He has had more than 1,000 songs recorded by everyone from Burl Ives to Etta James and George Strait to Ella Fitzgerald, with more than 50 of them hitting the top of the country charts. When an artist, any artist, no matter what their stature may be, cuts one of Hank's songs, he figures its "like someone being nice to one of your kids."
When pushed to name his favourite song, the reply was almost instant. "Don't You Ever Get Tired Of Hurtin' Me. I don't know whether that's because it's the closest one. I got hurt the most writing it. I have dissected it every which way you can to find out, but it always comes back down to what the man upstairs gives you for all the pain you have to go through for what you've done."
For Cochran, poetry is the key of life, and putting his life down on paper for people to listen to has been the way that he always approached songwriting. His lyrics are often intriguing and laced with wry humour, and his way of life is reflected in his songs. He is one of that rare breed of songwriters who writes from personal experiences—either his own or those of friends he has encountered along life's rocky road.
Growing up in an unhappy household in Isola, Mississippi, Garland Perry, as he was christened, was just ten years old when his parents divorced, and he was packed off to an orphan's home in Memphis. In his mid-teens he ran off to New Mexico, where he worked in the oilfields. Then it was on to California, where he became friendly with budding rock'n'roll star Eddie Cochran (no relation, incidentally). The pair wrote songs, performed locally and made some small label recordings.
After some initial success as a songwriter, Skeets McDonald being the first established country act to cut one of his tunes, Hank moved to Nashville in 1959 on the vague promise of a bass playing job with Ray Price. He didn't get the job as bass player, but was offered the position of song-plugger by Pamper Music. At this time he ran into Harlan Howard and Willie Nelson. The three novice songwriters became drinking buddies, and would often be found in some Lower Broadway bar late into the night drinking their sorrows away.
I Fall To Pieces, a song wrote with Howard, was the one that changed Cochran from a struggling songwriter and plugger into a successful one. He had shown the song to almost every producer and artist in Nashville, but the response had always been the same—the song was not a strong one. Eventually Patsy Cline recorded the song and it became the biggest pop and country smash of 1961, going on to everlasting success and popularity.
It was at the time, in the early 1960s, that Hank embarked upon a recording career. His first recordings were a handful of singles for Liberty in 1962, followed by a couple of albums for RCA before moving on to Monument to make the excellent HEART OF COCHRAN in 1967. His next recordings came almost a dozen years later, when he signed with Capitol and cut WITH A LITTLE HELP FROM MY FRIENDS. The friends were Merle Haggard, Willie Nelson, Jack Greene and Jeannie Seely. Two years later he was on Elektra with MAKE THE WORLD GO AWAY, and it was Willie Nelson who added harmony vocals to the revival of A Little Bitty Tear, the last of a mere half-dozen hits that Hank posted on the country charts between 1962 and the present as a singer.
Cochran is living proof that country songwriters really are a different breed. They are poets, prophets and pranksters all rolled into one. Time has mellowed him, even slowed him down some, but he still has that indefinable sparks that sets him apart from those songwriters who think in simple terms. He is still writing songs the way he did more than 30 years ago when he came up with country standards like Don't Touch Me, Undo The Right, I'd Fight The World and It's Not Love (But It's Not Bad).
Nowadays , he is likely to be found working with the likes of Dean Dillon , Vern Gosdin, Clinton Gregory and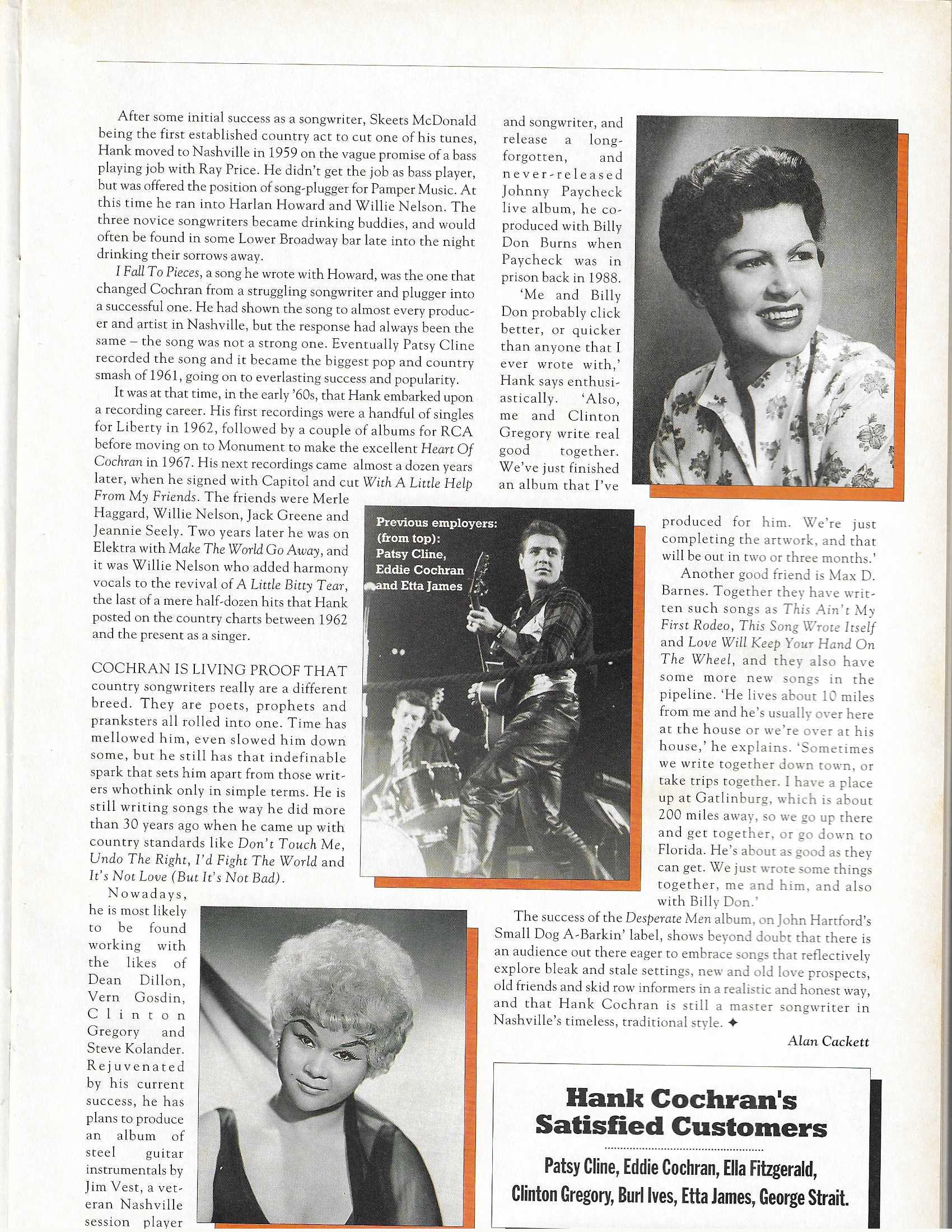 Steve Kolander. Rejuvenated by his current success, he has plans to produce an album of steel guitar instrumentals by Jim Vest, a veteran Nashville session player and songwriter, and release a long-forgotten, and never-released Johnny Paycheck live album, he co-produced with Billy Don Burns when Paycheck was in prison back in 1988.
"Me and Billy Don probably click better, or quicker than anyone that I ever wrote with," Hank says enthusiastically. "Also, me and Clinton Gregory write real good together. We've just finished an album that I've produced for him. We're just completing the artwork, and that will be out in two or three months."
Another good friend is Max D. Barnes. Together they have written such songs as This Ain't My First Rodeo, This Song Wrote Itself and Love Will Keep Your Hand On The Wheel, and they also have some more new songs in the pipeline. "He lives about ten miles from me and he's usually over here at the house or we're over at his house," he explains. "Sometimes we write together downtown, or take trips together. I have a place up at Gatlinburg, which is about 200 miles away, so we go up there and get together, or go down to Florida. He's about as good as they can get. We just wrote some things to, me and him, and also with Billy Don."
The success of the DESPERATE MEN album, on John Hartford's Small Dog A-Barkin' label, shows beyond doubt that there is an audience out there eager to embrace songs that reflectively explore bleak and stale setting, new and old love prospects, old friends and skid row informers in a realistic and honest way, and that Hank Cochran is still a master songwriter in Nashville's timeless, traditional style.