Hailey Whitters - Living The Dream - Extended Edition
Pigasus Records/Big Loud Records/Songs & Daughters
****
I'm loving these new young Nashville-based female singer-songwriters who are penning their life stories and blending their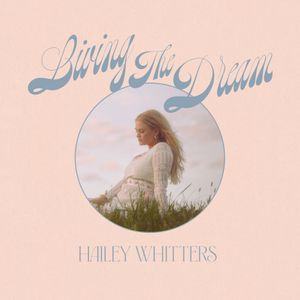 honest lyrics with powerful musical arrangements that hold true to the rich country music heritage. Ohio-born Hailey Whitters moved to Nashville following high school graduation 14 years ago with a dream to become a country music singer. She's faced an uphill battle along the way, working waitressing jobs, co-writing with some of Music Row's top tunesmiths and self-releasing her music on her own Pegasus Records. Her first album, BLACK SHEEP, hit the shops in 2015 without making much of an impact. Between her mundane full-time job of serving drinks she pursued her dream singing on writer's nights, label showcases and co-writing. She gained a few notable cuts by Alan Jackson, Martina McBride, Little Big Town and others that helped finance her own recordings. She was just one of dozens of Nashville hopefuls wanting to turn her passion for music into a living. Hailey's tenacity finally paid off with the February 2020 self-release of THE DREAM. A 12-track album that was a time capsule of the highs and lows of her Nashville struggle and full of optimism that better times were just around the corner.
The album was met with widespread critical approval as Hailey was lauded as the next big country star. Songs & Daughters, the first female-driven label (in partnership with Big Loud Records) came knocking and offered her a contract that brought her music to wider exposure. Major tours with the likes of Maren Morris, Little Big Town, Jordan Davis and Tanya Tucker and radio plays for her singles help to cement her breakthrough to the big-time. A year on, to celebrate that breakthrough, THE DREAM has been reissued as a special deluxe edition under the new title LIVING THE DREAM, featuring five new tracks with special guests including Trisha Yearwood, Brent Cobb, Little Big Town and Jordan Davis. The original album portrayed a quiet, yearning intensity and understated, poignant brilliance. Overall, the songs feel classic, yet have a 21st-century-sized chip on their shoulders—especially on Dream Girl, which cautions listeners against the dangers of living someone else's dreams. With a gutsy 1980s guitar sound she seems vulnerable, yet still empowering as she encourages being yourself. Where Hailey really shines as a songwriter is in the way she conveys brutal truths in simple ways. Ten Year Town, as the album's opening statement, is bold, beautiful, impactful and honestly realistic. She states emphatically that she's 12 years in a 10 year town as she turns the spotlight on herself and all the other Music City musicians struggling to make it when sensibly, after ten years, the best advice is head back home to the proverbial 9-to-5 mundane existence. The Days is a classic feel good, eyes-to-the-horizon sort of pick-me-up, rather than agonizing about the swift passing of time. Every aspect of Heartland is absorbing including her aching vocals and the waning steel guitar that paint a picture of what could've been but what happens when you allow your heart land where it will, based on a good, solid upbringing.
Janice At The Hotel Bar, a co-write with Lori McKenna, is an engrossing tale based on a real encounter with an 80-something year old woman. Built around a soothing acoustic guitar, Hailey's plaintive voice unfurls the sage advice from a lady who has lived a fulfilled life. In addition to her own co-written songs, she also turns in a great version of Chris Stapleton's The Devil Made Me Do It.  Seriously dank guitar riffs, bluesy swagger, sweet southern harmonies and her own unexpected hard living and gritty vocals. Living The Dream is a softly sung anthem that the journey, its trials and the ups and downs are all worth it if you can just hold on to real life and love. It is a grand gesture toward an unknown future, the perfect punctuation to finish the album.
Being an avid collector of 'original' albums, I often find that tacking on extra tracks at a later date detracts from the 'completeness' of the initial album. I am sorry to say that is the case with this extended version. There is absolutely nothing wrong with the five additional songs, it's just that they sound like an unnecessary appendage. Fillin' My Cup is a reliable romp with Little Big Town. With its hoedown fiddle, singalong chorus and handclaps it's fun and trashy but catchy as hell. The kind of song you might sing along to with your friends after a few drinks. There is definitely a more upbeat vibe to these extra songs. It is especially evident in the repeating chorus and smooth vocal runs of Glad To Be Here, a light-hearted duet with Brent Cobb. There's a mid-1990s country-pop feel to How Far Can It Go with Trisha Yearwood lifting the whole performance when she jumps on board to take the song to a higher level. It shows up a nagging doubt that I've had since first hearing Hailey Whitters a few years ago, she has a pleasant country-pop voice, pens great songs, but vocally, she's not up there with the likes of Patty, Faith, Martina, Suzy, Lorrie … and Trisha. That just might be the reason she spent 12 years in a ten-year town waiting patiently for that big break. That's me being brutally honest.
February 2021