Guy Clark - Traveller's Choice
First Published in Country Music International, September 1995
West Texan tunesmith and the guru of roots music Guy Clark picks his favourite sounds for the long road ahead.
"I don't really take music out on the road very often, I mostly read. Sometimes I'll take a tape of Dylan Thomas reciting poems, or something like that. I like spoken work recordings, especially when I am driving. I'd rather listen to somebody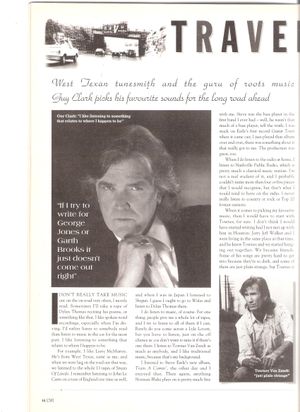 read than listen to music in the car for the most part. I like listening to something that relates to where I happen to be. 
For example, I like Larry McMurtry. He's from West Texas, same as me, and when we were last on the road out that way, we listened to the whole 13 tapes of Streets of Laredo. I remember listening to John Le Carre on a tour of England one time as well, and when I was in Japan, I listened to Shogun. I guess I ought to go to Wales and listen to Dylan Thomas there.
I do listen to music, of course. For one thing, people give me a whole lot of tapes, and I try to listen to all of them if I can. Rarely do you come across a Lyle Lovett,
but you have to listen, just on the off chance as you don't want to miss it if there's
one there. I listen to Townes Van Zandt as much as anybody, and I like traditional
music, because that's my background.
I listened to Steve Earle's new album, TRAIN A COMIN', the other day and I enjoyed that. Then again, anything Norman Blake plays on is pretty much fine with me. Steve was the bass player in the first band I ever had—well, he wasn't that much of a bass player, tell the truth. I was stuck on Earle's first record GUITAR TOWN when it came out; I just played that album over and over, there was something about it that really got to me. The production was great, too.
When I do listen to the radio at home, I listen to Nashville Public Radio, which is
pretty much a classical music station. I'm not a real student of it, and I probably
couldn't name more than four or five pieces that I would recognise, but that's what I would tend to have on the radio. I never really listen to country or rock or Top 20
format stations.
When it comes to picking my favourite music, then I would have to start with Townes, for sure. I don't think I would have started writing had I not met up with
him in Houston. Jerry Jeff Walker and I were living in the same place at that time,
and he knew Townes and we started hanging out together. We became friends. Some of his songs are pretty hard to get into because they're so dark, and some of
them are just plain strange, but Townes is hard to beat for his use of the English language and poetry.
There are lots of others, too. I love Lyle Lovett, John Prine, Joe Ely, Rodney
Crowell and Billy Joe Shaver. They're all friends of mine, and they all do work that I admire. And there's Chuck Berry. I listen to Chuck Berry a lot. You can take his songs apart as poetry and it stays right in touch. I like the Rolling Stones, too.
It tends to be songs I'm drawn too, and I can't really listen to them without thinking in an analytical way about what I'm hearing. You can always think of a better line, and if it's a friend of mine, I'll tell 'em! It comes with the territory and I don't think there is any way that you could avoid listening in that way.
I try to improve on my own writing all the time. I don't discard anything; I don't
use it all, but I don't throw it away, because if I wrote it down to begin with, there's probably something there that I can use, and if I keep going back to it, it'll eventually fall into place.
It's not always songs, though. I like to listen to instrumental music sometimes. One
of my first loves was flamenco guitar and Spanish classical guitar, especially Segovia, who was really the master in that field. I love bluegrass music as well. Maybe it doesn't take too long to get your fill of it, but when you want to hear it, it's really good.
I started out singing traditional music on the folk scene around Texas. I didn't start writing until maybe, 1968 or thereabouts, so I had about 10 years of playing traditional folk music. I was doing Irish folk songs, Scottish songs, American cowboy songs, songs every folk singer sings, and of course the obligatory Bob Dylan song, because he was the only one that was really writing those kind of songs at that time; him and Woody Guthrie.
I'll sometimes sing a song I didn't write, although not too often. I've done a couple
of Townes's songs, To Live Is To Fly and Don't You Take It Too Bad, and Joe Ely's The Indian Cowboy and Rodney Crowell's Voila, An American Dream, and a few others. They kind of wind up being like my own songs when I sing them. I changed To Live Is To Fly with Townes' permission to suit me better.
I used to know all of Bruce Springsteen's Racing In The Streets. I didn't know it was his song to start with. I heard Townes sing it one day, and I said: 'Man, you're really writing good!' He's done that to me twice. It was the same thing the first time I heard John Prine's Paradise (Muhlenburg County), Townes was just sitting around playing it, and I said how good he was writing that time too, and he just said: 'No, man, I didn't write it.'
For me, writing and performing are very connected. I don't really have any reason to get up on the stage and play a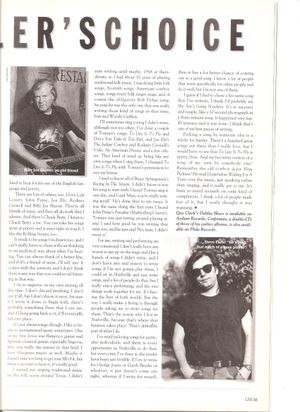 bunch of songs I didn't write, and I don't have any real reason to write songs if I'm not gonna play them. I could sit in Nashville and just write songs, and a lot of people do that, but I really enjoy performing, and the two things work together for me. It's having the best of both worlds. But the
way I really make a living is through people asking me to write songs for
them. That's the reason why I live in Nashville, because that's where that business takes place. That's definitely part of what I do.
I've tried tailoring songs for particular individuals, and there is every opportunity in Nashville to do that, but every time I've done it, the results have been just terrible. If I try to write for George Jones or Garth Brooks or whoever, it just doesn't come out right, whereas if I write for myself, then it has a lot better chance of coming out as a good song. I know a lot of people that write specifically for other people and do it well, but I'm not one of them.
I guess if I had to choose a favourite song that I've written, I think I'd probably say
She Ain't Going Nowhere. It's so succinct and simple, like a 10 second photograph in a three-minute song. It happened very fast: 45 minutes and it was done. I think that's one of my best pieces of writing.
Picking a song by someone else is a whole lot harder. There's a hundred great songs out there that I really love, but I would have to say that To Live Is To Fly is
pretty close. And my favourite version of a song of my own by somebody else?
Remember the old cowboy actor Slim Pickens? He read Desperadoes Waiting For A Train over the music, just speaking rather than singing, and it really got to me. It's been re-issued recently on some kind of compilation. I think a lot of people made fun of it, but I really thought it was stunning."