Gurf Morlix - The Tightening Of The Screws
Rootball Records
****1/2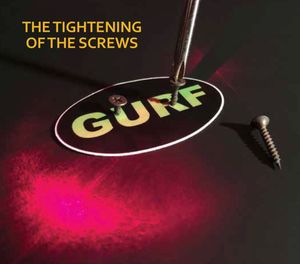 Over the years, Gurf Morlix has developed a reputation as a highly regarded side musician, producer and an honest composer and performer, someone who uses song to really delve into his emotions and make sense of his life. Finding a comfortable role in which to exist in this world is tough enough for anyone. Doing it through a career as a steadily working musician? Well, the degree of difficulty on that is high. But let's say you find that space for yourself; you've found a way to make it work. What happens if it's suddenly taken away? The rough swell of the pandemic ocean has rocked us all over the past couple of years, and not in the way we music lovers like to rock. For musicians like Gurf, the pandemic crisis has hit really hard, so he rolled up his sleeves and settled into his self-isolated Austin Studio to write and record, then write and record more. THE TIGHTENING OF THE SCREWS, his second pandemic album, showcases what he does best: He fearlessly reaches into the shadows of life, touching jagged edges of emotions, allowing them to bleed through his lyrics and his transporting music. Gurf's great skill is continuously making compelling art-music out of 21st century anxieties. As a response to the current geopolitical, economic and cultural environment he embraces the heart-wrenching and ragged beauty of life, never flinching in the face of despair or hopelessness but searching to ferret out the little glimmers of love, hope, truth and beauty in the cracks of our world. It's engrossing and inspiring, yes, but even better, it contains a finely rendered map for getting us out of here. He comes across as a gnarly old philosopher who will share a couch with you and talk those hard existential talks with patience, gravity, humour and honesty.
Every song reveals his peripatetic lyricism and his ceaseless musical creativity. He can break your heart, whip your ass, and then make your day before he gets through one line of a song. His crusty, flinty voice with its grainy Texas drawl is tailor made for his distinctive muscular, ornery and edgy Southern roots rock. Initially you don't appreciate that the slinky Touch You Inside is a touching romantic song. A love song like no other you've ever heard, yet just as deeply emotional as the most literate of the moon-June songs that have dominated music since time immemorial. Throughout My Prison, it can feel like the walls are closing in; the darkness is all-encompassing. Gnarled and inherently hypnotic, the song beats like an internal metronome, with vibrating tangents of sound, both tense and amniotic. Blood On the Page takes on the head-spinning chaos of life in all its exhilaration and uncertainty, showcasing a songwriter in top form seamlessly framing the current pandemic crisis.
He mines deeper into his own thorny emotions in Daddy Longlegs. The brutally honest lyrics go well with the prickly bluesy guitars and thump of the drums. He slows it right down with the dirge-like Lowdown Dismal Blues. Bristling with angsty electricity, doom is all around him, as this sombre meditation offers little in the way of light relief. The lean and scrappy sound of Lost In the Shuffle unromantically celebrates life on the road, never nostalgic for it, regretting its costs, but embracing it with all its twists and turns as he just wants to be home with his loved one. He ushers in a dirty boogie with Comin' Back To Haunt Me. Full of attitude, a psyched up country stomper cranking out enough twang and thump to hold up a honky-tonk in a hurricane.
Sometimes an album is more than the sum of its parts, providing a little something extra on top of a good listen. So it is with Gurf Morlix's THE TIGHTENING OF THE SCREWS. A collection of raucous, rattly, raw and magnificently honest songwriting, his peerless observations are of everyday life, the small moments that hide away in our subconscious while the big moments take up all the room. 
December 2021