Gretchen Peters - The Show - Live From The UK
Scarlet Letter Records/Proper Records
*****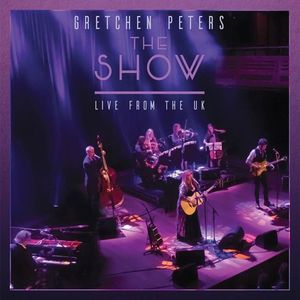 For such an unassuming title, this is a truly remarkable album. Bold and fearless, live Gretchen Peters delivers an alluring, understatedly dramatic set as she spins out a rich and dazzling fabric sewn by the threads of autobiography, sociocultural, fiction, and authenticity. One of the finest female singer-songwriters of her generation, Gretchen thoughtfully offers up a stunning collection of songs that would call the listener to them—if they weren't already seated and waiting for them to arrive. A towering songbook, wordy and resigned, this 18-track collection is the opus of Nashville's foremost progenitor of, and innovator in, the country-roots fold. It's the masterwork of a heart laid bare in song. Recorded during her 2019 Strings Attached UK Tour in Bristol, Bexhill-On-Sea and Bury St Edmunds, Gretchen's usual duo format, with husband Barry Walsh on piano and vocals, is enlarged with Colm McClean (electric guitar, vocals) and Conor McCreanor (electric and upright bass, vocals) plus the all-female, Southern Fried string quartet featuring Seonaid Aitken (violin), Amira Bedrush-McDonald (violin), Sarah Leonard (viola), and Alice Allen (cello). The naturally expansive and lush sound is big, yet also intimate—and paints an emotive picture. With so much greatness rolled into these songs, Gretchen and her musicians should stir emotion in any listener.
There are two reasons why we stop to pay attention to something. It happens when a sight, smell, or sound is so arresting that our physical bodies automatically orient themselves toward that very thing—an early morning walk by a bakery, a slow drive by a crash site. It also occurs when we consciously decide to take in something of value—a parent impressing a point, a singer performing their latest creation. Most artists would do well to captivate attention for just one reason. The differentiation here is important because it speaks to the two-sided beauty of Gretchen's body of work. The sparse and (mostly) serious sounds she creates has long demanded my attention for both reasons. Initially I connected to Gretchen through the songs that she'd written for others, then in 1996 I eagerly awaited THE SECRET OF LIFE, her debut album and have been hooked ever since, determined to share her talents with all and everyone that I possibly could. It's highly likely, that with this review, my enthusiasm is a trifle biased, for which I offer no apology.
The best thing about a double-helping live album like this from Gretchen is that once you start listening to it, you want it to go on and on forever, and with 18 lengthy tracks to get lost in, that feels possible. From the opening Arguing With Ghosts, a brutally honest song about aging and mortality which is greatly enhanced by the haunting strings, to the closing Idlewild, an equally devastating song about the unravelling marriage break-up witnessed through the eyes of a child, you are hooked in by the rich melodies and inventive arrangements, which are engineered to burrow into your brain. Special mention should be made of Barry Walsh's dramatic piano work on this song, which undoubtedly left the audience (and the listener) on a (seemingly) drug-induced high. Most live albums feature a run-through of a performer's hits, but Gretchen Peters is an album-artist, and her hits are the songs that she wrote for other artists such as George Strait, Martina McBride, Patty Loveless, Faith Hill and Trisha Yearwood, and there's only a couple of these—the wistful On A Bus To St. Cloud and The Secret Of Life.
Though these recordings are culled from three different venues, it seemingly flows like a single concert, that is until you get half-way through as the dynamic To Say Goodbye builds from a simple acoustic ballad into a shameless rock-based jam that appears to close a concert, before Gretchen and the musicians return to perform When You Are Old and another eight songs. With so many songs, and stunning performances of each and every one of them, it seems somewhat unfair, even a mite pointless, to draw one out at the expense of another. Gretchen's crowd interaction is unassuming, fun and friendly. It turns out that the pure vocal power and wrenching emotional lyrics of Gretchen with a fuller band and string section  are just as effective a catharsis in these trying times as the stripped-down versions we knew before, when it was just the singer and her guitar. Sonically, the arrangements are very catchy with the kind of subtle, off-kilter complexity she's become renowned for as her soaring voice really takes it to the next level when the song calls for it.
August 2022