Gretchen Peters - The Secret Of My Success
First Published in Country Music International, August 1996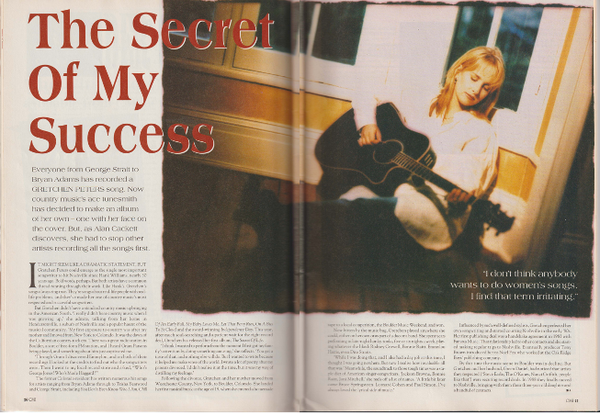 Everyone from George Strait to Bryan Adams has recorded a GRETCHEN PETERS song. Now country music's ace tunesmith has decided to make an album of her own—one with her face on the cover. But, as Alan Cackett discovers, she had to stop other artists recording all the songs first.
It might seem like a dramatic statement, but Gretchen Peters could emerge as the single most important songwriter to hit Nashville since Hank Williams, nearly 50 years ago. Bold words, perhaps. But both artists have a common thread running through their work. Like Hank's, Gretchen's songs always ring true. They're songs about real-life people with real-life problems, and they've made her one of country music's most respected and successful songwriters.
But Gretchen didn't have a standard country music upbringing in the American South. "I really didn't hear country music when I was growing up," she admits, talking from her home in Hendersonville, a suburb of Nashville and a popular haunt of the musical community. "My first exposure to country was after my mother and I moved from New York to Colorado. It was the dawn of the Californian country-rock era. There was a great radio station in Boulder, a sort of free-form FM station, and I heard Gram Parsons being played, and something about him just captivated me."
"Through Gram I discovered Emmylou, and on both of their recordings I looked at the credits to find out who the songwriters were. Then I went to my local record store and asked: 'Who's George Jones? Who's Merle Haggard?'"
The former Colorado resident has written numerous hit songs for artists ranging from Bryan Adams through to Trisha Yearwood and George Strait, including You Don't Even Know Who I Am, Chill Of An Early Fall, My Baby Loves Me, Let That Pony Run, On A Bus To St Cloud and the award-winning Independence Day. This year, after much soul-searching and a patient wait for the right record deal, Gretchen has released her first album, THE SECRET OF LIFE.
"I think I wanted to perform from the moment I first got my family's attention by doing something amusing," she reflects. "You get a taste of that, and nothing else will do. But I wanted to write because it helped me make sense of the world. I wrote a lot of poetry after my parents divorced. I didn't realise it at the time, but it was my way of distilling my feelings."
Following the divorce, Gretchen and her mother moved from Westchester County, New York, to Boulder, Colorado. She landed her first musical break at the age of 19, when she entered a homemade tape to a local competition, the Boulder Music Weekend, and won.
Now bitten by the music bug, Gretchen played anywhere she could, either on her own or as part of a duo or a band.  She spent years performing in late-night honky-tonks, five or six nights a week, playing whatever she liked: Rodney Crowell, Bonnie Raitt, Emmylou Harris, even Dire Straits.
"While I was doing that, and I also had a day job at this time, I thought I was going nowhere. But now I realise how invaluable all that was."  Meanwhile, the soundtrack to those tough times was a staple diet of American singer-songwriters. "Jackson Browne, Bonnie Raitt, Joni Mitchell," she reels off a list of names. "A little bit later Bruce Springsteen, Leonard Cohen and Paul Simon. I've always loved the lyrical side of music."
Influenced by such well-defined stylists, Gretchen perfected her own songwriting and started courting Nashville in the early 1980s. Her first publishing deal was a handshake agreement in 1983 with Famous Music. That relationship led to other contacts and she started making regular trips to Nashville. Eventually producer Tony Brown introduced her to Noel Fox who worked at the Oak Ridge Boys' publishing company.
By this time the music scene in Boulder was in decline. But Gretchen and her husband, Green Daniel, had noticed that artists they respected ("Steve Earle, The O'Kanes, Nanci Griffith, people like that") were securing record deals. In 1988 they finally moved to Nashville, bringing with them their three-year old daughter and a handful of contacts. 
"You always think that your contacts are stronger than they really are," she admits. "In retrospect, it was a bold move. My husband was working in radio at the time, but things weren't working out for him, so we made the move. We've never regretted it."
Within three months, Gretchen had a deal with the Oak Ridge Boys' publishing company, joining fellow writers such as Steve Earle, Gail Davies, Dave Gibson and Lionel Cartwright. She landed her first cut with I'll Paint The Town, the title song of a Highway 101 album, less than a year after arriving in town. Soon, others were cutting her songs, including Larry Boone (To Be With You), George Strait (Chill Of An Early Fall), Holly Dunn (Golden Years), George Jones (Traveller's Prayer), Lionel Cartwright (Susannah) and Suzy Bogguss (Souvenirs).
Gretchen's songs have always had a humanist perspective, shown to great effect on Souvenirs, a biting indictment of the way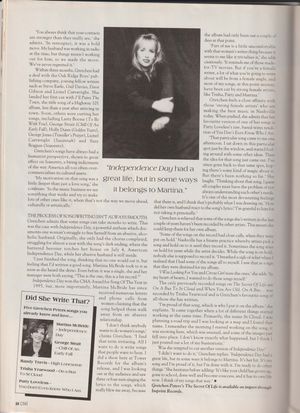 America all-too often over-commercialises its cultural assets.
"My motivation on that song was a little deeper than just a love song," she confesses. "In the music business we see something that works and try to make lots of other ones like it, when that's not the way we move ahead, culturally or artistically."
The process of songwriting isn't always smooth. Gretchen admits that some songs can take months to write. This was the case with Independence Day, a powerful anthem which documents one woman's struggle to free herself from an abusive, alcoholic husband. Originally, she only had the chorus completed, struggling for almost a year with the song's dark ending, where the battered heroine torches her house on July 4, American Independence Day, while her abusive husband is still inside.
"I just finished the song, thinking that no one would cut it, but feeling that I'd written a good song. Martina McBride took to it as soon as she heard the demo. Even before it was a single, she and her manager were both saying: 'This is the one, this is a hit record.'"
Independence Day won the CMA Award for Song Of The Year in 1995, but, more importantly, Martina McBride has since received numerous letters and phone calls from women claiming that the song helped them walk away from an abusive relationship.
"I don't think anybody wants to do women's songs," claims Gretchen. "I find that term irritating. All I want to do is write songs that people want to hear. I did a show here at Tower Records for the album's release, and I was looking out at the audience and saw three or four men singing the lyrics to the songs, which really blew me away, because the album had only been out a couple days at that point."
"Part of me is a little uncomfortable with that women's writer thing because it seems to me like it trivialises it," she adds cautiously. "It reminds me of those made-for-TV movies. But if you're a female writer, a lot of what you're going to write about will be from a female angle, and most of my songs, at this point anyway have been cut by strong female artists like Trisha, Patty and Martina."
Gretchen feels a close affinity with those 'strong female artists' who are making the best music in Nashville today. When pushed, she admits that her favourite version of one of her songs is Patty Loveless's raw, bared-wires rendition of You Don't Even Know Who I Am.
"That particular song came to me one afternoon. I sat down in this particular spot just by the window, and started fooling around with some other ideas. Then the idea for that song just came out. I've since gone back to that same spot, hoping
There's some kind of magic about it. But there's been nothing so far," she laughs. "Thinking about that song, I guess all couples must have the problem of not always understanding each other's needs. It's one of the most devastating feelings that there is, and I think that's probably what I was drawing on." How did her own husband react to the song's lyrics? "I'm grateful to him for not taking it personally."
Gretchen is relieved that some of the songs she's written in the last couple of years haven't been recorded by other artists. This meant she could keep them for her own album.
"Some of the songs on the record had close calls, when they were put on hold." Nashville has a bizarre practice whereby artists pick a song and hold on to it until they record it. Sometimes the song stays on hold for years while the artist decides. While the song is on hold nobody else is supposed to record it. "I breathed a sigh of relief when I realised that I had some of the songs all to myself. I saw that as a sign that they were destined for my album."
"I Was Looking For You and Circus Girl were the ones," she adds. "In my heart of hearts, I wanted to do those songs myself."
The only previously recorded songs on THE SECRET OF LIFE are On A Bus To St Cloud and When You Are Old. On A Bus … was recorded by Trisha Yearwood and is Gretchen's favourite song of all those she has written.
"I'm proud of that song, which is why I put it on the album," she explains. "It came together when a lot of different things started working at the same time. Primarily, the name St Cloud. I was planning a road trip and I was looking at a map and I found that name. I remember the morning I started working on the song, it was snowing here, which was unusual, and some of the images just fell into place. I don't know exactly what happened, but I think I just poured out a lot of my frustrations."
Was she tempted to cut another version of Independence Day?
"I didn't want to do it," Gretchen replies. "Independence Day had a great life, but in some ways it belongs to Martina. It's her hit. It's my song and I'm proud of it, but I'm done with it. I'm ready to do other things."  She hesitates before adding: "It's like your child has grown up, gone to school, done well and become a success, and it has its own life now. I think of my songs that way."