Gretchen Peters - Life On The Road
First Published in Country Music International, October 1997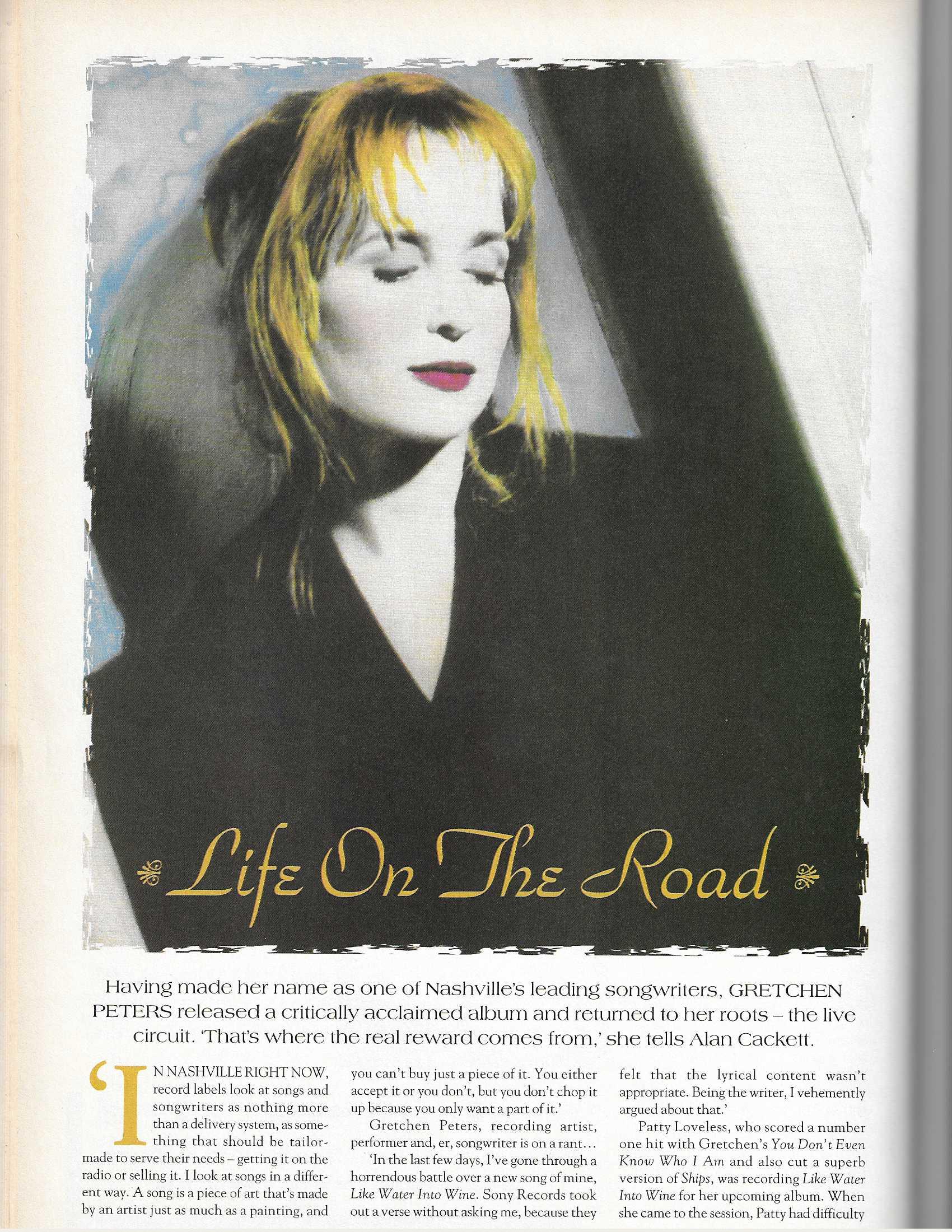 "In Nashville right now, record labels look at songs and songwriters as nothing more than a delivery system, as something that should be tailormade to serve their needs—getting it on the radio or selling it. I look at songs in a different way. A song is a piece of art that's made by an artist just as much as a painting, and you can't buy just a piece of it. You either accept it or you don't, but you don't chop it up because you only want a part of it."
Gretchen Peters, recording artist, performer and, er, songwriter is on a rant ...
"In the last few days, I've gone through a horrendous battle over a new song of mine, Like Water Into Wine. Sony Records took out a verse without asking me, because they felt that the lyrical content wasn't appropriate. Being the writer, I vehemently argued about that."
Patty Loveless, who scored a number one hit with Gretchen's You Don't Even Know Who I Am and also cut a superb version of Ships, was recording Like Water Into Wine for her upcoming album. When she came to the session, Patty had difficulty relating to one of the verses, and decided that she loved the song, but wanted to omit that one verse.
"I would never presume to tell anybody what they should or shouldn't sing," Peters explains. "If it's not comfortable, then don't do it. The problem was, Sony approved the cut, and didn't bother to ask me, the writer. That was the thing I had the problem with. First of all, they can't do it. Any changes have to be approved by the writer."
Eventually, Patty and Gretchen got together, without the interference of the record label, and the two of them came up with a solution. Like Water Into Wine will appear on Patty's forthcoming album with the singer omitting one verse, but that verse will be printed as part of the song's lyrics in the CD booklet.
"She didn't feel she could sing the lyrics in question," Peters explains. "I felt that when I write a song and it gets recorded, that's my voice. That's the only way anyone ever hears the song, unless I record it. Now, anybody who cares enough about the words, can look and see that there is this verse in question. So I'm happy with that arrangement. What I'm not happy with is the attitude that the record label showed in just presuming that I would go for any changes that they made just in order to get a cut."
It is just this sort of self-reliant attitude that has helped Peters deal with another little hic-up in her career. A year after the release of her critically acclaimed debut album, THE SECRET OF LIFE, Imprint Records, the label behind the release, pulled out of the recording business to concentrate on film and TV work.
Roy Wunsch, a former CBS/Sony executive, who set up Imprint, had previously worked closely with Mary Chapin Carpenter and believed that the world would be ready for more singer-songwriters of Chapin's ilk. Unfortunately, at the time he launched the company country radio was in the process of rejecting artists such as Carpenter, Nanci Griffith and Hal Ketchum.
"In America, the radio industry as a whole, said: 'No, we don't want this.' I think that was the problem,"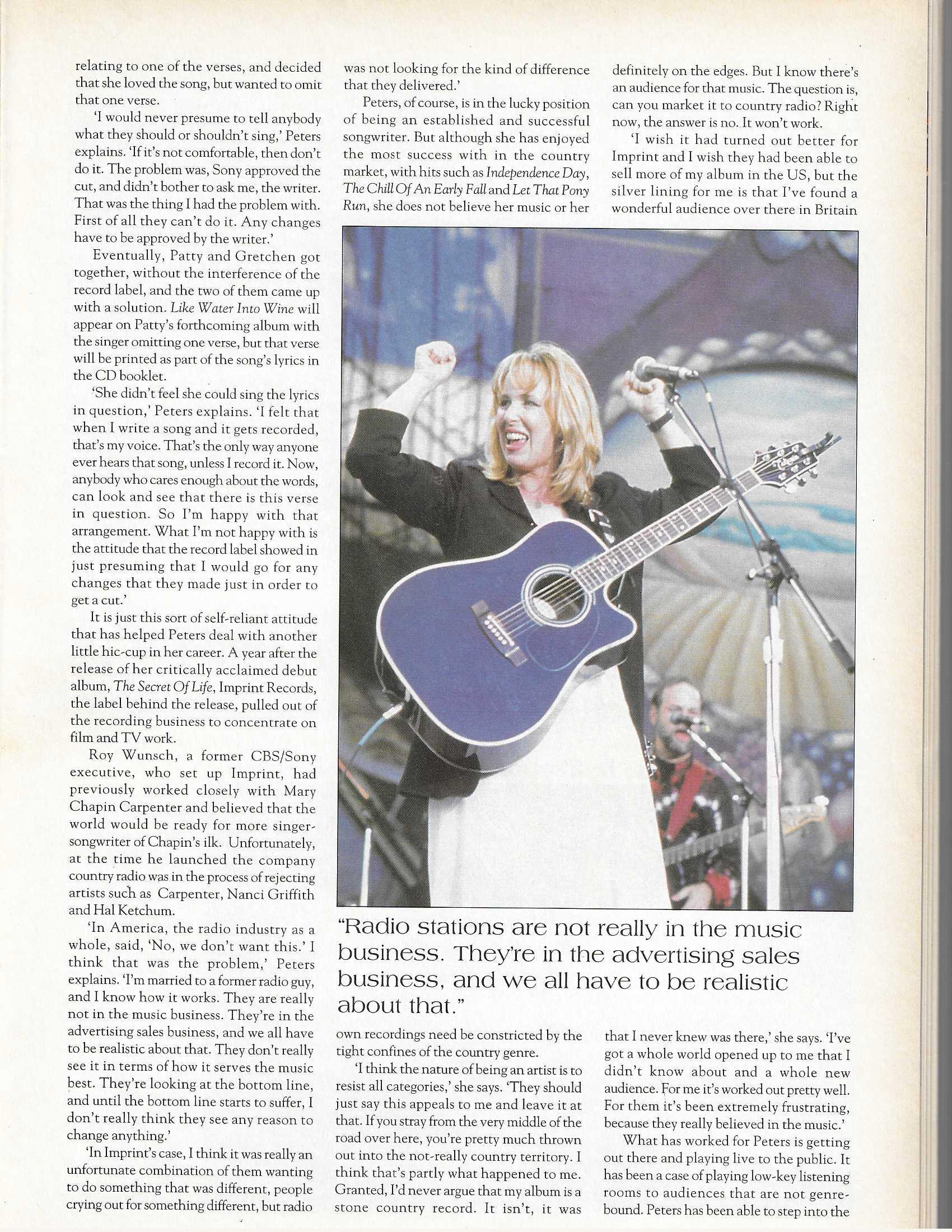 Peters explains. "I'm married to a former radio guy, and I know how it works. They are really not in the music business. They're in the advertising sales business, and we all have to be realistic about that. They don't really see it in terms of how it serves the music best. They're looking at the bottom line, and until the bottom line starts to suffer, I don't really think they see any reason to change anything."
"In Imprint's case, I think it was really an unfortunate combination of them wanting to do something that was different, people crying out for something different, but radio was not looking for the kind of difference that they delivered."
Peters, of course, is in the lucky position of being an established and successful songwriter. But although she has enjoyed the most success within the country market, with hits such as Independence Day, The Chill Of An Early Fall and Let That Pony Run, she does not believe her music or her own recordings need to be constricted by the tight confines of country genre.
"I think the nature of being an artist is to resist all categories," she says. "They should just say this appeals to me and leave it at that. If you stray from the very middle of the road over here, you're pretty much thrown out into the not-really country territory. I think that's partly what happened to me. Granted, I'd never argue that my album is a stone country record. It isn't, it was definitely on the edges. But I know there's an audience for that music. The question is, can you market it to country radio? Right now, the answer is no. It won't work."
"I wish it had turned out better for Imprint and I wish they had been able to sell more of my album in the US, but the silver lining for me is that I've found a wonderful audience over there in Britain that I never knew was there," she says. "I've got a whole world opened up to me that I didn't know about and a whole new audience. For me it's worked out pretty well. For them it's been extremely frustrating, because they really believed in the music."
What has worked for Peters is getting out there and playing live to the public. It has been a case of playing low-key listening rooms to audiences that are not genre-bound. Peters has been able to step into the performing arena with relative ease. Prior to moving to Nashville ten years ago to concentrate on developing her songwriting, she had spent several years performing in assorted dimly lit rooms, five, six nights a week; two electric guitars, no fiddle and a rock'n'roll drummer. Those years on the club circuit have certainly given Peters a seasonal quality.
"That's where the real reward comes from," she says. "Being in the studio, the making of an album, being on all the airplanes and in all the rental cars—performing is the pay back. It's funny, you know, but I've had such a tough time convincing people that I really am a performer. I realise now, after going through all this, that you really do get typecast. If you have success as a writer, forever more, in the minds of some people, you are a songwriter. Songwriting is a thing I'm extremely proud of, but really it's just a part of the package. Part of what I do."
Peters undertook her first British tour in March and will be back this month to play a dozen dates in Britain, Ireland, and for the first time, Holland. Prior to that initial trip to England, her album had received wide critical acclaim in the British press and extensive radio plays, but she was still pleasantly surprised by the warm reception she got.
"As soon as I got back from the few dates I did over there in March, I was ready to turn around and go back again," she says. "It was great. And there was calculable progress—the album sold better after we played."
Combining the life of a professional writer with that of a performer is never easy, but Peters believes she has the balance just about right. She is careful not to let road work detract from the writing and is somewhat relieved that her album didn't become a huge commercial success.
"I wouldn't have things to write about if I didn't get out there in the world and do this, so in that way it has fuelled my writing," she explains. "In the strict sense of where do you find the time, it is tough, it really is.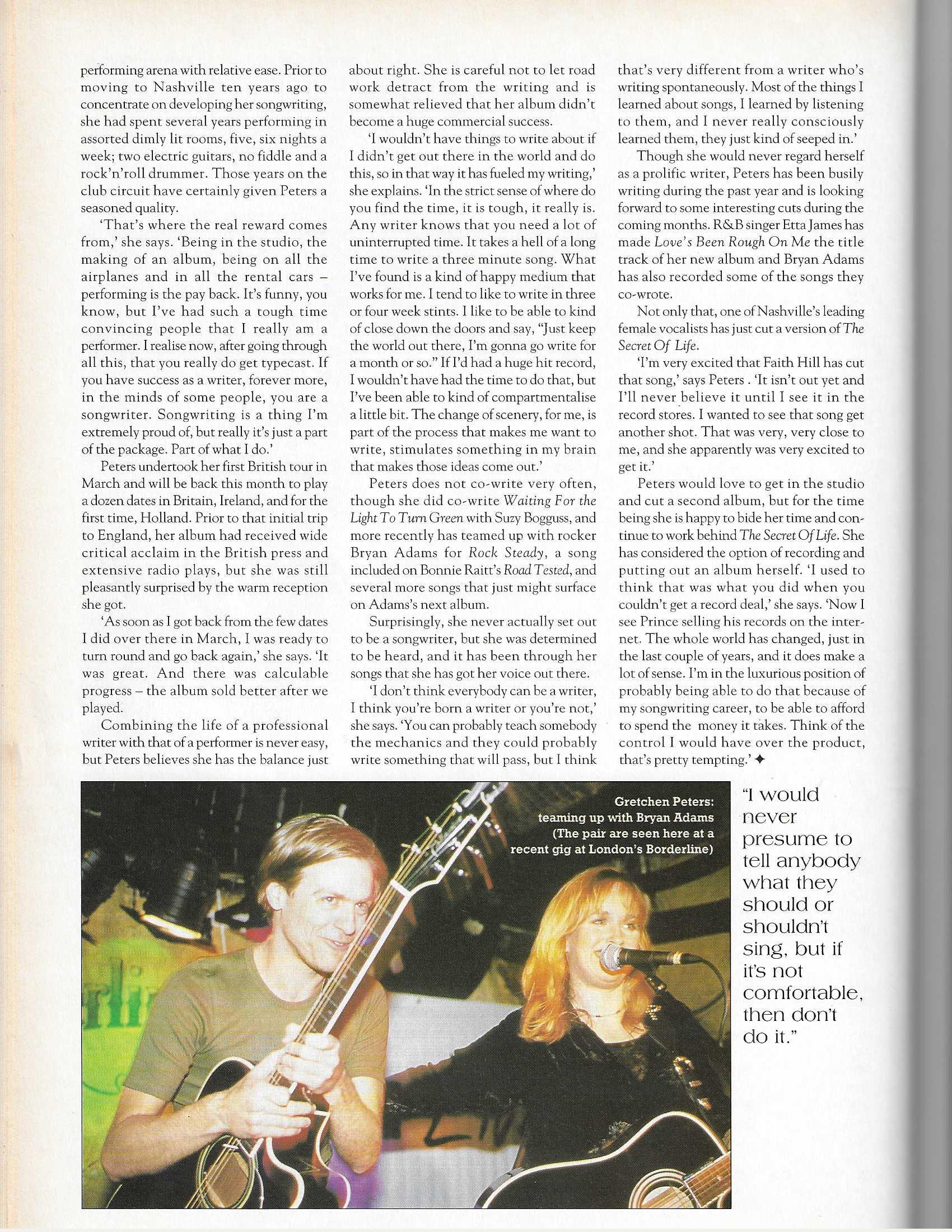 Any writer knows that you need a lot of uninterrupted time. It takes a hell of a long time to write a three-minute song. What I've found is a kind of happy medium that works for me. I tend to like to write in three or four week stints. I like to be able to kind of close down the doors and say: 'Just keep the world out there, I'm gonna write for a month or so.' If I'd had a huge hit record, I wouldn't have had the time to do that, but I've been able to kind of compartmentalise a little bit. The changes of scenery, for me, is a part of the process that makes me want to write, stimulates something in my brain that makes those ideas come out."
Peters does not co-write very often, though she did co-write Waiting For The Light To Turn Green with Suzy Bogguss, and more recently teamed up with rocker Bryan Adams for Rock Steady, a song included on Bonnie Raitt's ROAD 'TESTED, and several more songs that just might surface on Adams' next album.
Surprisingly, she never actually set out to be a songwriter, but she was determined to be heard, and it has been through her songs that she has got her voice out there. "I don't think everybody can be a writer, I think you're born a writer or you're not," she says. "You can probably teach somebody the mechanics and they could probably write something that will pass, but I think that's very different from a writer who's writing spontaneously. Most of the things I learned about songs, I learned by listening to them, and I never really consciously learned them, they just kind of seeped in."
Though she would never regard herself as a prolife writer, Peters has been busily writing during the past year and is looking forward to some interesting cuts during the coming months. R&B singer Etta James has made LOVE'S BEEN ROUGH ON ME the title track of her new album and Bryan Adams has also recorded some of the songs they co-wrote.
Not only that, one of Nashville's leading female vocalists has just cut a version of The Secret Of Life.
"I'm very excited that Faith Hill has cut that song," says Peters. "It isn't out yet and I'll never believe it until I see it in the record stores. I wanted to see that song get another shot. That was very, very close to me, and she apparently was very excited to get it."
Peters would love to get in the studio and cut a second album, but for the time being she is happy to bide her time and continue to work behind THE SECRET OF LIFE. She has considered the option of recording and putting out an album herself. "I used to think that was what you did when you couldn't get a record deal," she says. "Now I see Prince selling his records on the internet. The whole world has changed, just in the last couple of years, and it does make a lot of sense. I'm in the luxurious position of probably being able to do that because of my songwriting career, to be able to afford to spend the money it takes. Think of the control I would have over the product, that's pretty tempting."