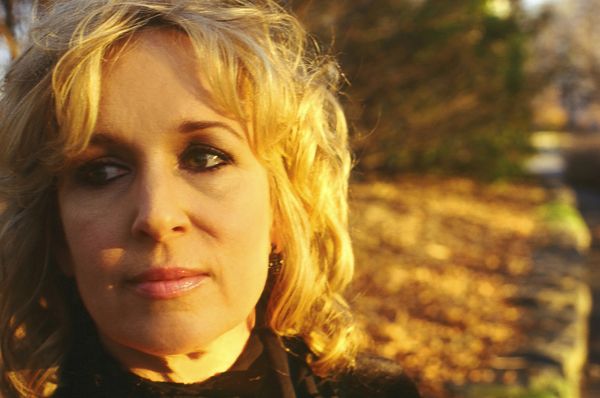 It seems inconceivable that it was 20 years ago that I first made a close connection with Gretchen Peters. I've always been very much into songwriters. Whenever I get a new album I voraciously devour the credits, looking especially closely at the songwriters. Back in the early 1990s I became a huge fan of Gretchen Peters, the songwriter. Songs like
The Chill Of An Early Fall, When You Are Old, Let That Pony Run, My Baby Loves Me, Souvenirs Independence Day
and
You Don't Even Know Who I Am
made a huge impact on me. So much so, that I wanted to know more about this new, relatively unknown songwriter.  
My opportunity to discover more about Gretchen Peters arrived in 1996. When I heard that Gretchen was the first artist signed to Imprint Records, a new Nashville independent label, I immediately made contact with the label. A few weeks later I received a lavish press kit with a copy of THE SECRET OF LIFE, her debut album, due for release in June 1996. Sometimes the anticipation can be dashed when you finally get to hear the album, but not this time.
The Nashville-based singer-songwriter had a knack for composing quick hooks and fully-fledged melodies that charm effortlessly. ...a country/pop recording that was sometimes rootsy, sometimes pure, and always engaging. Songs like
On A Bus To St Cloud
and
I Was Looking For You
ache with missed expectations and hope in their draught, while
Over Africa
and
When You Are Old
are timeless tales of endearing love. That latter song really affected me. Made me believe, that like the great singer-songwriters of yore, maybe this woman had something to say. That in this crazy, mixed-up, shook-up world she can illuminate her story and people can relate. Her sound hearkens back to a calmer, peaceful era and creates a timelessness that makes it easy to engage the listener.
Needless to say I was well and truly hooked and within a couple of weeks of receiving the package, that May I finally got around to chat to Gretchen about her music, her life and her influences. It was an illuminating experience, as unlike most of the 'country' acts that I was interviewing at that time, Gretchen wasn't southern born, didn't profess to have grown up on country music and was citing influences that for Nashville in the mid-1990s, were definitely left-of-centre. I felt an immediate affinity with this thoughtful and sensitive woman.
That interview was published in the August 1996 issue of
Country Music International
under the heading: 'Is Gretchen Peters Nashville's Greatest Songwriter?' Almost 20 years after posing that question, I still strongly believe that she is. The Nashville Songwriters Association obviously share my enthusiasm for Gretchen's songwriting when they justifiably inducted her into the Nashville Songwriters Hall of Fame in 2014.
Some months ago I met up with Gretchen in the coffee shop at the Nashville Library. It was a catch-up over coffee; a chance to reflect on her career, her tours of the UK and the various people that she has worked with over the years. I felt humbled and honoured that over the years I'd watched on the sidelines as Gretchen had developed a sizeable fan base for her music in the UK and along the way her unique talent had created a quality catalogue of music that uplifts and inspires audiences around the world.
"I'm in huge debt to people like you and promoters from over the years, who just stuck with me," she says with deep sincerity. "They took a chance on me when I first came over there and were like, let's do a little bit bigger next time.""I remember the first time I brought Barry [Walsh, her long time keyboard player and now husband] over in 2001. I think it was the first gig we did, the Maze in Nottingham, before the Maze got bigger. It was teeny, and he walked in there and I could see the look on his face and he was like: 'What! My god!' I said: 'Just you wait, you will be as high as a kite from all the energy in this room.' And he was. It was the audience!""People ask me a lot, especially people from over here; 'What made you go over there? How did you do that? They see on Facebook the venues we are playing now, and they kind of think that they can jump on a plane and go to London and everybody's going to roll out the red carpet for you. I'm like, no I played in pubs and I played in little tiny places, like you do anywhere to start.""The thing is, the people have just been unbelievable. I get teary when I think about the support that kept me going for years, when I didn't really have anything going on. Now it's more of a regular thing and we're so happy that we get to the gig and it's full and it's great, but you know, I've been playing for years, when that wasn't the case. I'll always feel indebted to the audience in the UK."
Touring can be tough, especially on a solo artist who has to rely heavily on attracting the right supporting musicians; not just for their playing skills, but also their sensitivity to the music and their companionship on the road. I really took notice of Barry Walsh working with Gretchen at a gig I was promoting at the Soul Café in Maidstone. I was mesmerised by the connection between the two of them on stage that went much deeper than just the music.  
"That makes total sense to me,"
Gretchen nods,
"we always have had that. I mean, for 14 years we were best friends. We always found that when we got on stage together, we somehow anticipate what the other one was going to do … there was just this second language going on. It's kind of uncanny and actually it was that way before we were even together. Then eventually that turned into something else, but that was there back then I realised.""It was when I was doing my second lot of demos that I did in Nashville, I asked the bass player: 'Hey, I need a piano player can you recommend somebody.' He recommended Barry and I never have played with another keyboard player since. I just loved how he played, he seemed to get what I did and that's not been the case with any other guitar players, drummers, you know any other musician. Clearly there was something … a pretty deep connection there, when you find one it's just amazing. Performing is like walking a tight wire every night, but with Barry it just makes it wonderful for both of us. When we get old, we'll need to get a gig in an old folks home, we won't be able to stop, you know completely. But for now, we'll take the gigs we've got, for sure."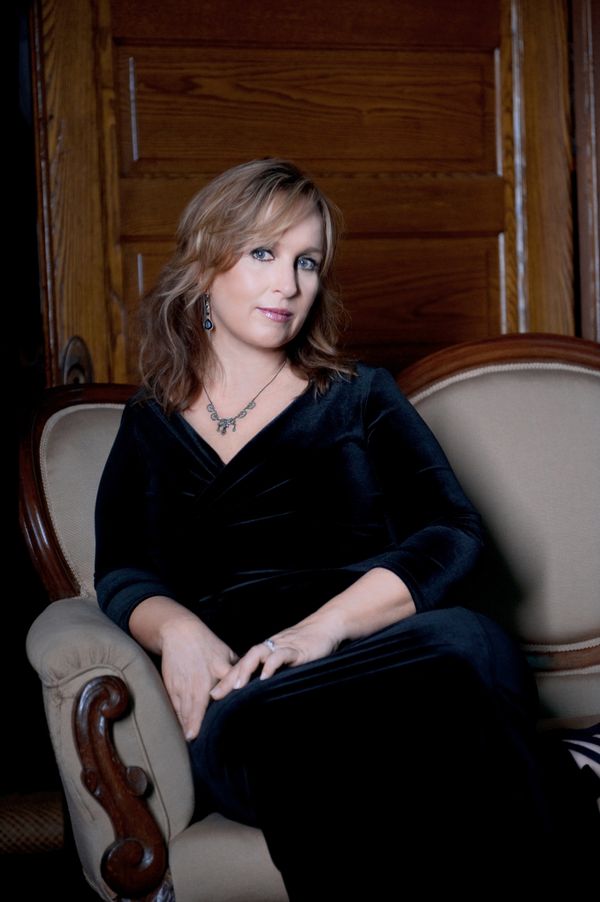 I could feel the deep held love, devotion and passion glowing from Gretchen. There was little doubt that she'd found her soul mate and to be able to work with Barry on stage each night was definitely the cream on top. Having seen them perform many times, both here in the UK and in Nashville and also promoted shows for them, I've had first hand knowledge of the way they work and support each other both on and off stage.
A superbly gifted musician, Barry Walsh has been working as an in-demand sideman for close on 40 years beginning in the late 1970s playing for Roy Orbison, Waylon Jennings and Alex Chilton's Box Tops. By the early 1990s he'd become an invaluable Nashville session musician for such diverse artists as Waylon, Olivia Newton-John and Beth Nielsen Chapman. Over the past few years he has branched out into recording his own solo recordings and also into production. His first album, THE CROSSING, released in 2007 is a collection of deftly played piano pieces. He plays a Grand piano, and apart from Erik Satie's
Je Te Veux
, all the tunes were penned by Barry and several were inspired by his tours in the UK like the delicate and reflective
Leaving Newcastle
and the more grandiose
Exeter Cathedral
. Four years later he released PARADISO and in 2015 came his most ambitious album, SILENCIO, on which he adroitly explored ways to find the space between the notes by restraint … concentrating skilfully on the less-is-more approach.
"It is beautiful. It is really stunning. His son is playing a lot more on it with him and he got John Catchings, the cello player, who is fantastic. Yeah, I'm so thrilled about it. We kind of finished our albums at the same time. It was in the same week …our marriage survived! It's harder to get through that process and not kill each other. Much harder than being on the road; being on the road is like fun, putting out two albums at the same time, I wouldn't really recommend it, but we got through it,"
she laughs.
Though Gretchen has been in Nashville for more than 25 years, she's never really played the Music Row game of co-writing and pitching songs to artists and producers. She's followed her own pathway never being distracted by fads and trends or what's currently being played on the radio. She writes songs that will be appreciated by music connoisseurs who prefer finely aged and intelligently crafted songs over cheap cliché anthems. Their overarching theme mirrors life's complex richness and revelations as observed by someone who has had to deal with more than her share of trials, but never lost touch with the love and truth of the universe. Songs that are sharp enough to wound, and warm enough to heal.
"The songs that people seemed to be the most interested in, were the ones I thought would never be cut; either too personal, too strange or too far off from the centre," she recalls. "They were the ones that worked for me. It was a matter for me of re-enforcement. I soon learned that things that I was doing that I thought were the most oddball or different, were the ones that people were interested in."
A passionate storyteller with stellar songs keeping the truly American art form of popular music burning bright, Gretchen has steadfastly followed her own muse. She readily admits that there is no secret formula for songwriting; it cannot be taught, it cannot be learned, it's a talent that you have, all you can do is to nurture and work on it. With her seemingly boundless creative talent she has worked diligently at it and impressed her fellow writers by being inducted into the Nashville Songwriters Hall of Fame, relatively early in her career.
"Yeah and actually that thought was the first thing that crossed my mind when they called me,"
Gretchen says.
"I was: 'Are you sure I'm ready to do this? Isn't this a little bit early?' because you think about your peers being there. I don't feel like I belong on that list. So, yeah, that was my first thought and thank you for saying: 'it's early in my career,' because my second thought was, 'is my career over?' But no it's not, and it's a huge deal. It's funny, because I moved here and I didn't really co-write and didn't sort of develop that. I didn't develop those tight-knit circle of co-writers, a lot of people do. Your peers vote you in, so when you don't really have that, it almost means more to me, because I didn't establish those bonds. It's not like I don't have friends that are songwriters, but just didn't, you know, the work that I did, I did mostly alone."
One of the few people that Gretchen has sometimes co-written with is rock icon Bryan Adams. On paper, it might seem a somewhat incongruous partnership, yet inexplicably it works really well for both of them. They've co-written around 20 songs that have been recorded by Adams, including
Here I Am
a UK top 10 pop hit and
Don't Let Go
, which Bryan recorded as a duet with fellow Canadian Sarah McLachlan. He has also recorded several songs that Gretchen wrote by herself including
Why Do You Have To Be So Hard To Love
and
This Side Of Paradise
.
It was back in 1995 that the pair first got to write together and despite the difficulties of living in different countries—Bryan Adams is based mainly in the UK—they've continued to work together over the years. Occasionally Gretchen has been credited alongside other writers that Adams works with, including his regular drummer Jim Vance, Mutt Lange, Hans Zimmer and Max Martin.
"Bryan's a renaissance man, he's got huge skills and talent,"
Gretchen says.
"He's got an album coming out and we've got a song on it, a song that we have written a couple of years ago. When I got really, really busy, like when his last record came out, there wasn't any time to do anything, but we're really close friends. I'm always in touch with him and when we do find time allowing us to write the odd song, we hardly ever get time in a room to write it. It's normally usually like Skype and emailing, long distance, but you know, you can do that easily now. With Bryan, I was always normally the lyricist anyway, so really the extent of my job with him was mostly lyrics, so occasionally I still do. I'm involved with so many projects now, I've just worked on the new Tom Russell project."
I had a small part to play in Tom and Gretchen getting together to write songs. Some years ago Tom was playing a gig for me at the Soul Café in Maidstone. In typical Russell fashion, he berated me for featuring so many 'dumb blonde-haired women on the cover of Maverick magazine' as he held up an issue with Gretchen adorning the cover. I in turn berated Tom for being so dismissive of a singer-songwriter that I thought, at the very least, he should have much more respect for. I urged him to listen to Gretchen's music, as I believed strongly that he would be suitably impressed. He took notice and when he returned home to America, he not only sought out some of Gretchen's music, but also made contact with her.
They not only wrote songs together, but also collaborated on the superb cinematic western-themed ONE TO THE HEART, ONE TO THE HEAD album. They have continued to occasionally work together and Gretchen was one of several musicians who worked with Tom on his epic THE ROSE OF ROSECRAE double album in 2015. She has taken collaboration even further on her BLACKBIRDS album in 2015 working alongside Ben Glover, Mary Gauthier, Jimmy La Fave, Suzy Bogguss and Matraca Berg.
"The thing that held me back about co-writing was that I'd worked on my own for so long,"
she explains.
"I finally figured it out with Ben and Mary, that I needed to sit down with people that I could really do that with. I used to think that I needed to change something about the way I went about it, but it's really more about the people that you feel safe doing that with. You just have to go about your business and you write the way you write. I found that with Mary and with Ben that they are fearless and neither of them are afraid to go deep or dark and we could be honest with each other.""In the end I got pretty darn comfortable with it, and I loved the result of it. I needed to fill the well back up, and having some extra energy in the room was really helpful to me. There was a lot of pressure, if I had a nickel for every person that said: 'Well how are you going to top HELLO CRUEL WORLD.' Everytime I heard somebody say that, I would think; 'Thanks!' So there was that added element of having, you know, encouragement and good energy in the writing room with me. Having said that, I wrote, I guess 70% of the record by myself, that will always be the case with me … that's how I work."
BLACKBIRDS, a record of beautiful, hazy, absorbing and provocative music, didn't try to top the exquisite HELLO CRUEL WORLD, but led the listener down a different road of exploration and discovery. A deeply gorgeous soulful album with a strong sense of Americana, from start to finish, Gretchen's labour is driven by her passion and hope for the future with all the desperation, fear and commitment that comes with that.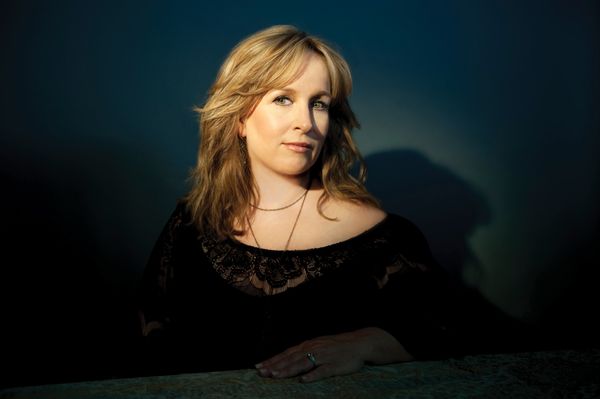 "I knew that I couldn't top HELLO CRUEL WORLD, but it's in your head you know," she says.
"Luckily for me, this is not my first rodeo. I've lost count, I think it might have been my eighth album for me, my ninth, I'm not even sure, but it's not like this awful curse, where you can be literally paralysed by it. I never had that problem, as my first record was not a huge success so I kind of just built on everything. So I hope that this is another step in the building process. But I love the album and I love the way it sounds and all three of us produced it with myself, Doug Lancio and Barry Walsh, and all three of us are really happy and what else can you ask for?"
BLACKBIRDS has been justifiably acclaimed as a minor masterpiece. True, it might not have sold in the quantities of the multi-million selling major superstars, but sales are not always the necessary barometer for quality and integrity. There are no make-weights or stop-gaps included. Not so much as one rambling thought or directionless line. The album is the work of an accomplished songwriter, with spiritual largesse to share and talent to burn. What strikes me most about Gretchen's music is the breadth of styles, and the refreshing straightforwardness of her writing.
Gretchen Peters is a singer-songwriter of and for our times, documenting the world and its current chaos and beauty with remarkable insight. She has arrived at that hard-earned place where she can both look backward and forward and to celebrate the twentieth anniversary of her recording debut, she has put together THE ESSENTIAL GRETCHEN PETERS retrospective. A double CD collection, it's a kaleidoscopic, musical travelogue that navigates these two perspectives insightfully and unsparingly. It features some of her best-known songs alongside rare demos of songs that were turned into hits by others and duets with Bryan Adams, Ben Glover and Tom Russell.
With consistent delivery and unwavering openness, Gretchen's authenticity shines in her ability to thread a range of emotions with eclectic styles into a cohesive and captivating body of work. Her whole career has always been all about songs. A songwriter and a vision shaped by a life of travel, adventure, wandering and searching. A journey not ended.