Greg Holland - Going Dutch
First Published in Country Music International, April 1995
Greg Holland, a one-time child actor and singer, has been around music for as long as he can remember. Now he has a Nashville record deal and a debut album to his name. Alan Cackett listens to the story so far
Greg Holland, a twenty-seven-year-old good-looking Georgia boy, is one of the more recent 'hat' acts to hit Nashville at a time when the genre has surely run its course. His first single, Let Me Drive, a fiddle-enhanced bluesy tribute to a young woman with a passion for getting behind the wheel, has put him forward as a hard-country act with a neo-traditional edge. But digging deeper uncovers a man with a varied musical past.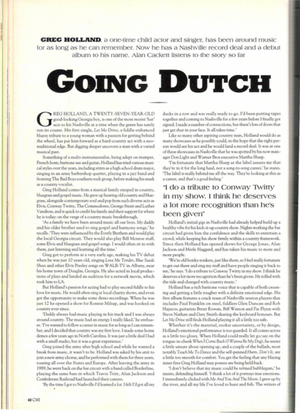 Something of a multi-instrumentalist, being adept on trumpet, French horn, baritone sax and guitar, Holland has tried various musical styles over the years, including stints as a high school drum major, singing in an army barbershop quartet, playing in a jazz band and fronting The Bad Boys southern rock group, before making his mark as a country vocalist.
Greg Holland comes from a musical family steeped in country, bluegrass and gospel music. He grew up hearing old country and bluegrass, alongside contemporary soul and pop from such diverse acts as Elvis, Conway Twitty, The Commodores, George Strait and Luther Vandross, and is quick to credit his family and their support for where he is today: on the verge of a country music breakthrough.
"As a family we have been around music all our lives. My daddy and his older brother used to sing gospel and harmony songs," he recalls. "They were influenced by the Everly Brothers and would play the local Georgia circuit. They would also play Bill Monroe stuff, some Elvis and bluegrass and gospel songs. I would often sit in with them, just listening and learning all the time."
Greg got to perform at a very early age, making his TV debut when he was just 10 years old, singing Love Me Tender, Blue Suede Shoes and other Elvis Presley songs on WALB-TV in Albany, near his hometown of Douglas, Georgia. He also acted in local productions of plays and landed an audition for a network movie, which took him to LA.
But Holland's passion for acting had to play second fiddle to his love for music. He would often sing at local charity shows, and even got the opportunity to make some demo recordings. When he was just 12 he opened a show for Ronnie Milsap, and was hooked on country ever since.
"Daddy always had music playing in his truck and I was always around country. The music had an energy I really liked," he enthuses. "I've wanted to follow a career in music for as long as I can remember, and I decided that country was my first love. I made some home demos a few years ago in North Carolina. It was just a little deal I had with a small studio, but it was a great experience."
Greg joined the army after high school and while he wanted a break from music, it wasn't to be. Holland was asked by his unit to join a new army chorus, and he performed with them for three years, touring all over the States and Europe. After leaving the army in 1989, he went back on the bar circuit with a band called Borderline, playing the same bars in which Travis Tritt, Alan Jackson and Confederate Railroad had launched their careers.
"By the time I got to Nashville I'd learned a lot. I felt I'd got all my ducks in a row and was really ready to go. I'd been putting tapes together and coming to Nashville for a few years before I finally got signed. I made a number of connections, but there's lots of doors that just get shut in your face. It all takes time."
Like so many other aspiring country stars, Holland would do as many showcases as he possibly could, in the hope that the right person would see his act and he would land a record deal. It was at one of these showcases in Nashville that he was spotted by his now manager Don Light and Warner Bros executive Martha Sharp. "I'm fortunate that Martha Sharp at the label assures me that they're in it for the long haul, not a song-to-song career," he states. "The label is really behind me all the way. They're looking at this as a career, and that's a good feeling."
Holland's initial gigs in Nashville had already helped build up a healthy vibe for his kick-it-up country show. Nights working the bar circuit had given him the confidence and the skills to entertain a crowd, while keeping his show firmly within a country framework. Since then Holland has opened shows for George Jones, Alan Jackson and Merle Haggard, and has taken his music to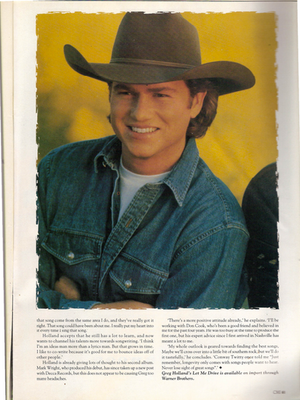 more and more people.
"We're old honky-tonkers, just like them, so I feel really fortunate to get out there and sing my stuff and have people singing it back to me," he says. "I do a tribute to Conway Twitty in my show. I think he deserves a lot more recognition than he's been given. He rolled with the tide and changed with country music."
Holland has a rich baritone voice that is capable of both crooning and getting a little rougher with a definite emotional edge. His first album features a crack team of Nashville session players that includes Paul Franklin on steel, fiddlers Glen Duncan and Rob Hajacos, guitarists Brent Rowan, Biff Watson and Pat Flynn with Steve Nathan and Gary Smith sharing the keyboard honours. But LET ME DRIVE still finds Holland playing it all a little too safe.
Whether it's the material, rookie uncertainty, or by design, Holland's emotional performance is too guarded. It all comes across as a little too glossy. When Holland could really let go, say on the tongue-in-cheek When I Come Back (I Wanna Be My Dog), he seems a little unsure about opening up, and a couple of the ballads, most notably Teach Me To Dance and the self-penned Hurts, Don't It, are a little too smooth for comfort. You get the feeling that any blazing inner fires Greg Holland may possess are being held-back.
"I don't believe that my music could be termed bubblegum," he insists, defending himself. "I think a lot of it portrays true emotions. I immediately clicked with Me And You And The Moon. I grew up by the river, and all my life I've loved to hunt and fish. The writers of that song come from the same area I do, and they've really got it right. That song could have been about me. I really put my heart into it every time I sing that song."
Holland accepts that he still has a lot to learn, and now wants to channel his talents more towards songwriting. "I think I'm an ideas man more than a lyrics man. But that grows in time. I like to co-write because it's good for me to bounce ideas off of other people:"
Holland is already giving lots of thought to his second album. Mark Wright, who produced his debut, has since taken up a new post with Decca Records, but this does not appear to be causing Greg too many headaches.
"There's a more positive attitude already," he explains. "I'll be working with Don Cook, who's been a good friend and believed in me for the past four years. He was too busy at the time to produce the first one, but his expert advice since I first arrived in Nashville has meant a lot to me."
"My whole outlook is geared towards finding the best songs, Maybe we'll cross over into a little bit of southern rock,\but we'll do it tastefully," he concludes. "Conway Twitty once told me: 'Just remember, longevity only comes with songs people want to hear, never lose sight of great songs.'"