Grace Womack - Yellow Cowboy Hat
Self-released
****
Austin-based Grace Womack's debut EP is a quietly remarkable six-track collection that meets life's uncertainties head-on without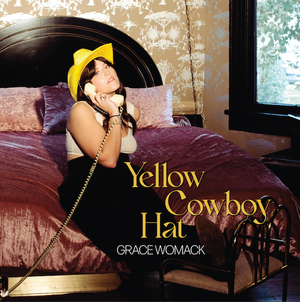 resorting to easy answers. There are a lot of folks who claim to be songwriters. Some are awesome at their craft, while others can write lyrics but lack a soul. Grace has both (and then some), melding lyrics and heart into something magical. Her songs are singular and hopeful and just so deeply good. Her music is soft and engaging and pure and real.
Here acoustic guitar and piano-based ballads are the default mode, creating the perfect setting for her wonderfully expressive voice, which exudes optimistic resilience yet never strains for effect. With all due respect to the deft, unobtrusive players, among them Luke Mosely (keyboards), Scott Bernard (guitar), Eric Flores (drums), and Adam Nitti (bass), Grace's eloquent songs would have sounded just fine unadorned. Having said that, producer Jason Wyatt has created a clean, vibrant sound that wraps around her lyrics and vocals perfectly.
Grace sings passionately about taking on life's uncertainties as she explores universal and perennial concerns: love, intimacy, friendship and confusion. Also, the constancy of change and the open-mindedness, flexibility, and equanimity required to navigate it all. The almost pleading Pity The Fool has a sultry r&b feel as she unfurls inventive lyrics of a failed relationship, which she effortlessly nails. There's a swirling rhythm to Friendship, a more upbeat song about a long-time association that is slowly blossoming into so much more. It is once again a perfect fit, as she oozes confidence for what the future holds for her. The title song is a good-timing joyous surprise of seeing a hunky guy across a room, with an instant connection that can only lead one way. The danceable rhythm's delightful propulsiveness is quite irresistible.
Wondering what life is all about is something we've all gone through at one time or another and Grace offers her thoughts with the piano ballad Oblivion. With measured melodic clarity and seamless vocal flow, tranquil piano lines weave textures in serene layers as she manages to thread the needle beautifully. There's a warmth and comfort that permeates the album, making for a truly engaging and satisfying listening experience. Push past all the emotions Grace Womack leads with her sublime songwriting and brilliant use of word play. Her clever use of lyrics tell detailed stories yet allow the listener to feel they're the kind of experiences they have lived through themselves.
October 2021