First published in Country Music People, September 1973
A songwriter who is fast gaining a name as a singer is Glenn Barber. He first came to the public's attention in the late 1960s, yet he'd been around in country music much earlier, with music being almost a way of life for him. He was born on February 2, 1935, in Hollis, Oklahoma, and christened Martin Glenn Barber. His father was a carpenter in Pasedena, Texas, where the Barber family moved before Glenn was old enough to attend school. He became interested in music very young, and was severely scolded when he was only six years old for touching a neighbour's guitar that the neighbour himself never played. His father saved from his wages to buy young Glenn a guitar, and that guitar went everywhere that Glenn did, including school and church. His enthusiasm for music was so strong that his parents saved from their small income to send him for formal music training. Although Glenn admits most of the time he plays by ear, the music training has been an invaluable help and in fact has proved very useful in writing, arranging and interpretation.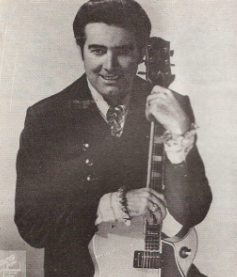 Though music is his life and he lives to perform, Glenn seems to have no limitations a far as artistic and creative achievement. He is not only considered to be one of the finest guitarists in all Texas, but he is also adept on the five-string banjo, mandolin, bass fiddle, steel guitar, Dobro and drums. Alongside this musical ability Glenn Barber is also a very talented artist. One entire wall of his home at Deer Park, Texas, is covered by a mural done by himself. In addition he also does commercial art and in his spare time he likes nothing better than to be left alone to paint and create.
Drawing upon the carpentry skill that he picked up from his father over the years, Glenn has created a truly outstanding feat. With the help of his seventeen-year-old son Glenn Jr, he built a recording studio on his own property. The studio completed just over two years ago took more than three years to finish, and is one of the largest in the South of America. The studio was built to enable Glenn to try out his songs and create a style without having to pay high studio costs. The studio is called Orbit Productions and many other artists take advantage of its handy position in the South.
Another part of Glenn Barber's inborn creative talent is his songwriting ability. Most of his own recordings for the Hickory label are his own compositions from his first hit in 1969
Don't Worry 'bout The Mule,
and the follow-up
Kissed By The Rain, Warmed By The Sun
, to his biggest ever hit
She Cheats On Me
, which was covered in the pop market by Roy Orbison, a singer-writer who hardly ever records other people's material, which indeed gives great praise to Glenn Barber.
Barber likes to record and perform songs that he's written because then he can be sure that the feeling he intended to be put into the written song gets across to the listener. But he does admit that there are many fine songwriters about at the moment and he enjoys singing the feelings they express. To Glenn Barber the 'feel' of the song is the important thing. Among his hits two Mickey Newbury songs stand out. The first is the beautiful
Poison Red Berries
, which Glenn cut in 1971, this song has been recorded by many artists since, but only Barber comes close to Mickey Newbury's own version. The other Newbury song is an unusual one titled
Al
, it's all about a guy who returns safely from the War in Vietnam, then ironically dies in a knife fight in his home town, Barber's performance on this is really strong and convincing.
Obviously Glenn Barber has a need and talent for artistic expression. He creates with his hands, his words and his music, yet he always considers himself just a country boy who likes to sing. He enjoys being a home-body, with strong family ties, and adores his wife and son, whom he says make him a very happy man.
As a singer and composer Glenn Barber is really carving a successful career for himself, with almost one hundred of his songs being published, providing hits for himself, and also other country artists like Sue Thompson, who recorded
Guess Who's Coming To Dinner Tonight
and Leona Williams who hit the charts with
Yes Ma'am He Found Me In A Honky Tonk
. I'm sure that in a few years' time Glenn Barber is going to be registered as one of the finest song stylists in country music.