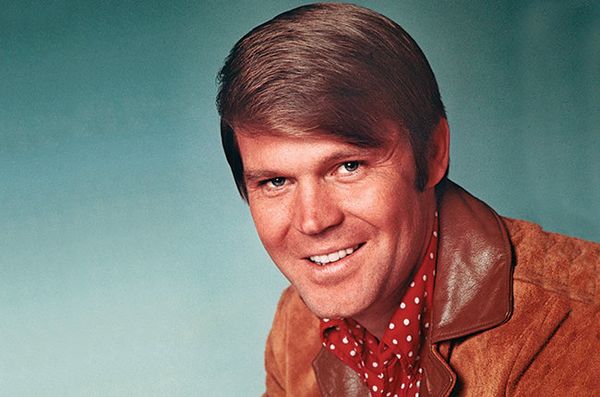 Glen Campbell, one of the greatest music icons of the 20th century, passed away on August 8, 2017, following a lengthy battle with Alzheimer's. He was 81. Though he was a core country artist, Glen Campbell's music was always way too expansive to be limited to one genre. A talented guitarist, smooth-edged vocalist and classy entertainer, he ran the gamut from bluegrass to contemporary country, with excursions into session work (Frank Sinatra, the Crickets and Merle Haggard) and stints with both the Champs and the Beach Boys. He also hosted his own weekly television show, The Glen Campbell Goodtime Hour, and co-starred alongside John Wayne in the movie True Grit, but it was his versions of Jimmy Webb songs By the Time I Get To Phoenix, Wichita Lineman and Galveston that made Glen Campbell a household name around the world.
I first met Glen Campbell in 1974 backstage at the London Palladium. I was there to interview Carl Jackson, his young banjo player and harmony singer. Glen, who had a wicked sense of humour, was somewhat put-out that I wasn't there to interview him. I didn't tell him, but I felt that Carl deserved more publicity than he did. I've always championed talented newcomers on the block.
A couple of years later I was summoned to EMI's Manchester Square headquarters to interview Glen. He jokingly quipped: 'Oh so you have time for me now!' and we settled into a great interview. At future meetings we often spent much time chatting about his passion for the music of Gene Autry, Marty Robbins and Merle Travis, rather than his own latest albums that he was supposedly promoting. I always found him open, easy-going and full of southern charm.
To me he was always very thoughtful and polite. Back in the late 1970s British songwriter Ray Brett (of the duo Ann & Ray Brett), had written a song that we both thought was ideal for Glen. I offered to get a cassette of What More Can I Do, to the singer. Though he never recorded it, Glen took the time to listen to the cassette and wrote back to Ray to thank him for the song and wish him the very best for the future.
The seventh son of Wesley Campbell, a sharecropper, Glen Travis Campbell was born in Delight, Arkansas, on April 22, 1936. A budding guitarist at the age of six, he moved to Albuquerque, New Mexico in his early teens to join his uncle Dick Bill's western swing band. Later Glen formed his own outfit, the Western Wranglers, touring the Southwest. It was around this time that he met and married Billie Nunley, the first of his four wives.
Already recognised as a skilled guitarist, in January 1958 he made his first recordings at the Customtone Studios in Dallas, Texas accompanying pianist Stan Capps on five instrumentals including St Louis Blues and Honk Tonk. Later that year he recorded a pair of singles for Ceneco Records—Dreams For Sale and I Wonder. Armed with his six-string, he moved to Los Angeles in 1960 and joined the Champs, a popular instrumental combo that had enjoyed success with Tequila. He stayed with them for about a year and played on a couple of their sessions including the minor hit Limbo Rock. Also members at this time were Jimmy Seals and Dash Crofts, who were to resurface in the 1970s as popular duo Seals & Crofts.
Glen's skills on the guitar soon became known and he easily found work as in-demand session player, working in the studio on Bobby Vee, Johnny Burnette, the Crickets, the Hondells, Beach Boys, Frank Sinatra and Dean Martin recordings. Though he enjoyed the session work, he was still hankering after a career as a singer in his own right. He had worked on some sessions for Jerry Capehart, one-time manager of Eddie Cochran and successful songwriter. He took Glen into the studios in early 1961 and produced the single, Nothing Better Than A Pretty Woman, which was released on his Capehart Records. That was followed a few months later by a new song, Turn Around, Look At Me, that Capehart believed to be a hit song. Released on the Crest label, it spent 10 weeks on the American pop charts reaching a peak of No. 62. The song went on to be covered by several more artists including the Lettermen and the Vogues. Glen released two more singles for Crest without further success.
During the spring of 1961, between the Capehart single and the Crest singles, Glen travelled to Nashville for some demo sessions at the Starday Records studios. All told he recorded 20 songs, none of which were released at the time. Later, when he was enjoying his country-pop crossover success, Starday over-dubbed these demos and despite Glen's threat of legal action, released a pair of albums in 1968/69. Also in 1961 he worked with songwriter Jerry Fuller and released the single Winkle Doll under the name of Billy Dolton, even gaining a UK release on the Parlophone label.
The success of Turn Around, Look At Me led to a recording contract with Capitol Records. His first session in May 1962 was with the Jimmy Haskell Orchestra and included lush revivals of country standards Too Late To Worry, Too Blue To Cry and Tomorrow Never Comes. The first song, a 1944 country hit for Ted Daffan, made No. 76 on the pop charts that year, but surprisingly was never promoted to country radio.
This was at the height of the Folk Revival with groups like the Highwaymen, Peter, Paul & Mary and the Limelighters all enjoying pop success. For Glen's next session in June, Nick Venet, the producer of the Kingston Trio, was brought in to supervise. The orchestra was dispensed with and replaced by Dale Fitzsimmons (banjo), Carl Tanberg (fiddle), James
Burton (acoustic guitar), Joe Osborn (acoustic bass), David Frost (drums) with Glen on lead vocals and acoustic guitar
It was plainly obvious that Glen, who had grown up listening to country music, had brought songs like Brown's Ferry Blues, There's More Pretty Girls Than One and Truck Driving Man to the session. An album, BIG BLUEGRASS SPECIAL, was released under the moniker of The Green River Boys featuring Glen Campbell with the single, Kentucky Means Paradise makin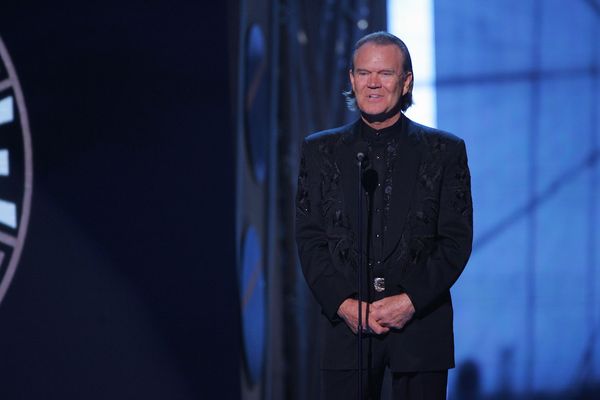 g the country top 20 in early 1963.
Glen continued to record for Capitol throughout 1962 and 1963 releasing such singles as Long Black Limousine, Oh My Darlin' and Prima Donna without success. Despite this, in the summer of 1963 Capitol released the album TOO LATE TO WORRY, TOO BLUE TO CRY, a collection of mainly of older country standards like Walkin' The Floor Over You, Be Honest With Me and It's Been So Long Darlin'. There were also further sessions with the Green River Boys during the same year, but only one single, Dark As A Dungeon coupled with Divorce Me COD, was ever released. The rest, some dozen tracks, have remained unissued.
Having been a musician-for-hire, Glen continued to moonlight and he remained very busy during 1963. He recorded at least two projects that were 'outside' of his Capitol contract. The first in March was a set of instrumentals with Glen on guitar alongside Jim Bond (bass), Hal Blaine (drums) and Leon Russell (piano; harpsichord). It was mainly traditional numbers like Fair And Tender Ladies, Green Fields and If I Had A Hammer plus some original tunes worked up in the studios. These were to surface on American budget-price labels like Surrey, Everest and Index under various names over the years.
A couple of months later he recorded with the uncredited Dillards (Rodney and Doug Dillard plus Dean Webb) for World Pacific. It was again a mix of country and folk tunes ranging from Dylan's Blowin' In The Wind to Tex Ritter's Rye Whiskey. The resultant album, 12-STRING GUITAR! was released under the name of the Folkswingers. In August a second album was recorded, 12 STRING GUITAR! VOL. 2, this time Glen was accompanied by Donovan Cotton (drums), Keith Mitchell (bass), James Bond (drums) and Billy Ray Lathum (banjo). That was followed by 12-STRING DOBRO, this time featuring Tut Taylor (Dobro) with the Folkswingers.
Glen undertook more sessions for World Pacific in 1965. The first in the spring was released under the name of The Bandits and alongside Glen (12-string guitar) were David Gates (guitar), Jerry Kolbrak (bass), Thomas Gilliam (drums) and Ray Johnson (electric piano). They included their versions of the Beatles' I Feel Fine and The Girl From Ipanema on the self-titled album. The second session in May was credited to Glen Campbell and released under the title MR 12-STRING GUITAR. It was mainly a collection of contemporary folk tunes like It Ain't Me Babe and Eve Of Destruction plus The 'In' Sound, a Campbell original.
In addition to these somewhat 'clandestine' recordings, Glen kept very busy as a session musician. As part of the famed 'Wrecking Crew' he played on hits for the Righteous Brothers, Frank Sinatra, Merle Haggard and dozens more. He also stepped in for road work becoming temporarily a member of the Crickets and the Hondells and more famously with the Beach Boys, depping for Brian Wilson on the road between 1965-67 and also playing on several of their hits including Help Me Rhonda.
In addition to this, Glen was still pursuing his own solo recordings. Both he and Capitol seemed unsure in which direction to go with him … pop, folk or country, as a vocalist or a guitarist, so they tried everything. He was in the studio in October 1963 with his 12-string guitar and joined by Roy Clark (banjo), Chip Douglas or Carl Tandburgh (bass guitar), Hal Blaine, Donny Cotton or Earl Palmer (drums), he recorded tracks for THE ASTOUNDING 12-STRING GUITAR OF GLEN CAMPBELL, which was released in mid-1964.
He also continued to record and release singles, mainly in a pop-country style with orchestrations by Jimmie Haskell. Singles like Through The Eyes Of A Child, Sumer, Winter, Spring And Fall, and Satisfied Mind, all failed to make an impression.
In the summer of 1965 it was decided to record a second instrumental album for Capitol, but this time Glen strapped on his electric guitar to play a selection of pop and rock classics like It's Not Unusual, Ticket To Ride, Walk Don't Run and The Lone Arranger. It was released under the title of THE BIG BAD ROCK GUITAR OF GLEN CAMPBELL.
Following this session he recorded Buffy St Marie's controversial Universal Soldier, a direct 'cover' version of the Donovan single, which had been a big UK pop hit. Glen's single was released in direct competition to Donovan's American release, winning out by making No. 45 on the pop charts (Donovan's reached No. 53). He followed in similar vein with Private John Q, which failed to catch on, as did his following singles, though he did make a return to the country charts with Burning Bridges, reaching No, 18 in 1966.
The following summer Capitol released Glen's fifth album, BURNING BRIDGES. Aimed directly at his new-found country audience it featured several country standards like Leon Payne's You've Still Got A Place In My Heart and Eddy Arnold's I'll Hold You In My Heart, alongside more recent country hits Just To Satisfy You (Bobby Bare) and Together Again (Buck Owens).
During a promotional trip to Nashville Glen heard Gentle On My Mind, a new song by John Hartford, a young country-folk singing banjo player. "It was one of those songs that make you stop your car and listen," Glen recalled some years later. In May 1967 Glen recorded that song with Doug Dillard on banjo plus James Burton (guitar), Joe Osborne (bass), Jim Gordon (drums) and Russell Bridges (piano). Released just a month later it made No. 30 on the country charts and No. 62 on the pop charts.
Despite these somewhat lowly chart positions, Gentle On My Mind won four 1968 Grammy Awards, including Best Country & Western Recording Solo Vocal Performance and Best Country & Western Recording for Campbell. The song has since been recorded by more than 300 artists worldwide; Glen's version has received more than 5 million plays on American radio and he used the song as the theme to his TV show The Glen Campbell Goodtime Hour in 1969 and 1972.
By this time Glen's recordings were being produced by Al De Lory, an orchestra leader who was renowned for his lush ar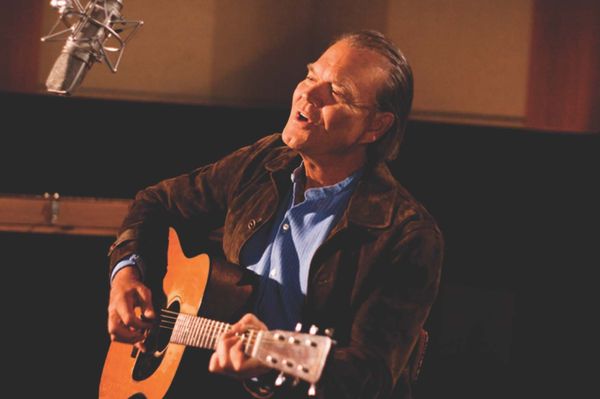 rangements. Glen's next album, GENTLE ON MY MIND, was more of an easy-going folk-pop collection featuring such then current songs as Catch The Wind, Bowling Green and Mary In the Morning. Coinciding with the release in August 1967, Glen was in the studio recording the song that was to forever change his life.
The floodgates were opened for him with Jimmy Webb's By The Time I Get To Phoenix, an orchestrated pop-country ballad. The single climbed to No. 2 on the country charts and No. 26 on the pop charts. Though country purists refused to embrace Campbell's smooth style, he cleaned up over the next few years with such pop-country crossover hits as I Wanna Live, Dreams Of The Everyday Housewife, Wichita Lineman, Galveston, Try A Little Kindness, Honey Come Back and dozens more.
Finally, after years of experimentation and trial and error, he'd discovered a sound and style that was universally accepted. Suddenly he was an international star. His career was helped in no small way in the UK by the efforts of Jeffrey Kruger, the owner of the independent Ember Records. Kruger had met Glen in 1966 and built up a friendship. At the time, EMI London had no plans to release the singer's recordings in the UK, so a deal was agreed that Ember would have sole rights to release his music in the UK.
The first Ember single in early 1968 paired recent American hits I Wanna Live with Hey Little One, followed by an album. With Glen's permission, Kruger selected the singles to release and issued Glen's version of Sonny Curtis' The Straight Life. The fourth Ember single, Wichita Lineman, became Glen's first UK hit in early 1969 reaching the top 10. In the meantime, EMI realised their mistake and so began a court battle to regain the rights to Campbell's recordings. Ember enjoyed one more hit single with Galveston, before agreement was reached for EMI to releases the singer's future recordings, though Ember were still allowed to release a certain number of earlier recordings.
From 1967 through to the end of 1970 Glen released 14 albums in America with four going platinum and another four going gold. He recorded prolifically, and there remains in the vaults dozens of recordings from this period that have never been released.
Over two days in April 1968 he recorded a series of duets with Bobbie Gentry for the gold-certificated GLEN CAMPBELL/BOBBIE GENTRY album and the hit singles, Mornin' Glory/Less Of Me and Let It Be Me. In support of the album they toured together and made several TV appearances. They returned to the studio in January 1969 to record three Everly Brothers songs—All I Have To Do Is Dream, Walk Right Back and I Wonder If I Care As Much. The latter has never been released, whilst All I Have To Do Is Dream was released as a single reaching No. 3 on the UK charts and No. 27 on the American pop charts.
In the summer of 1968 Glen recorded a selection of festive songs for THAT CHRISTMAS FEELING, released that December. On Independence Day 1969 he recorded his first live album at the Garden State Arts Center, Holmdel, New Jersey. It was released less than a month later. That October he was back in the studio recording for what would become his first gospel album. OH HAPPY DAY was quite contemporary for a 'country' performer with songs by Curtis Mayfield (People Get Ready), Edwin Hawkins (Oh Happy Day) and Rodgers & Hammerstein (You'll Never Walk Alone).
He co-starred with veteran actor John Wayne in the western True Grit in 1969, followed by a starring role in Norwood the following year. The hits continued throughout the early 1970s,
though he faltered a little between 1971-74. In early 1971 Glen had recorded such traditional folk songs as Greensleeves, Foggy, Foggy Dew and Aura Lee. These were released through his fan club as part of THE ARTISTRY OF GLEN CAMPBELL, a 2-LP set, with the second album being mainly instrumentals. Between August and October 1971 Glen was in the Studio with Canadian singer Anne Murray for a series of duet recordings for the album GLEN CAMPBELL/ANNE MURRAY.
Despite being a high-profile TV, film and concert star, by 1971 Glen Campbell was struggling to score major pop or country hits. It was time to look for a new direction so in August 1972 Jimmy Bowen was brought in as producer for GLEN TRAVIS CAMPBELL (October 1972) and I KNEW JESUS BEFORE HE WAS A STAR (May 1973). Though both albums contained some excellent contemporary material, notably One Last Time and I Will Never Pass This Way Again, neither album produced any big hits.
Glen decided to follow his heart rather than any kind of commercial aspiration and in the summer of 1973 paid tribute to one of his idols with I REMEMBER HANK WILLIAMS, featuring ten songs either written or associated with the legendary country singer. Produced by Jimmy Bowen, it was quite country with twin fiddles and acoustic guitars, but rather strangely, no steel guitar.
REUNION: THE SONGS OF JIMMY WEBB released in October 1974 wasn't quite what the title inferred as the opening track was the Lowell George-penned Roll Me Easy and About The Ocean was written by Jimmy's wife Susan Webb. The whole album was rather low-key, with songs like You Might As Well Smile and Ocean In His Eyes being rather deep. The highlights were I Keep It Hid and The Moon's A Harsh Mistress.
Still hoping that he could find a way back to chart success, he worked in the studio with producers Dennis Lambert and Brian Potter. They had brought him a song, Country Boy (You've Got Your Feet In LA) which they felt was tailor made for him. They had worked on the song in the studio but were unhappy, so in the meantime they decided to try out Rhinestone Cowboy a song that Glen had heard by New York songwriter Larry Weiss.
Rush-released in the summer of 1975, it became Glen's biggest hit topping both the country and pop charts as it went on to sell millions around the world and become something of an anthem for aspiring country singers.
That success re-ignited his career and back on a roll, Country Boy (You Got Your Feet In LA), Southern Nights, and Don't Pull Your Love/Then You Can Tell Me Goodbye kept the momentum going.
Glen was determined to pay tribute and honour those singers and musicians that had influenced him. On the same day that he recorded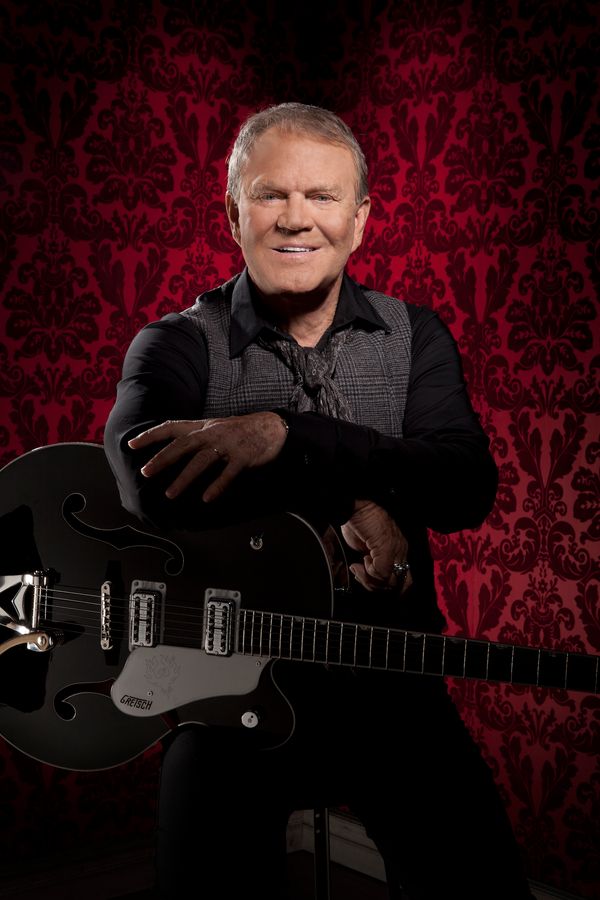 Rhinestone Cowboy Glen began two days of sessions with veteran country singer Tennessee Ernie Ford resulting in the album ERNIE SINGS, GLEN PICKS. These easy-going recordings featured the pair of them singing and harmonising through country standards old and new including I Really Don't Want To Know, For the Good Times and Trouble In Mind. Totally uncommercial, but a true labour of love.
In the meantime Lambert and Foster worked with Glen on sessions for the RHINESTONE COWBOY and BLOODLINE albums, both heavily slanted toward contemporary pop. Whilst on tour in the Far East, Glen recorded his second live album in Tokyo, Japan in 1975. The following summer he teamed up with Gary Kelin, the then hot new producer, for sessions that produced a highly commercial version of Allen Toussaint's Southern Nights. In early 1977 it became Glen's second country and pop crossover chart-topper, again selling millions around the world.
It proved to be a one-off collaboration resulting in just the SOUTHERN NIGHTS album. By this time Glen had grown his hair much longer and sported a beard in an effort to distance himself from the clean-cut, boy-next-door image. There was also a change in music as he tried to reach a younger, hip audience. He became good friends with keyboardist/songwriter Micheal Smotherman after being introduced by Roger Miller.
He included two of Smotherman's songs on the SOUTHERN NIGHTS album, then Glen's next album, BASIC, released in October 1978, was entirely written by Smotherman. The writer also played keyboards on the sessions and joined Campbell's touring band. He also provided six songs for Glen's 1979 HIGHWAYMAN album. The Jimmy Webb title song was revived by the Highwaymen supergroup (Johnny Cash, Waylon Jennings, Kris Kristofferson & Willie Nelson) in 1985. Though I've always enjoyed their version, for me Glen's version is definitive. Several of the tracks for the album were recorded in Honolulu, Hawaii, but only four songs were deemed suitable for release, with ten others remaining unissued.
In the spring of 1979 Glen recorded a dozen songs with the famed Nelson Riddle Orchestra, but none of the tracks have ever been released. That same year he began a highly-publicised and volatile relationship with singer Tanya Tucker, who was 22 years his junior. They made the tabloid headlines on a regular basis with their often tempestuous and violent outbursts. The once clean-living God-fearing Christian had become a booze-and-drugs living hell-raiser as both his personal and professional life disintegrated into a shambles.
The couple would often tour together and also recorded some duet hits. Tucker first sang with him in the studio in early 1980 providing harmonies for some of the tracks on the 1980 album SOMETHIN' ABOUT YOU BABY I LIKE. Tanya was not credited on the album, and strangely enough the title song and Show Me You Love Me were duets with Rita Coolidge. Released on a single, the song reached No. 42 on the pop charts and 60 on the country charts.
It was in May 1980 that Glen and Tanya 'officially' recorded together. Working with Tanya's producer Jerry Crutchfield on the duet hit Dream Lover, it was released by MCA (Tanya's label at the time). The single only reached No. 59 on the country charts, due to radio programmers 'boycotting' the pair's recordings because of their somewhat lurid relationship.
In July 1980, in the midst of a UK tour, Glen entered the EMI London studios to record Any Which Way You Can, the title song to the Clint Eastwood sequel movie to Every Which Way But Loose. Produced by Snuffy Garrett, the song was released as a single on Warner Bros and made No. 10 on the country charts.
The song was also included on IT'S THE WHOLE WORLD GONE CRAZY, Glen's final album for Capitol Records after a 20-year relationship. Included were a pair of duets with Tanya Tucker—Why Don't We Just Sleep On It Tonight and Shoulder To Shoulder­—and a revival of Jud Strunk's A Daisy A Day, which Glen had often performed in concert.
Glen's affair with Tanya Tucker ended up being short-lived, and after public exposures across the tabloids, he split from her and set about repairing his tarnished reputation and rebuilding his career with the help of his fourth wife, Kimberley Woollen. He recorded I Love My Truck for the soundtrack of The Night the Lights Went Out In Georgia movie and made No. 15 on the country charts in 1981. That same year he recorded a pair of live albums. The first in Dublin wasn't released until 2008, whilst the second, recorded at St Austell, Cornwall. was released by RCA/Energy in 1981. Both albums were produced by Jeffrey and Howard Kruger, who were still heavily involved in Glen's career in the UK.
Meanwhile Glen signed a new contract with Atlantic-America, and entered the studios in the summer of 1982 to work with producer Jerry Fuller, a well-respected songwriter-artist with whom Glen had worked in the early 1960s. For the first time he recorded with his then road band, Caledonia comprising Carl Jackson (guitar, banjo, fiddle), Kim Darigan (bass), Steve Turner (drums, percussion), Steve Hardin (keyboards, harmonica), Craig Fall (electric guitar) and T.J. Kuenster (keyboards, synthesiaer) with Glen playing acoustic guitar and bagpipes.
Released in September 1982, OLD HOME TOWN was not a great album! The first single, a revival of the 1960s pop hit I Love How You Love Me, made No. 17 on the country charts in early 1983. He closed the album with Paul McCartney's Mull Of Kintyre, which had long been a concert favourite and featured Glen playing bagpipes.
His next album, LETTER TO HOME was quite a different album. Recorded in Nashville with the cream of the Music Row session players (David Briggs, Sonny Garrish, Shane Keister, Brent Rowan, Paul Worley, Eddie Bayers and Jerry Douglas), this was mainstream country with a traditional, slightly bluegrass slant. Paul Kennerly's I'll Be Faithful To You was well crafted, and Campbell delivered an emotion-laden vocal performance. Carl Jackson's banjo introduced Faithless Love; as Glen put his impressive voice to good use on this haunting love song. Another gem, Stevie Nicks' After The Glitter Fades, featured Emmylou Harris adding ethereal harmonies. Throughout the album Glen's endearing vocal performance was as warm and comfortable as wrapping yourself in a favourite blanket.
In 1985 Glen recorded two albums. The first, NO MORE NIGHT, was a gospel-styled set for Word Records, which won a 1986 Dove Award for Best Gospel Album by a Secular Artist. The second album, IT'S JUST A MATTER OF TIME was his third (and final) album for Atlantic-America. Like LETTER TO HOME, the sessions were produced by Harold Shedd in Nashville. The title song, a reworking of Brook Benton's 1960 pop hit became a top 10 country hit for Glen in early 1986. The album also included a heartfelt version of the Marty Robbins-penned, Gene Autry, My Hero.
It was to be another two years before Glen returned to the studios, this time re-uniting with Jimmy Bowen, now head of MCA Nashville. STILL WITHIN THE SOUND OF MY VOICE, released in August 1987, featured duets with Willie Nelson, Emmylou Harris and Steve Wariner. The Hand That Rocks The Cradle (with Wariner) and the Jimmy Webb-penned title song, both returned Glen to country top 10. A second MCA album, LIGHT YEARS followed in 1988 with Gail Davies providing harmony vocals.
Jimmy Bowen left MCA Records in 1989 to set up Universal Records and took several acts with him, including Glen Campbell. It was a short-lived venture, as a few months later, he became head of Capitol Records Nashville and Glen moved across with him. His solitary Universal single, She's Gone, Gone, Gone, an old Harlan Howard song, was to be Glen's last top 10 hit and was the opening track on the Capitol album WALKIN' IN THE SUNSHINE.
It was a kind of mixed-bag set trying for a more rootsy sound on some tracks with Bela Fleck and Mark O'Connor, but then on other songs the production seemed a little heavy-handed. There were no less than ten background vocalists credited including Gail Davies, Alan Jackson, Kathy Mattea, John Cowan, Mark Gray, the Gatlin Brothers and Glen's daughter, Debby Campbell.
For some strange reason, EMI renamed Capitol-Nashville, Liberty Records and so from 1991 Glen's recordings were issued under the Liberty banner. There were two more albums for the label, UNCONDITIONAL LOVE (1991) and SOMEBODY LIKE THAT (1993) plus the soundtrack ROCK-A-DOODLE, an animated film for which he provided voice-overs and music.
More and more he was recor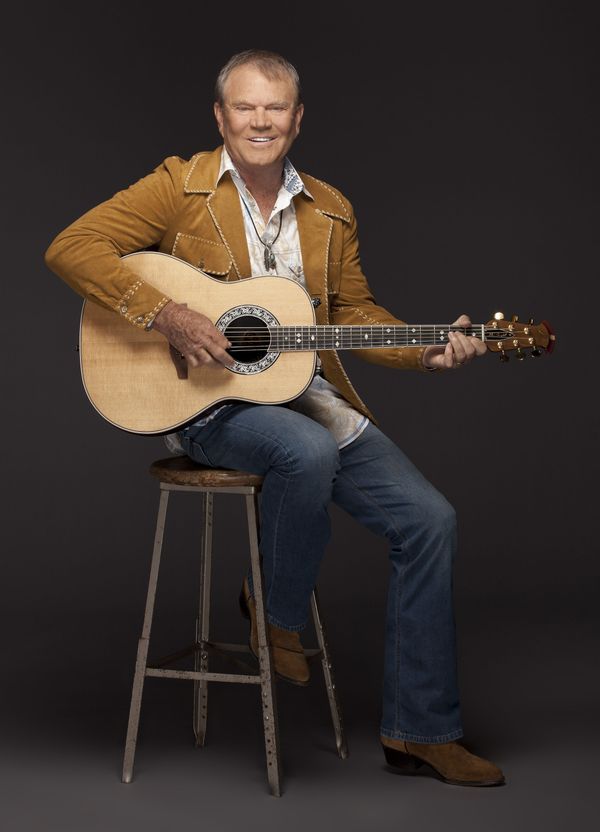 ding religious music. He released FAVORITE HYMNS, a second album for Word Records in 1989, then he joined Christian label New Haven Records for SHOW ME YOUR WAY (1991), WINGS OF VICTORY (1992) and THE BOY IN ME (1994). In 1999 he rejoined EMI Records for the double album release, MY HITS AND LOVE SONGS. The first disc featured 18 of his original hits from the 1960s and 1970s, whilst the second one comprised new recordings of classic love songs. Aimed squarely at the easy-listening market, it turned out to be a big-seller.
By this time Glen was no longer seeking radio plays or chart placings. He spent more time with his family, but still continued to tour regularly. Over the years he recorded duets with many different artists including Mel Tillis, Diane Solomon, Lacy J Dalton, Lee Greenwood, Buck Owens, Johnny Cash, Sandy Kelly and Leslie Satcher. He also participated in themed and tribute albums including SONGS OF THE LOUVIN BROTHERS, BOOTS TOO BIG TO FILL: A TRIBUTE TO GENE AUTRY and BOB WILLS: TRIBUTE TO BOB'S 100TH BIRTHDAY.
In 2004 Glen joined Tony Brown's Universal South label for LOVE IS THE ANSWER: 24 SONGS OF FAITH, HOPE AND LOVE, a double album that mixed the contemporary (Shower The People, Up Where We Belong) with the traditional (The Old Rugged Cross, Rock Of Ages).
It would be true to say that by the time he was inducted into the prestigious Country Music Hall of Fame in 2005, that Glen Campbell had finally arrived at a good place in his life. He had survived the harsh reality of a celebrity lifestyle and continued to make special appearances before sold-out crowds across America, despite talk about retirement to spend more time with his family. He had married the former Kimberly Woollen in 1982 and raised three children with her: sons Cal and Shannon, and daughter Ashley. Glen had five other children from three prior marriages. His eldest daughter, Debby, had joined his stage show in 1987 and remained by his side for 30 years.
It was his children that helped to change Glen's mindset about retirement. His sons and daughters, who regularly performed with their father, persuaded him to record a new album of contemporary songs. 2008's MEET GLEN CAMPBELL might have seemed a strange title for a new album by a musical icon. You'd think there wouldn't be person on the planet who had not heard of the wholesome pop-country singer. But if you'd mentioned his name to anyone under the age of thirty in 2008, the vast majority would have said: 'Glen who?'
Aimed at a younger audience, the album featured contemporary classics by the likes of Travis (Sing), the Replacements (Sadly Beautiful), U2 (All I Want Is You) and Foo Fighters (Times Like These). There were musical contributions by Campbell contemporaries as well as younger rock and alt.country artists who joined him in the studio, including Cheap Trick's Robin Zander, Roger Joseph Manning, Jr. and Jason Faulkner from Jellyfish, and Chris Chaney from Jane's Addiction.
The album rejuvenated his career, but during his concerts he would often stumble over his introductions. Rumours were rampant that he'd started drinking again following years of sobriety. Following the release of GHOST ON THE CANVAS on the hip Surfdog Records in 2011, the singer announced that he had been diagnosed with Alzheimer's disease. He had been suffering from short-term memory loss for years. He embarked on a final Goodbye Tour, with three of his children joining him in his backup band including shows across the UK.
Recorded around this time was SEE YOU THERE, a second album for Surfdog, that was released in 2013 after Glen had completed his farewell tour. Despite the fact that Glen was deteriorating fast and being cared at home by his family and nursing staff, he still made efforts to make music.
He allowed a documentary crew to film him on his final tour for the 2014 award-winning I'll Be Me, demonstrating to the public how bravely he was facing up to Alzheimer's. He spent his final years in an assisted living facility. His friends and children would often spend days with him playing him his old songs.
He recorded what would be his final album. ADIOS, in 2012-2013. Produced by his long-time musician friend Carl Jackson, it wasn't released until June 2017. The album featured a dozen songs that Glen had always wanted to record, but had never got around to. Vince Gill, Willie Nelson and the late Roger Miller sang duets with him and three of his children Cal, Shannon and Ashley were featured on background vocals. It proved to be a stunning epitaph to one of the greatest recording artists of all time.
In his commercial heyday Glen Campbell looked more like the clean, wholesome kind of man you'd see conquering the desert with a Marlborough in his shirt pocket than a rough-hewn country singer. His enormous success as a pop-crossover artist paved the way for hit makers such as Crystal Gayle, Eddie Rabbitt, Kenny Rogers and Dolly Parton to break genre barriers. He will also be remembered as one of the best guitarists of his generation. His musicianship inspired many of today's most renowned pickers, including Keith Urban, Vince Gill, Brad Paisley and Steve Wariner.
A self-taught prodigy, Glen Campbell rose from a poor rural childhood to release over 70 albums and sell 45 million records. Though he was a core country artist, his music was too expansive to be limited to one genre. He would seamlessly mix country tunes, pop classics, folk songs, teen songs and Tin Pan Alley songs utilising similar arrangements for each and every one of them. Some might well term it homogenised music for the masses, but it worked. He was pop-country crossover before the term had been coined, and in his own inimitable fashion, he introduced millions around the world to country music.
It might not have been the country music secretly guarded like the Holy Grail by the traditionalists, but to the world at large it was country, and for many, it was the door to the real country music by the likes of Merle Haggard, Hank Williams, Tennessee Ernie Ford and Gene Autry, all singers that he not only idolised, but talked about in glowing terms when the opportunity arose. In reality, the string-heavy arrangements were not too dis-similar to 'country' recordings of the time by Eddy Arnold, Ray Price and those of a few years earlier by Jim Reeves. One of the finest song interpreters of the past 60-odd years, not to mention a skilled guitarist and superb entertainer, Glen Campbell was indeed a legend and one of the true icons of country music.