First Published in Country Music International, August 1996
Gillian Welch could have stepped straight off the pages of a John Steinbeck novel.  She's a self-confessed throwback to 1930s America, with a set of timeless songs about sex, booze, religion and loneliness.  Alan Cackett delves deeper.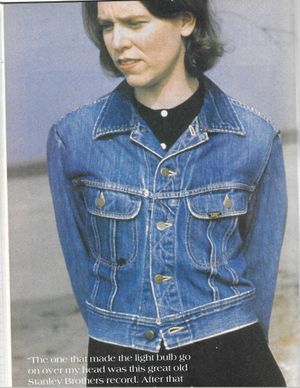 Gillian Welch is a 28-year-old singer-songwriter whose music harks back to the hard-living days of the 1930s and 1940s, and whose image is straight out of a Depression-era movie as opposed to 1990s Nashville. But it all contrasts greatly with her upbringing. A Los Angeles native and Berkeley College Of Music alumnus, her upbringing seems a million miles away from the folksy, traditionally-slanted country music that she writes and performs today.
Since moving to Nashville some four years ago, Gillian has acquired a cult following and seen her songs covered by artists such as Tim & Mollie O'Brien, the Nashville Bluegrass Band and Emmylou Harris (who has championed Gillian's music since the two first met three years ago), and in May she opened for Mark Knopfler at London's Royal Albert Hall during a short visit to promote her first album, REVIVAL.
It was while attending the University Of California in Santa Cruz that Gillian first started dabbling in country music. "I ended up becoming good friends with this bluegrass band when I was 18 and away at college. Their mandolin player, a guy named Mike McKinley, was a DJ and he had a great record collection. I think he had just about every bluegrass record ever pressed. Every Sunday morning we'd be sitting around the house and he would just throw something on the turntable that I'd never heard before. The one that made the light bulb go on over my head was this great old Stanley Brothers record called THE LEGENDARY STANLEY BROTHERS. That's the one that did it. After that I was hooked on bluegrass forever."
Sitting talking in a room decorated in the style of the 1940s in a small club in London's Soho seems highly appropriate. The surroundings suit Gillian and her long-time guitarist, songwriter and performing partner David Rawlings perfectly. The pair of them seem almost inseparable and are like a throwback to a bygone age.
Gillian and David met in Boston when both were attending the Berkeley School Of Music. Even then they were the couple that stood out in the crowd without even trying. They both auditioned for a country band and ended up playing together for about a year in the one and only country group in a school of jazz bands.
Alongside the bluegrass and country music that they started playing in clubs and coffee-houses, Gillian and Dave were also drawn into the Boston music scene and started listening to left-field rock acts of the time such as the Pixies, the Breeders and Throwing Muses. They began working more and more as a duo and also started writing songs together. Eventually, once they completed their studies at Berkeley, they decided a move to Nashville might lead to wider exposure for their music.
Gradually Gillian established herself in Music City via the bluegrass circuit  
and listening rooms such as the Bluebird Cafe. Wider recognition came when two of her songs, Wichita and Orphan Girl, were recorded by Tim & Mollie O'Brien on their AWAY OUT ON THE MOUNTAIN album.
"David and I were booked by the same agent that books Tim and Mollie"' explains Gillian. "I was introduced by the woman who is now our manager, Denise Stiff, who at the time was working for Keith Case & Associates, the booking agency. She grabbed Tim as he was coming back from lunch and told him to check out our songs. He was playing that night at a bluegrass club in Nashville called the Station Inn and he asked us to bring down a tape. Wichita was so new, Dave and I hadn't even demoed it. We went home and spent the day in our living room with the four-track, and we demoed it right up until late that night and ran it down there and gave him the tape with Orphan Girl and Wichita and some other tunes on it. He ended up putting those first two tunes on the record, so that was my first cut."
Gillian's stark, minimal compositions sound so natural that the highly-crafted intricacy of the songs isn't immediately apparent. It's this sheer simplicity that has endeared Gillian and her music to those on the fringes of mainstream country. The International Bluegrass Music Association named Wichita their Bluegrass Song Of The Year for 1994, and Gillian and David have found themselves touring both the bluegrass and alternative rock circuits.
When Gillian first arrived in Nashville she secured a songwriting contract with Almo Irving Publishing and that connection led to her being one of the first signings to Almo Sounds, a new label set up by Herb Alpert and Jerry Moss, the former owners of A&M Records.
"Jerry was really interested and I went out and did the whole audition thing. I sat in his office and played him Orphan Girl, but I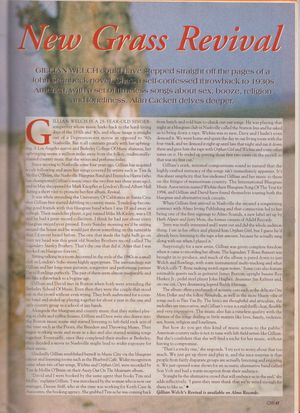 guess he'd already been listening to the tape a fair amount, because he actually sang along with me when I played it."
Surprisingly for a new artist, Gillian was given complete freedom when it came to recording her album. The legendary T-Bone Burnett was brought in to produce, and much of the album is pared down to just Welch and Rawlings, with some instrumental multi-tracking and what Welch calls 'T-Bone making weird organ noises.' Some cuts also feature estimable guests such as guitarist James Burton, upright bassist Roy Huskey Jr., pedal steel player John Hughey, drummer Jim Keltner and, on one cut, Opry drumming legend Buddy Harman.
The album offers a mishmash of acoustic cuts such as the delicate One More Dollar and the folksy Annabelle, as well as the more bluesy vibe of songs such as Pass You By. The lyrics are thoughtful and articulate, the melodies are innovative, and Gillian's voice is a real thrill; clear, flexible and very expressive. The music also has a timeless quality with the themes of the songs dealing in little matters like love, family, violence, sex, booze, religion and loneliness.
But how do you get this kind of music across to the public? American country radio is not in tune with left-field artists like Gillian. But she's confident that she will find a niche for her music, without having to compromise.
"That's a tricky one," she responds. "I try not to worry about that too much. We just get up there and play it, and the nice surprise is that people from fairly disparate groups are actually listening and enjoying it. We just opened some shows for an acoustic alternative band called Son Volt and had a warm reception from their audience."
"It might be the alternative crowd that will embrace us in the end," she adds reflectively. "I guess they must think that we're weird enough for them to like us."