George Strait - Leader of the Pack
First Published in Country Music International, February 1995
No drugs, booze, gratuitous sex or violence … it's been another clean-living year for country music's quietest superstar—a fourth-generation Texan cattle rancher with 26 million album sales to his name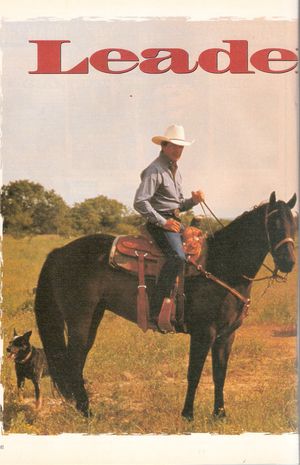 George Strait is comfortable in his career. After all, what could possibly go wrong? He has achieved more than he ever dreamt was possible, he doesn't even need to work again and, if the truth were told, there's possibly a small voice deep inside telling him that he need never bother again with all the trappings of being a country star; the press, the TV cameras, the prying eyes.
The controversy and scandal that surrounds so many musical celebrities is completely absent from the George Strait lifestyle. This fourth-generation Texan cattle rancher, who has sold more than 26 million albums, starred in the box office move smash Pure Country, and scored more country chart-toppers during the past 12 years than any other country star, has never been caught up in the Nashville celebrity lifestyle. While the likes of Tanya Tucker and Joe Diffie seem to fight an on-going battle with the media, striving to keep their private lives out of the tabloid headlines and stop the reporters from going through their trash cans, George Strait has been able to maintain the quiet life so many of his contemporaries crave.
Strait has always lived in Texas, and only comes up to Nashville to record albums and take care of business. Instead, he maintains a typically western lifestyle on his ranch, plays golf, does a little fishing and hunting, and spends a lot of time with his family and friends.
With his gleaming white cowboy hat and those trademark gleaming white teeth, George Strait is almost too good to be true. But one listen to his music and you realise that George Strait is The Real Thing.
While studying agriculture at university, Strait founded the Ace In The Hole Band and took to playing the gruelling Texas honky-tonk circuit. In 1976 he recorded briefly for the Houston-based independent label, Pappy Daily's D Records. A year later, urged on by his young wife, Norma, he began making trips to Nashville. He was on the spot of giving up completely when Erv Woolsey, a former Texan club owner and now an MCA promotions man, secured him a deal with MCA in Nashville. It was now 1981. With his boyish good looks, authentic cowboy persona and his relatively rough-hewn younger voice, Strait threatened to kick up a big barroom revival in Music City.
With his Ace In the Hole band, Strait was most at home in front of an audience that was eager to dance. Harking back to the barn-storming years of Bob Wills and the Texas Playboys, he was projecting the sound and ambience of the Texas dancehall circuit.
Superstardom has taken Strait and his music away from the honky-tonks into the big arenas and stadiums. There has also been a smoothing out of his rootsy Texas honky-tonk music, leading to platinum albums and across-the-board recognition. Last year the singer did just 55 concerts, a far cry from the 250 dates he was handling back in 1982.
"The beauty of touring these days," he explains, "as opposed to a few years ago, is that you can play large arenas and auditoriums of 19-20,000 attracting audiences from wider areas. In the old days, you used to have to play a lot of smaller venues in larger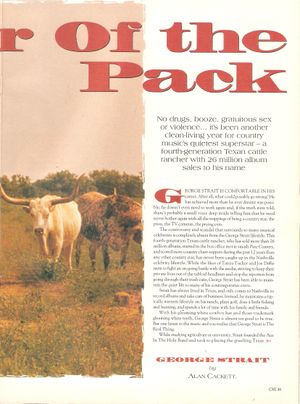 areas to attract the same amount of people. The audience is made up of a diverse age group. We get everyone from kids to grandparents."
Having raved over Strait's debut album STRAIT COUNTRY, I never for one moment believed way back in 1981 that one day George Strait would be appealing to kids and grandparents. He was one of the prime movers in country music rediscovering its roots, resulting a decade later in the emergence of what has come to be termed as neo-traditionalism.
Garth Brooks has cited STRAIT COUNTRY as the album that turned his head toward country music, and if Strait had not enjoyed the success with his traditionally-slanted music, there's little doubt that Reba McEntire would not have been allowed to turn her music around to a more basic country sound, and where would such hard country acts as Randy Travis, Clint Back and Alan Jackson be without Strait there to open the door and pave the way?
Strait's stripped-down, back-to-basics, hard country music was the most interesting and exciting thing to happen to country music in years. Hard country had stood in implicit, and sometimes explicit, defiance of the aesthetically exhausted 'countrypolitan' sound originally developed by Chet Atkins and Owen Bradley in the late 1950s.
Bursting with an insouciant swing that is usually the province of older musicians, Strait's music rang out with a renewed emphasis on keening pedal steel guitars and baleful fiddlers, harking back to the honky-tonk music of Lefty Frizzell, Webb Pierce and George Jones.
Over the years Strait has refined that basic hard country sound into a cool, no-nonsense synthesis of western swing and honky-tonk. Among the secrets of the easy-going Texan's long-lasting success is his constant search for songs that fit his style.
"As ever, the songs dictate what I do," explains Strait. "I try to look for the best songs always, and spend a lot of time listening to them throughout the 12 months between each album release. So we go in and out of the studio to record whenever the opportunity allows."
Strait likes continuity. In an era of considerable change in the world of country music, George Strait has steadfastly remained a constant. Effectively combining older and modern traits of country music in a commercially successful way, he cranks out records so regularly that it's hard to avoid complacency.
Not being a songwriter, Strait relies heavily on others providing his material. He tends to stick with the same writers. Dean Dillion, who penned his first hit, Unwound, has composed or co-composed no less than 10 of Strait's number one hits. Other writers to have enjoyed credits on George Strait's alums include Sanger Shafer, Hank Cochran, Aaron Barker, Curtis Wayne and Wayne Kemp.
Strait also likes to turn back to some of the old country classics, many of which he used to perform when playing the Texas honky-tonks: Love Bug, an old George Jones hit penned by Wayne Kemp, Lovesick Blues, made popular by Hank Williams, Red Steagall's Here We Go Again and more recently Mel Steet's I Met A Friend of Yours Today.
Mel Street was one of the best hard country singers of the 1970s, but he was up against a relentless tide of watered-down pop country. He committed suicide on his 45th birthday in 1978. He just gave up chasing after that elusive big hit record. But now his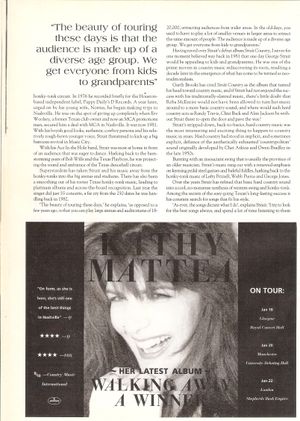 music is back in vogue with many of today's stars such as Sammy Kershaw and Alan Jackson singing his praises.        
George Strait is also a fan, often performing Mel's song in the old days. "I loved Mel's records and was pleased to include I Met A Friend Of Yours Today on my latest album," he states. This superbly written Bob McDill honky-tonk ballad is ideal for Strait, whose phrasing glides and loops whilst casually telling his wife about this bar buddy who was boasting about a new hot lover who not only looks just like her, but also carries the same name.
It is just one of the highlights of his most recent album, LEAD ON, which is one Strait's best sets in several years. The singer is also very pleased with the way the album turned out, his third to be produced by Tony Brown.
"The new album kicked off great with the first single, The Big One" he enthuses. "That was the choice of MCA's promotional department. But it was a difficult choice, as I believe all the songs on this record could stand up as singles."
Brown was also responsible for producing the soundtrack album to Pure Country, (also released last year) which has now amassed sales of 3½ million copies to become Strait's biggest selling album.
The success of the movie caught a lot of people by surprise. It's not a classic film, but Strait acquitted himself well in a custom-made role as a reticent country star who escapes fame by hiding out as part of a ranch band in Texas. Obviously that success has whetted his appetite for more movies, but Strait is determined that they are going to be on his terms.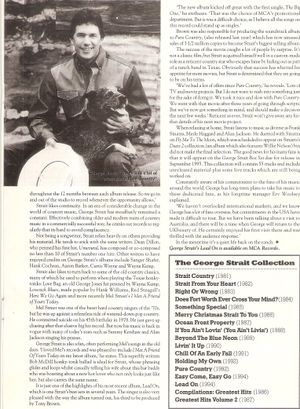 "We've had a lot of offers since Pure Country," he reveals. "Lots of TV and movie projects. But I do not want to rush into something just for the sake of doing it. We took it nice and slow with Pure Country. We went with that movie after three years of going through scripts. But we've now got something in mind, and should make a decision in the next few weeks." Reticent as ever, Strait won't give away any further details of his next move project.
When relaxing at home, Strait listens to music as diverse as Frank Sinatra, Merle Haggard and Alan Jackson. He duetted with Sinatra on Fly Me To The Moon, which was scheduled to appear on Sinatra's DUETS 2 collection (an album which also features Willie Nelson) but did not make the final selection. The good news for his many fans is that it will appear on the GEORGE STRAIT BOX SET due for release in September 1995. This collection will contain 55 tracks and include unreleased material plus some live tracks which are still being worked on.
Constantly aware of his commitment to the fans of his music around the world, George has long-term plans to take his music to these dedicated fans, as his longtime manager Erv Woolsey explained.
"We haven't overlooked international markets, and we know George has a lot of fans overseas, but commitments in the USA have made it difficult to tour. But we have been talking about a visit to Australia, and there will be a time when George will return to the UK. He certainly enjoyed his first visit there and was thrilled with the audience response.."
In the meantime it's a quiet life back on the ranch.