George Jones - Keeping Up With The Jones
First Published in Country Music International – May 1998
He used to be mad, bad and dangerous to know, but at 66 years old, George Jones has finally mellowed. "It's a miracle I'm still alive," he tells Alan Cackett, as he celebrates the release of his latest LP, appropriately entitled It Don't Get Any Better Than This.
"Life is wonderful," announces 66-year-old George Jones. "Since I have straightened my act up, for the first time, I've begun to know what life is all about. I've got a wonderful woman, family and grandchildren, and I'm enjoying them so much," he says.
Jones is the first to admit that he has lived an outrageously reckless life. An alcoholic for 40 years, a heavy cocaine user for 10, he was investigated twice for attempted murder, and there were several incidents involving assault and battery. But those days are over. The past few years have seen a more tame Jones, both personally and professionally. He's sobered up, he shows up, and he's been happily married to wife number four, Nancy for the last 15 years.
Home is a 125-acre farm in Franklin, Tennessee, surrounded by rolling hills lined with fences, and with his 11 grandchildren, ranging from toddlers to early twenties, Jones sounds like any other proud grandfather.
"We spend a lot of time going through the farm with them in their little trucks and playthings. You just get out there and have a good time. We've got a little picnic area and a little cookout place. And we do some fishing right by the pond. We just have a great time with them. I never had the patience to tolerate them too much in the younger days, but now that you get older you enjoy being around them."
In the old days, Jones had a reputation for being not just a drunk, but a mean-spirited, menacing drunk. Much of the 1950s, 60s and 70s revolved around touring, bingeing, taking pills, sustaining countless broken bones in dozens of alcohol related accidents and altercations, repeatedly shooting his bus full of bullet holes, and generally terrorising and endangering everyone around him. But he was in a exalted profession that not only tolerated such behaviour, but often encouraged it.
"In the past, I had all those hits and I was partying all the time," he recalls. "Life was just one big happy party. Since I met Nancy, quit my wild and wicked ways and settled down, I have achieved a lot more. Surely, I have prospered more. In the past I threw everything away three or four times. It's a miracle I am still alive."
Jones often talks about how lucky he is to be alive, but there is also a nostalgic glimmer in his eyes. Bad as the times were, they spark memories of a sweet reality, of camaraderie, youth and urgency. He had a honky-tonk life and sang songs about it. That special kind of debauchery that Jones sang about has all but disappeared from today's country music. There was nothing like a good knee-crawlin' drunk or a night in the pokey to get the creative juices flowing.
"Back in the old days you didn't have to be politically correct," he says. "You could put the woman down. The better you could put the woman down or the woman could put the man down, the better it was, the bigger the song,"
The sound of the voice often says more than the lyrics; the passion must be believable. Too often, what they have done is to take the soul out of the music. Jones has one of the great white soul voices and he remains the sole link between 1990s country hunks and the rich formative era of the traditional country of Hank Williams, Lefty Frizzell and Johnny Horton and may, ultimately, leave behind a legend and a legacy that eclipses them all.
"The record people, they are into the kids, the young people," he says. "That's great. That's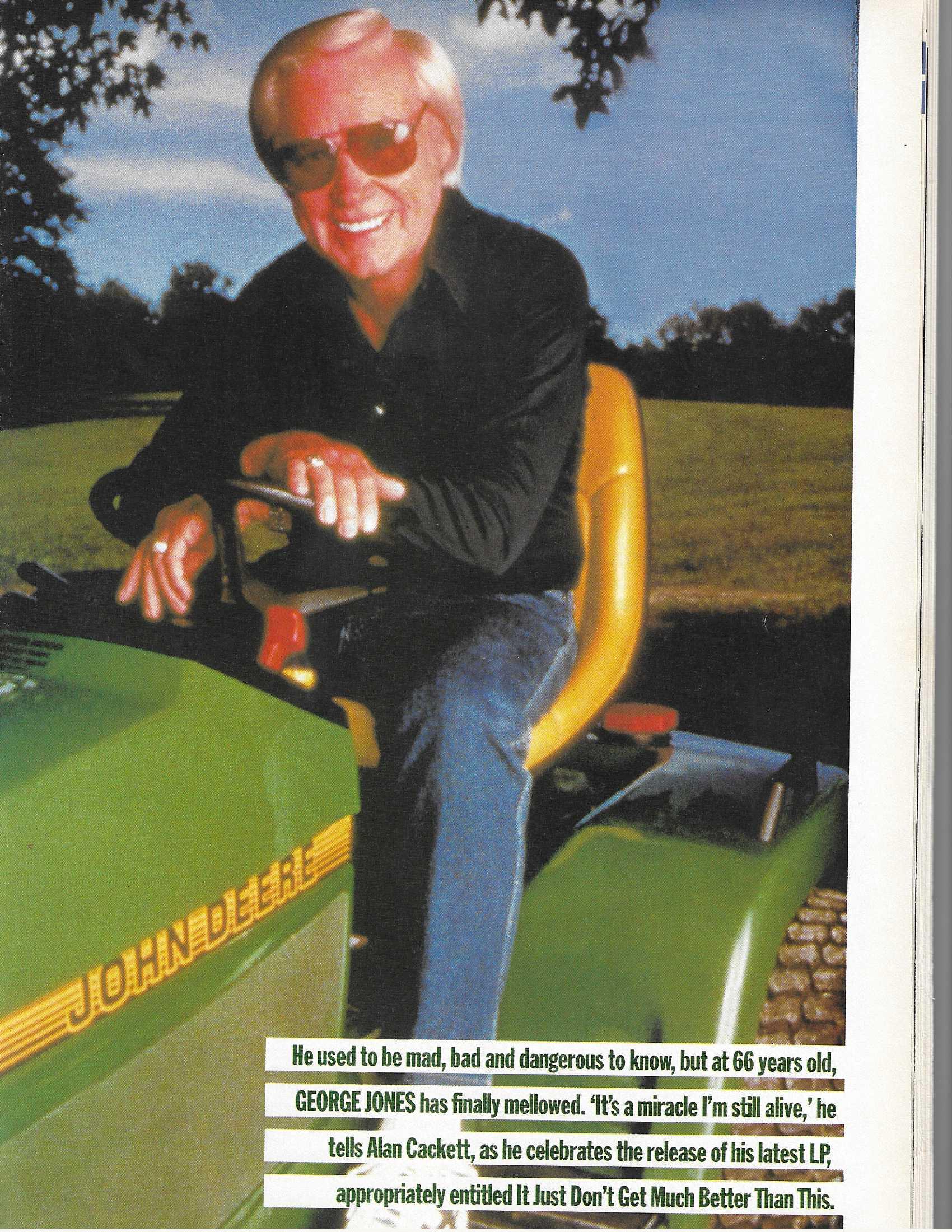 fantastic, but still in all, they're doing a bad thing, I think. They are leaving out the traditional people. The people over 30, in their forties, fifties and on up onto their sixties and seventies. My goodness, there are so many of those fans out there."
Jones has been involved in some of the most memorable torments, tragedies and heartbreaks in country music. The living embodiment of the troubled man on the lost highway. His descent into the private hell, where he spent the better part of the decade after his divorce from Tammy Wynette, reached its lowest ebb in the early 1980s. He had been in the business 30 years. They were calling him the greatest. Yet here he was, almost one million dollars in debt, and diagnosed as a terminal alcoholic.
It was at this time that a real-life saviour tapped him on the shoulder in the shape of Nancy Sepulveda, a quietly spoken but forceful woman. Like the previous women in Jones' life, she had to tolerate hell, but she stood by her man, and eventually the pair won a hard-fought battle against his alcoholism.
On many occasions he has credited Nancy with separating the old Jones from the new one. "I wouldn't have liked the old Jones too much," he laughs. "I might have liked the songs, but I wouldn't have liked him too much. You know, just about everybody in life goes through some of those things. It's just one of those hazards in life that you have to try and live through without getting killed."
After being saved, Jones trod gingerly through his career, with the result that many of his albums from the late 1980s and early 1990s were a tad predictable. Part of the problem was that songwriters kept giving him songs to fit the myth rather than stretch his copious talents.
For the most part, the songs were a poor reflection of his lustrous opuses from the 1970s, so draggingly derivative that his melismatic prowess was seldom stretched to its full glory. Apart from his fine revival of Johnny Horton's I'm A One Woman Man, which showed that even in his late fifties, good ol' George could still attack a rockin' song with vigour and enthusiasm, it was deadening routine all round.
Too much of what the Nashville studios have been throwing out at us is just a little too predictable and smooth around the edges. Jones felt the same way when he went into the studio a couple of years ago to cut I LIVED TO TELL IT ALL.
"I talked MCA into letting me go in and do what I do best, and they gave me the reins," he recalls. "I just went back to the old George Jones style, the top stuff that I was always successful with. They can call it traditional if they want to, but I think country fans still love to hear it. I was real thrilled the way it turned out."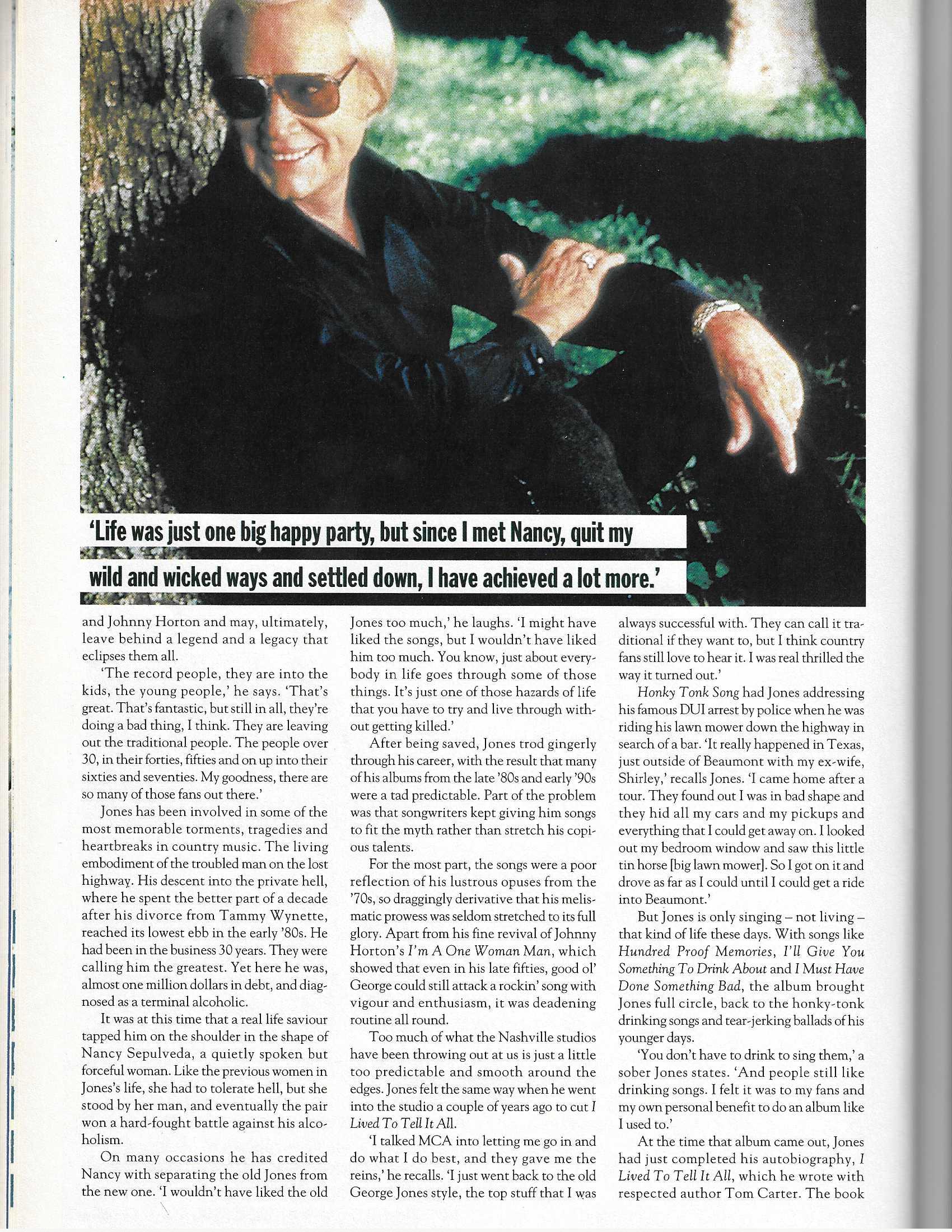 Honky Tonk Song had Jones addressing his famous DUI arrest by police when he was riding his lawn mower down the highway in search of a bar. "It really happened in Texas, just outside of Beaumont with my ex-wife, Shirley"' recalls Jones. "I came home after a tour. They found out I was in bad shape and they hid all my cars and my pickups and everything that I could get away on. I looked out of my bedroom window and saw this little tin horse (big lawn mower). So I got on it and drove as far as I could until I could get a ride into Beaumont."
But Jones is only singing—not living- that kind of life these days. With songs like Hundred Proof Memories, I'll Give You Something To Drink About and I Must Have Done Something Bad, the album brought Jones full circle, back to the honky-tonk drinking songs and tear-jerking ballads of his younger days.
'You don't have to drink to sing them," a sober Jones states."'And people still like drinking songs. I felt it was to my fans and my own personal benefit to do an album like I used to."
At the time that album came out, Jones had just completed his autobiography, I Lived To Tell It All, which he wrote with respected author Tom Carter. The book became yet another of Jones' successes, reaching Number Six on the New York Times bestseller list. "I really enjoyed working on it"' he said. "I didn't think I would. I would put it off for six, seven years, until I finally got tired of hearing things that I'd done blown out of proportion. I wanted to set the record straight."
The book is very candid and lays bare many George Jones exploits. Though he shows little or no remorse for the way he treated people around him, he does fully appreciate that he is indeed a lucky man to have survived.
"It is a shame some of us do have to learn later in life," he says. "You really think you are living, and you're not until you get off of all the drink and drugs. At one time I got so low and so bad on everything that my IQ was about 72 when I went into the hospital. That really did scare me."
Enjoying a new lease of life in his mid-sixties, Jones is looking and sounding better than he has for many years. His just-released IT DON'T GET ANY BETTER THAN THIS is a breathtaking run through of some great country songs with the tongue-in-cheek title tune featuring guest vocals by Waylon Jennings, Willie Nelson, Bobby Bare and Johnny Counterfeit, who stood in for th ailing Johnny Cash. 
Jones knows heartache songs every bit as well as he knows drinking songs. The raw, emotional, heart-on-his-sleeve delivery of Over You is instantly identifiable as classic George Jones. Written by Bobby Braddock, it is a sequel of sorts to the singer's award-winning He Stopped Loving Her Today, which Braddock co-wrote with Curly Putnam. Jones says he almost didn't cut Over You because, like its predecessor, it's a heavy and sad song. Braddock pitched it to him two or three years ago, and Jones passed. But when he listened again recently, the song really struck him. "You have to hear it three or four times to get the full benefit out of it," he says.
Jones also included three more Braddock songs on the new album, including Wild Irish Rose, the first single. "It's another sad song, but I love that song," Jones says of the tune, which describes a Vietnam veteran's life and his death as a homeless person. The singer is hoping the song will draw attention to many of the war veterans' plights. "A lot of homeless people are vets that didn't come back from the war in one piece, especially in their mind," says Jones, a former Marine who served in Korea. "I'd like to see the nation wake-up to the fact that they are out there."
Jones has taken the unusual step of filming a video clip with a toll-free number at the end that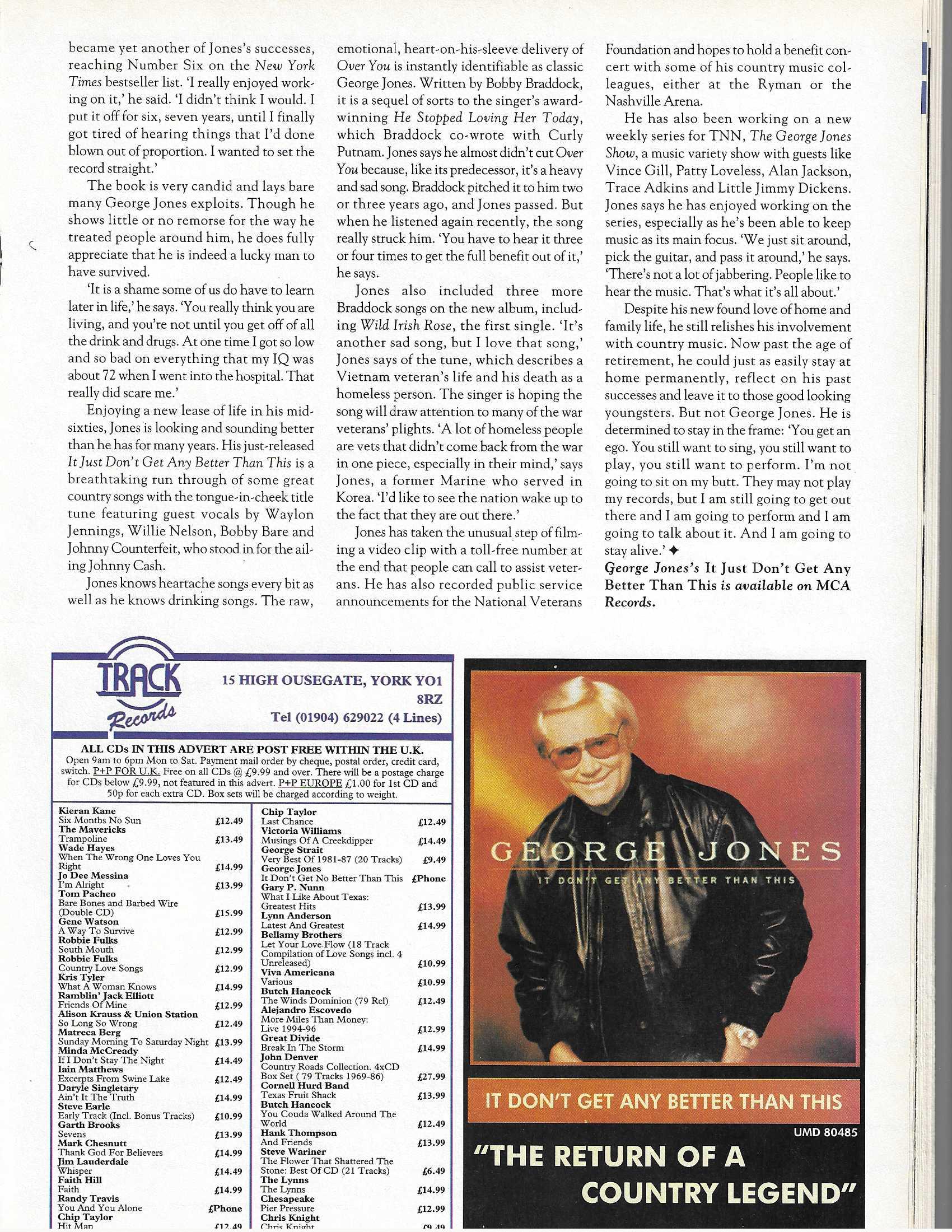 people can call to assist veterans. He has also recorded public service announcements for the National Veterans Foundation and hopes to hold a benefit concert with some of his country music colleagues, either at the Ryman or the Nashville Arena.
He has also been working on a new weekly series for TNN, The George Jones Show, a music variety show with guests like Vince Gill, Patty Loveless, Alan Jackson, Trace Adkins and Little Jimmy Dickens. Jones says that he has enjoyed working on the series, especially as he's been able to keep music as its main focus. "We just sit around, pick the guitar, and pass it around," he says. "There's not a lot of jabbering. People like to hear the music. That's what it's all about."
Despite his new-found love of home and family life, he still relishes his involvement with country music. Now past the age of retirement, he could just as easily stay at home permanently, reflect on his past successes and leave it to those good-looking youngsters. But not George Jones. He is determined to stay in the frame: "You get an ego. You still want to sing, you still want to play, you still want to perform. I'm not going to sit on my butt. They may not play my records, but I am still going to get out there and I am going to perform and I am going to talk about it. And I am going to stay alive."