George Jones - Blood, Sweat and Tears
First published in Country Music International, February 1995
Good honky-tonk vocals are the sound of a man crying into his beer. In the voices of the great singers it's a knife-edged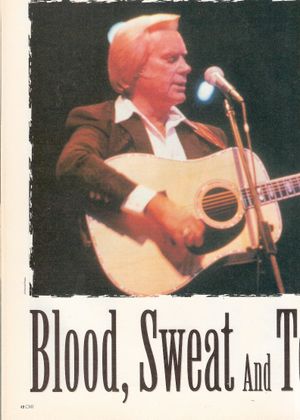 vulnerability which makes the difference between blood and guts and gutless muzak. In traditional blood and guts country, George Jones is the last of a dying breed.
In terms of hit records and longevity, George Jones has been one of country music's most successful singers—and he is certainly one of the most revered—but despite his popularity it is questionable whether he has ever received the acclaim he deserves as a serious composer and singer.
The root of the problem is Jones' voice. He's one of the sweetest, high-wine country crooners of all time. His is a pure hillbilly voice. Yet with all its amazing acrobatics and passionate qualities, it remains, quite simply, the voice of the rural white Southerner.
For those who do not come from the American South, his voice can conjure up bib-and-brace overalls, moonshine stills, grits and gravy. Country music has been an embarrassment to the rest of America, leading Nashville to turn away from much of its heritage, to promote a crossover music that doesn't sound too country or too Southern.
George Jones is, without doubt, one of the greatest honky-tonk singers of all time. Good honky-tonk vocals are the sound of a man crying into his beer. In the voices of great singers it's a knife-edged vulnerability which makes the different between blood and guts and gutless muzak. In traditional blood and guts country, George Jones is the last of a dying breed.
Jones was born in 1931 in the south-east Texas town of Saratoga. Raised in a family in which his mother played piano at church and his father, a roustabout, pipefitter and log truck-driver, picked guitar in his spare time. He has nightmare memories of his father coming home drunk, slapping his mother, waking the kids up and ordering them to sing for him. George, hating the old man and his whiskey breath, would sing out of fear.
Despite this, George took an early liking to music and his first guitar, a gift from his parents, soon led to him forming a musical group with several friends.
As a teenager he was hired by radio station KTXJ in Jasper, Texas, as the host of an afternoon show. Soon after he was playing for husband and wife radio team, Eddie and Pearl, and he moved into their trailer, earning $17.50 a week, plus room and board.
In 1951 Jones joined the marines for a two-year stint. Following discharge, he kept his family fed and clothed by working as a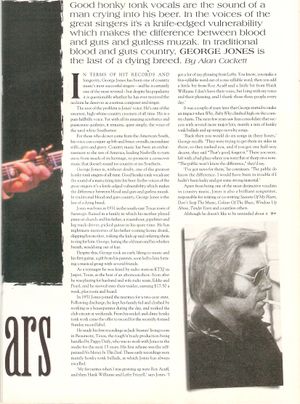 housepainter during the day and working the club circuit at weekends. From his nickel-and-dime honky-tonk work came the offer to record for the recently-formed Starday record label.
He made his first recordings in Jack Starnes' living room in Beaumont, Texas, the rough'n'ready production being handled by Pappy Daily, who was to work with Jones in the studio for the next 15 years. His first release was the self-penned No Money In This Deal. These early recordings were mainly honky-tonk ballads, at which Jones has always excelled.
"My favourites when I was growing up were Roy Acuff, and then Hank Williams and Lefty Frizzell," says Jones. "I got  a lot of my phrasing from Lefty. You know, you make a five-syllable word out of a one syllable word, then you add a little bit from Roy Acuff and a little bit from Hank Williams. I don't have their voice, but I sing with my voice and their phrasing, and I thank those three people every day."
It was a couple of years later that George started to make an impact when Why, Baby Why climbed high on the country charts. The next few years saw him consolidate that success with several more major hits, mainly a mix of honky-tonk ballads and up-tempo novelty songs.
"Back then you would do six songs in three hours," George recalls. "They were trying to get them six sides in there, so they rushed you, and if you got one half-way decent, they said: 'That's good, forget it.' There you were, left with a bad place where you went flat or sharp on a note. 'The public don't know the difference,' they'd say."
"I've got news for them," he continues. "The public do know the difference. I would have been in trouble if I hadn't been lucky and got some strong material."
Apart from being one of the most distinctive vocalists in country music,  Jones is also a brilliant songwriter, responsible for writing and co-writing Seasons Of My Heart, Don't Stop The Music, Colour Of The Blues, Window Up Above, Tender Years and countless others. Although he doesn't like to be reminded about those days, George cut some rockabilly stuff in the early 1950s, some of it issued under the name, Thumper Jones. Play It Cool was recorded before Elvis Presley ever came on the scene, and in 1956 he cut Rock It, Maybe Little Baby and Heartbreak Hotel, some of the most torrid rockabilly of its time. On Rock It country fans will find Jones' hoarse vocal and general yelling almost unrecognisable.
In 1957 Starday was merged with Mercury, one of Nashville's leading country labels, and George Jones' recordings received a much wider exposure. This led to appearances on the Grand Ole Opry and, in 1959, his first chart-topper with White Lightning. But the continuous tours of honky-tonks and small clubs took its toll on Jones and he turned to drink, literally living out the lyrics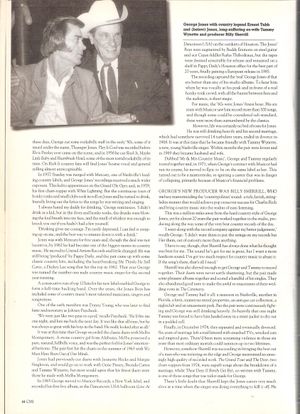 to songs he was writing and singing.
"I always hated my daddy for drinking," George reminisces. "I didn't drink as a kid, but in the dives and honky-tonks, the drunks were blowing the foul breath into my face, and the smell of whiskey was enough to knock you out if you hadn't had a few yourself."
"Drinking gives me courage. I'm easily depressed. I can feel it creeping up on me, and the best way to simmer down is with a drink." 
Jones was with Mercury for five years and, though the deal was not lucrative, by 1962 he had become one of the biggest names in country music. He moved to United Artists Records and little changed. He was still being 'produced' by Pappy Daily, and the pair came up with some classic country hits, including the heartbreaking She Thinks He Still Cares, a Dickey Lee song that hit the top in 1962. That year George was named the number one male country music singer for the second year running.
A consecutive run of top 10 hits for his new label enabled George to form a full-time backing band. Over the years, the Jones Boys has included some of country music's most talented musicians, singers and songwriters.
One of the early members was Donny Young, who was later to find fame and notoriety as Johnny Paycheck.
"We were just like two peas in a pod,' recalls Paycheck. "He'd fire me one night and hire me back the next day. It was like that all the time but he was always so great with his boys in the band. He really looked after us all."
It was at this time that George recorded the classic duets with Melba Montgomery. A stone country gal from Alabama, Melba possessed a pure, natural, hillbilly voice, and was the perfect foil for Jones' emotional baritone. The pair first hit the charts in the summer of 1961 with We Must Have Been Out of Our Minds.
Jones had previously cut duets with Jeanette Hicks and Margie Singleton, and would go on to work with Gene Pitney, Brenda Carter and Tammy Wynette, but most would agree that his finest duets were those he made with Melba Montgomery.
In 1965 George moved to Musicor Records, a New York label, and recorded his first live album, at the Danctown USA ballroom (LIVE AT DANCETOWN USA) on the outskirts of Houston. The Jones' Boys were augmented by Buddy Emmons on steel guitar and ace Cajun fiddler Rufus Thibodeaux, but the tapes were deemed unsuitable for release and remained on a shelf in Pappy Daily's Houston office for the best part of 20 years, finally gaining a European release in 1985.
The recording captured the 'real' George Jones of that era better than any of his studio albums. To hear him when he was vocally at his peak and in front of a real honky-tonk crowd, with all the banter between him and the audience, is sheer magic.
For many, the 1960s were Jones' finest hour. His six years with Musicor saw him record more than 300 songs, and though some could be considered sub-standard, these were more than outnumbered by the classics.
However, life was certainly no bed of roses for Jones. He was still drinking heavily and his second marriage, which had somehow survived 14 turbulent years, ended in divorce in 1968. It was at this time that he became friendly with Tammy Wynette, a new,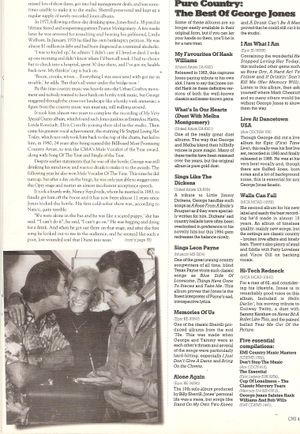 young Nashville singer. Within months the pair were lovers and in 1969 they became husband and wife.
Dubbed 'Mr & Mrs Country Music,' George and Tammy regularly toured together and, in 1971, when George's contract with Musicor had run its course, he moved to Epic to be on the same label as her. This turned out to be a masterstroke, re-igniting a career that was in danger of collapsing, primarily because of Musicor's financial problems.
George's new producer was Billy Sherrill, who was busy masterminding the 'countrypolitan' sound: a rich, lavish, string-laden mutant that would achieve pop crossover success for Charlie Rich and bring country music into the realms of easy-listening.
This was a million miles away from the hard country style of George Jones, yet for more than 20 years the pair worked together in the studio, producing along the way some of the very best country records of the day.
"I went along with the record company against my better judgement," recalls George. "I didn't want them to put the strings on my records but I let them, out of curiosity more than anything."
"I have to say, though, that Sherrill has always done what he thought was best for me. The sound he's got for me is great, but I want a more hardcore sound. I've got too much respect for country music to abuse it. If the song's there, that's all I need."
Sherrill was also shrewd enough to get George and Tammy to record together. Their duets were never earth-shattering, but the pair made some pleasant albums together and scored a handful of hit singles. They also abandoned good taste to make the awful re-enactment of their wedding vows in The Ceremony.
George and Tammy had it all: a mansion in Nashville, another in Florida, a farm, numerous rental properties, an antique car collection, a nightclub and an amusement park. But the pair were continuously fighting and George was still drinking heavily. So heavily, that one night Tammy was forced to have him hauled away in a strait-jacket to dry out in a padded cell.
Finally, in December 1974, they separated and eventually divorced. Six years of marriage left a trail littered with smashed TVs, wrecked cars and emptied guns. There'd been more screaming violence in those six years than most ordinary mortals could summon up in two lifetimes.
However, somehow Sherrill was succeeding in bringing the best out of a man who was teetering on the edge and George maintained an amazingly high quality of recorded work. The Grand Tour and The Door, two chart-toppers from 1974, were superb songs about the breakdown of a marriage, whilst These Days (I Barely Get By), co-written with Tammy, is one of those songs that was tailor-made for George.      
There's little doubt that Sherrill kept the Jones career very much alive at a time when the singer was doing everything to kill it off. He missed lots of show dates, got into bad management deals, and was sometimes unable to make it to the studio. Sherrill persevered and kept up a regular supply of newly-recorded Jones albums. In 1977, following a three-day drinking spree, Jones fired a .38 pistol at lifetime friend and songwriting partner Peanut Montgomery. A few weeks later he was arrested for assaulting and beating his girlfriend, Linda Welborn. In January 1978 he filed his own bankruptcy petition. He was almost $1 million in debt and had been diagnosed as a terminal alcoholic.
"I was so fouled up," he admits "I didn't care if I lived or died. I woke up one morning and didn't know where I'd been all week. I had no choice but to check into a hospital, spent 30 days there, and I've got my health back now. My thinkin' cap is back on."
"Booze, crooks, wives… everything I was associated with got me into trouble," he adds. "but that's all water under the bridge now."
By this time country music was heavily into the Urban Cowboy movement and nobody wanted to hear hardcore honky-tonk music, but George staggered through the crossover landscape like a honky-tonk amnesiac; a figure from the country music wax museum, still walking around.
It took him almost two years to complete the recording of MY VERY SPECIAL GUESTS album, which found such Jones junkies as Emmylou Harris, Linda Ronstadt, Elvis Costello joining their idol in the studio. Then came his greatest vocal achievement, the stunnig He Stopped Loving Her Today, which not only took him back to the top of the charts, but led to him, in 1980, 24 years after being named the Billboard Most promising Country Artist, to win the CMA's Male Vocalist of the Year award, along with Song Of The Year and Single of the Year.
Despite earlier statements that he was off the bottle, George was still drinking his mind away and was too drunk to make it to the awards. The following year he also won Male Vocalist Of The Year. This time he did turn up, but after a day on the binge, he was only just able to stagger onto the Opry stage and mutter an almost incoherent acceptance speech.
It took fourth wife, Nancy Sepulveda, whom he married in 1983, to finally get him off the booze and it has now been almost 11 years since Jones kicked the bottle. His first cold-sober show was, according to Nancy, quite terrible.
"We were alone in the bus and he was like a scared puppy," she has said. "'I can't do it', he said, 'I can't go on.' He was begging and dying for a drink. And when he got out there on that stage, and after the first song he looked out to me in the audience and he seemed like such a poor, lost wounded soul that I burst into tears."
Nowadays, Nancy is not just his wife but she also acts as his manager, confidant and best friend. Living with him at their home in the Nashville suburb of Brentwood or on their 70-acre farm nearby.
Since cleaning up George's recordings have become more focused. Some of the highlights of the 1980s would have to include the duet album with Merle Haggard which produced the Yesterday's Wine chart-topping single and the classic Who's Gonna Fill Their Shoes, a song about the legends of country music which asks if there are any more to follow in their footsteps.
More than any other single country artist, he has been a major influence on the young country stars of today. All of them, from Garth Brooks through Sammy Kershaw, Mark Chesnutt, Vince Gill, Alan Jackson, Marty Stuart and Travis Tritt, have been quick to point out the huge debt they owe him.
He is now considered too old for the ever-younger image that today's country music projects. Though his albums sell hundreds of thousands and his concert tours are almost always sold out.
Four years ago he joined MCA Records and his career was once again rejuvenated when he went into the studio with Emory Gordy Jr to produce the WALLS CAN FALL album. Th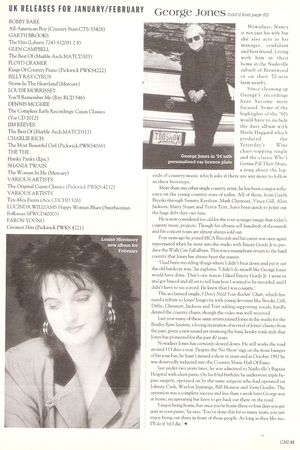 is was a triumphant return to the hard country that Jones has always been the master.
"I had been recording things where I didn't bear down and put it out the old hardcore way," he explains. "I didn't do myself like George Jones would have done. That's one reason I liked Emory Gordy Jr. I went in and got braced and all set to tell him how I wanted to be recorded, and I didn't have to say a word. He knew that I was country."     
The acclaimed single, I Don't Need You Rockin' Chair, which featured a tribute to Jones' longevity with young devotees like Brooks, Gill, Diffie, Chesnutt, Jackson and Tritt adding supporting vocals, hardly dented the country charts, though the video was well-received.
Last year many of these same artists jointed Jones in the studio for the BRADLEY BARN SESSIONS, a lovingly recreation of several of Jones' classics from the past, given a new sound yet retaining the basic honky-tonk style that Jones has pioneered for the past 40 years.
Nowadays Jones has certainly slowed down. He still works the road around 115 days a year. Despite the 'No Show' sign on the front bumper of his tour bus, he hasn't missed a show in years and in October 1992 he was deservedly inducted into the Country Music Hall Of Fame.
Just under two years later, he was admitted to Nashville's Baptist Hospital with chest pains. On his 63rd birthday he underwent a triple by-pass surgery, operated on by the same surgeon who had operated on Johnny Cash, Waylon Jennings, Bill Monroe and Vern Gosdin. The operation was a complete success and less than a week alter George was at home, recuperating but keen to get back out there on the road.
"I enjoy being home, but once you're home three or four days you get ants in your pants," he says. "You've done this for so many years, you just enjoy being out there in front of those people. As long as they like me, I'll do it 'til I die."