George Jones and Tammy Wynette
First Published in Country Music International September 1995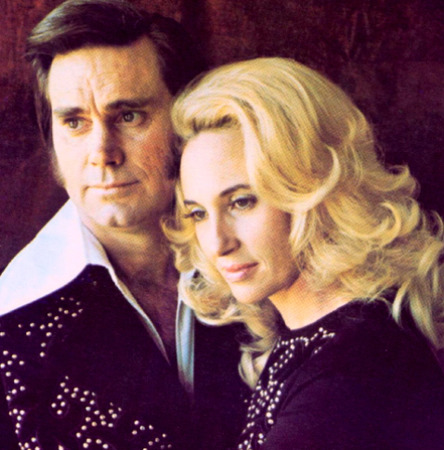 Their marriage didn't survive a daily damage sheet of smashed TVs, wrecked cars and emptied guns. But their musical career? Well, that's another matter. Country music's favourite couple decided to give it another shot. But as one insider says: 'Do we need to put up a stage or a boxing ring?'

The musical reunion of George Jones and Tammy Wynette has to be one of the country music highlights of 1995. It has been 15 years since the long-reigning and undisputed king and queen of country music had combined for a hit record and 17 years since they last toured together. The pair completed ONE, their ninth duet album, earlier this year and following a historic appearance at Fan Fair in June, set out on a series of sold-out concerts across Tennessee, Mississippi, Alabama and Ohio before heading off to Europe for forthcoming shows in London, Ireland and Switzerland.

The partnership of George and Tammy has been one of the most controversial and volatile relationships in the history of country music. The grimmer details of their turbulent marriage, which lasted six years until self-destructing in 1975, were splashed across the front pages of the tabloid newspapers and read like the script to some far-fetched soap opera.

"Some people are asking: 'Do we need to put a stage up or a boxing ring?'" says Nancy Sepulveda, Jones' fourth and latest wife and manager, when discussing plans for the tour in Nashville during Fan Fair week in June. That week, George and Tammy seemed to be together everywhere, keeping close to each other in the hope of dispelling any rumours that old wounds had not completely healed.

In fact, the pair now seem a whole lot wiser and more mature and both seem to have mellowed with age. Also they both have happy marriages. Wynette has been married to George Richey, her record producer and manager since 1978. While in Jones' case, it took Nancy Sepulveda, who had no connections with country music when she married him in 1983, to finally straighten out his life and get him back on course.




George Jones and Tammy Wynette first paired up in 1966. At the time Jones was a hell-raising country singer who had been near the top of his profession for the best part of 10 years. Wynette was a Nashville newcomer, a former hairdresser fresh from Mississippi. But within a couple of years her distinctive, emotional voice was being heard on millions of radios and jukeboxes across America. Unlike most country artists, she was to one of the few whose talents were unrestricted and who was accepted equally by pop as well as country fans.

"When I first heard Tammy on record, I thought she was about the finest girl country singer to come along in many years," claims Jones. "I still feel the same way."

Although both were already married, the pair became lovers. In true fairy tale fashion, George turned up one night at Wynette's house to halt an argument between her and her second husband, songwriter Don Chapel. He bundled Tammy and her kids into his car and drove them over to a motel so they could start planning a life together. To maintain good morals, they even publicly announced that they had married on August 22, 1968, but in fact the couple didn't wed until February 16, 1969. Wynette released her hit single Stand By Your Man that year. It went straight to number one, while Jones responded with I'll Share My World With You.

Outstanding as they were with their individual personalities and styles, Jones and Wynette proved to be the perfect country couple. It seemed, at least for a while, that Tammy might do a June Carter and curb George's wild ways and wean him off the bottle. The couple moved to Florida in 1970 and Tammy gave birth to a daughter Tamala Georgette. Not long after the birth, however, Jones was admitted to rehab clinic following yet another violent drinking binge.

Before Wynette married the singer, she had also experienced many personal problems and failed relationships, and on reflection, it would be true to say that their marriage was doomed to failure before it even started. But back in the beginning it was all champagne and roses.

Dubbed Mr. & Mrs. Country Music, George and Tammy regularly toured together and started recording duets for the album WE GO TOGETHER, in the summer of 1971, when Jones changed record labels to be on Epic, the same label as his wife. The album was musical perfection. Their superb phrasing and faultless interpretation of songs like Livin' On Easy Street, Someone I Used To Know and After Closing Time resulted in a winning combination. The release of the album was anticipated with bated breath in Nashville, and Epic made the rare move of releasing a country record in a special gatefold sleeve, a gimmick normally reserved for rock acts.

The single taken from the album, Take Me, was a beautiful cheating song, that set the pattern for their future duet hits that continued over the next few years. They hit the top of the country charts again with We're Gonna Hold On, Golden Ring and Near You, and continued to record together throughout the ups-and-downs of their marriage.

At times, the Jones/Wynette partnership delivered pure Nashville schmaltz, but it proved popular with the record-buying public, and even when the lyrics were trite, the pair imbued them with enough conviction and emotion to rise above that.

Following their separation at the end of 1974, relations between the two became more embittered. Wynette filed for divorce in January 1975 and their strained relationship surfaced in her choice of material. Wynette took it out on Jones during her solo tours, writing songs like The Bottle and dedicating them to 'that son-of-a-bitch.'

The pair finally stopped touring together in 1977, but returned to the studio after four-year absence in 1980 to produce the album, TOGETHER AGAIN. By this time they had reconciled their differences, but were distant with each other. Although their vocals showed none of the tension that was apparent in the studio. The long lasting popularity of their duet recordings has led to some fans, even now, 20 years after their divorce, to believe that George and Tammy are still married!

It was Nancy Sepulveda who tentatively suggested that Tammy and George should record together for Jones' BRADLEY BARN SESSIONS album. She has guided George's career for the past 10 years and is the one person responsible for him still being able to go out there on the road and perform for the fans in better shape and voice than many singers his age.

Jones knows that he's a lucky man and is content nowadays to bask in the adulation he receives from the younger stars dominating the Nashville skyline. Today, he wears the battle scars of a tough hard life. His hair, still impeccably groomed (and trimmed every other day by his personal barber in Nashville), has turned completely white. The emotion in his face, just as in his voice, hints at sadness and struggle. He's been through heartbreak, self-abuse and sorrow. 'All my life it seems like I've been running from something,' he told an American journalist earlier this year. 'If I knew what it was, maybe I could run in the right direction. But I always seem to end up going the other way.'

But there's no sign that Jones is going to quit. "I've been at it since '56 and I've never quit," he says. "It's just wonderful to experience and do different things in this business. Both Tammy and I have so many great fans out there. We're still kicking up our heels, having a great time, and working more than we want to. And as long as the fans are still out there and come to see us, there's no reason to quit."

Just a few days before the sessions for the duet album got underway, Jones was still recovering from open-heart surgery. He had been admitted into Nashville's Baptist Hospital with chest pains and underwent triple bi-pass surgery on his 63rd birthday. The operation was a complete success and less than a week later Jones was at home recuperating, but keen to kick his career back into gear.

Wynette had also only recently been released from hospital. For many years she has suffered poor health, undergoing several stomach operations and been taken ill on stage. While a violent kidnapping in 1978 left her bruised and battered and suffering from a fractured jaw. Despite extraordinary setbacks, she seems determined to carry on with her career.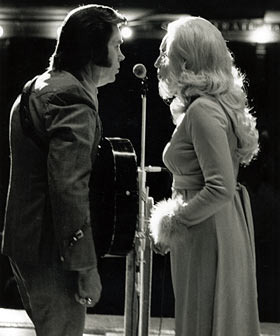 "We re-did Golden Ring for the BRADLEY BARN SESSIONS," Jones says of his reunion with Tammy on last year's all-star duet album, which featured Jones singing alongside a cast of fellow musicians, including Keith Richards, Elvis Costello, Alan Jackson and Travis Tritt. "As soon as we got started on that, it was like the old days. Everything fell in place. She knew what to do when I did it, and I knew what to do when she did it. We hadn't forgotten a thing."

"It's going to bring back memories when we hit the stage," he adds. "I think people are going to want to see us perform together, and I'm sure that they're going to enjoy the show we've got lined-up for them."

The tour will give fans three shows in one. The concert will open with Jones and Wynette coming out to sing three of their older duet hits. Wynette will then perform alone for half an hour. Jones will perform solo for 30 minutes with his band, before being joined by Wynette for another 30 minutes of material from the new album.

Wynette thinks that the pair sound better than before. "I think we actually did it better than we did the first time," she says of Golden Ring. Jones adds that both of them now sing in lower keys, and believe that it sounds better. "We've mellowed out quite a bit. We don't try to scream like we used to." Unlike some duet albums where the artists record their parts separately, Jones and Wynette sang together in the old RCA studio for the recording of ONE. "We did it the old way," says Jones. "The synergy in the room when we first got together was unbelievable."

If absence makes the heart grow fonder, this tour and album could be one of the most popular events of the year. The problems that the pair are already experiencing in the States is country radio's reluctance to play the older artists. In any other musical format, radio stations would be falling over themselves to play material from a legendary teaming such as this.

While in the States in June, it was noticeable that their current single One wasn't being played on the radio. This explains the record's poor showing on the country charts, which are gauged not by sales, but by radio plays.

Ironically, Jones is probably selling more albums now than at any other time in his career. He has recently had two albums that he recorded for Sony/Epic in the late 1980s certified platinum, and another gold. Since joining MCA, four years ago, his WALLS CAN FALL album has gone gold, and his other three MCA albums are all nearing the gold mark.

Country music executives are reluctant to recognise the potential of some of the veteran artists, but it seems that the fans are not. Though the Wynette/Jones tour gained some unwarranted publicity due to a hoax call to a radio station in Tupelo, Mississippi, saying that their show at Tupelo Coliseum had been cancelled, which cut back the attendance, generally the tour has been putting up the sold-out notices days prior to the shows.

Both singers claim that they're looking forward to returning to Britain but Jones admits, predictably, that he does have a problem with the food. "I've never found any food to my liking over there," he grumbles. "I even had to take my own Vienna Sausage last time."

Wynette's approach to coping with the rigours of touring is certainly idiosyncratic. "When I quit smoking I started cooking to have something to do with my hands," she explains. "I'm up every morning between five and seven o'clock baking biscuits. I even do it on the bus when I'm on the road. In England I was given permission to cook in the hotel kitchen."

Clearly Vienna Sausage and home-baked biscuits will be in evidence on the couple's backstage rider when they arrive in Europe this month! Whatever the turmoil of the past, it looks as if the George Jones and Tammy Wynette pairing should live up to the expectations of all those country fans who have been waiting this long for a reunion.

The George Jones & Tammy Wynette Collection

We Go Together (Epic 1971)
Me And The First Lady (Epic 1972)
We Love To Sing About Jesus (Epic 1972)
We're Gonna Hold On (Epic 1973)
George & Tammy & Tina (Epic 1975)
Golden Ring (Epic 1976)
Together again (Epic 1980)
One (MCA 1995)