First published in Country Music People, September 1975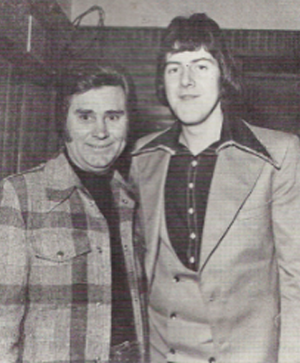 The 1960ss were the time when George Jones was at the top. Along with Buck Owens he ruled country music, everything he recorded hit the charts, his success was unparalleled. His influence tremendous, and though in those days competition was a lot lighter than today, there's no denying the niche he carved for himself in country music.
For sheer volume of record releases, no one comes near George Jones, and though a good many were marred by poor production and rushed recording sessions, throughout George Jones had a very special voice, emotional and pure, but undisciplined at times to be interesting and capable of a real rocking urgency when the song called for it.
Beginning with Starday in 1955 and moving through Mercury, United Artists to Musicor and the biggest hits, George Jones now records for the Epic label. For all the length of his career, I cannot helping feeling that it's just now that he's really coming into his own.
The move to Epic to be on the same label as his wife, Tammy Wynette, was a masterstroke. It re-ignited a career that was in danger of collapsing, primarily because of the failure of Musicor Records to continue as a viable concern. Now that his marriage is in tatters, George Jones is secure with the knowledge that he has a recording contract with a major label. A company that believes in the talent of George Jones, just as long as Jones himself believes in it. His teaming with Billy Sherrill, was, to begin with a strained affair. In the past Jones has hardly needed a producer; he had a voice, an almost endless queue of songwriters and a bunch of superb musicians, all eager to work with that magnificent voice. Now came the testing point—the meeting of a master hit-maker with a faded country star who could, just be nearing the end of the road.
The uncertainty of the partnership was reflected in that first album, WE CAN MAKE IT But even with that problem hanging around, Billy Sherrill succeeded in gaining that little extra out of Jones to produce an album far superior to those cut earlier.
Easter marked George Jones' debut at the Wembley Festival after many promises in the past and a broken marriage hanging darkly over his head, but I think that even George was a trifle surprised by his reception. True it was a heavily partisan audience who attended his debut—but judging from the singer's performance on stage, any audience of any persuasion would have walked away satisfied.
All of the numbers came off superbly thanks to the professionalism of the musicians in the recently reformed Jones Boys. To go with their immaculate playing, their sound was solid, distinct and never confused. All the instruments took their rightful places, the pedal steel and fiddle merged beautifully; interspersed with some tingling notes on keyboards. And there out front was the focus of attention—George Jones. He was satisfying the need of thousands of country music fans who had waited patiently through an endless stream of lesser talents, knocking out one hit after another. He was in complete command of his lyrics and for anyone who had doubted the skill of George Jones as a stage performer, he answered their doubts with one of the best received closing acts it's been my pleasure to witness at the Wembley Festivals.
His unqualified success at Wembley demanded a return and this month, George Jones undertakes his first ever concert tour of Britain. It gives people in the provinces an opportunity to see a master craftsman at work, and those who captured his all too short act at Wembley the chance of a full length act from the most distinguished song stylist in country music.
To date CBS Records in England have been slow in realising the potential of George Jones, until this month they have issued only one gospel album and a couple of duets with Tammy Wynette. Most of his fine albums of modern country music are only available on import, and the British fan is the loser. It was a pity that no solo George Jones album was released to tie-in with Wembley. True there was a duet album and plenty of re-issues from RCA, but the country fan would like to know where George, as a solo artist, stands today. Past glories are fine, but for a singer like Jones to break through to a bigger following in this country, regular and current releases that are promoted in the right way are essential.
His album, THE GRAND TOUR is a perfect album which could have been released. It's a simple and powerful album allowing George Jones very personal, very emotional voice to stand out. The title track is a masterpiece of production; from the simple piano intro, Jones' vocal sliding in with such feeling and then the build up with strings, steel guitar and superb lyrics. Magnificent in every conceivable way, his poignant lyrical delivery exceeds anything done in the past.
But this is not an album of just one good track. Johnny Paycheck's
Once You've Had The Best
is tailor-made for the Jones voice and he makes such popular hits as
Darlin', Pass Me By
and
Borrowed Angel
his very own. For several years the contemporary music press has been raving over George Jones. In much the same way as Tammy Wynette, Dolly Parton and Waylon Jennings, Jones could appeal to a much wider audience. An audience that recognises integrity, honesty and a deep felt belief in what one's doing. It's these traits which George Jones possesses, and if given the right sort of promotion in Britain, then a wider audience is his for the taking.