George Hamilton IV Gentleness – The force behind the British breakthrough
First published in Country Music People, February 1977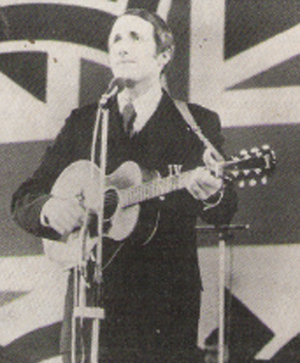 George is back. The lanky American singer is such a familiar face to British audiences that his Christian name is enough for you to know whom I'm talking about. Later this month he begins a lengthy tour of Britain, so it is an ideal time to examine just why George Hamilton IV is so popular in Britain.
Of all the country music stars, George is best known to the British public, yet you might be surprised to learn that he has never made our pop charts. So why is he so popular over here? What is the British appeal of George Hamilton IV?
One easy answer could be that he seems to spend so much time in Britain. Since his first visit in 1967, George has made countless trips for television shows, concert tours and the all-important Wembley Festivals. He has built up a loyal and large following, but he could just as easily have received the cold-shoulder treatment from the British public, who seem largely against American country stars. This has happened to others, whose whole personalities have been so overbearing that it is too easy to take an aversion to them.
George is quite different to most of the entertainers who come from Nashville. He is a quiet, unassuming man, who considers himself lucky to be in the entertainment world, let alone be a major star. There's none of that annoying, almost brazen attitude, that can sometimes make Americans intolerable. George grew up in Winston-Salem, a small American town with neat suburban houses in a middle-class environment that was as near to being British as any part of America could be.
George made his initial contact with Britain in 1967 when he made a brief London stopover en route to Nashville following a tour of U.S. military bases in Germany. This enabled George to meet people associated with the British scene: appear on the Country Meets Folk radio programme; and, most important, make a favourable impression with everyone he met.
In an age when big stars can be unreachable, uncommunicative and down-right rude, George Hamilton IV was a sincere, friendly, gentle man. It was this brief visit that led George to return to Britain for the First International Festival of Country Music at Wembley during the Easter weeekend of 1969. This was his first opportunity to appear before a British audience, and the result was a resounding success. George's showing might have lacked the impact of Loretta Lynn or the emotion of Bill Anderson, but he came away with a lot of new fans. They were bowled over by his friendly, unassuming manner and a string of songs that easily bridged country, folk and popular musical styles.
Soon after this his recordings of
Canadian Pacific, Early Morning Rain
and
Break My Mind
received regular radio plays, and it was only natural that when RCA put together their Country Caravan European tour for the winter in 1969 that George should be included amongst the stars.
This gave the artist the chance to work with British bands The Hillsiders and Jon Derek and Country Fever, and also the opportunity to project his gentle personality to large sections of the British public. By now George had built up quite a large following of British fans. They had associated with the distinctive dress style that was more British than American with a well-cut, immaculately tailored suit, waist-coat and conservative tie that seemed at odds with the 'hick' image that country music has always had with the British public.
T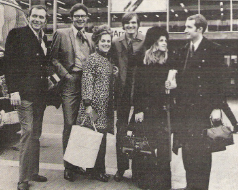 his has stemmed from the western films of the 1930s and 1940s and the insistence of many big stars to wear clothes that reflect a western image. George Hamilton IV has succeeded in keeping the general public's attention because he doesn't give the impression of an overdressed 'hick', and the public have wound up liking his interpretations of country music, which for the most part are straightforward and honest.
Over the years George's mannerisms have become as well-known as his songs. You come away from a George Hamilton IV show remembering his friendly, but equally effective hand wave, the nervous way he holds his small acoustic guitar up to the microphone during the instrumental break, but most important you realise that George Hamilton IV was just an average person, not just another of those big stars. Another plus in George's favour is that out of all the Nashville stars he came out best on television. This was first noticed when the second Wembley Festival was televised in 1970. The next day it was George Hamilton IV who was talked about by those who knew nothing or liked little about country music.
Very soon he was contracted to record the first country music series for British TV—George The Fourth: A King In The Country—recorded at London's Nashville Rooms, once the centre-point of country music in London, but sadly now exists as pub-rock venue. The series was an instant success for a musical style that was deemed of minority appeal only, and George not only made several more series for BBC Television but was also invited to appear on several top-rated variety shows.
In a way George Hamilton IV, with his numerous television appearances, regular visits to Britain and his charming personality, won a lot of new converts to country music. Even now, most of them couldn't tell you a thing about Roy Acuff, The Grand Ole Opry, Waylon Jennings or Willie Nelson, but they have been captivated by George Hamilton IV, introduced to country music and are all-importing to the growing British scene.
To me that's the most important part of the British appeal of George Hamilton IV. It also explains why his tours of Britain are always guaranteed sell-outs, when much bigger names, as far as American audiences are concerned, often turn into flops when they tour Britain. Yes, so much of the appeal for George Hamilton IV revolves around the fact that he is Mr. Nice Guy.