First Published in Country Music International, March 1995
After a six-month stint behind the counter of a bank in Atlanta, George Ducas swapped his collar and tie for jeans and a Stetson and has just released his debut album. Alan Cackett finds out about the career change of a lifetime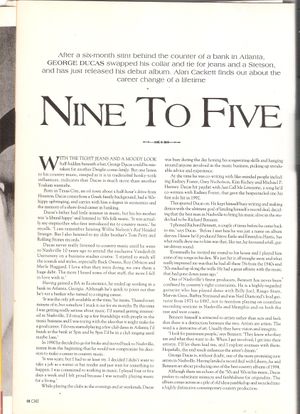 With the tight jeans and a moody look half-hidden beneath a hat, George Ducas could be mistaken for another Dwight-come-lately. But one listen to his country music, steeped as it is in traditional honky-tonk influences, indicates that Ducas is much more than another Yoakam wannabe.
Born in Texas City, an oil town about half-hour's drive from Houston, Ducas comes from a Greek family background, had a 1960s upbringing, and carries with him a degree in economics and the memory of a short-lived career in banking.
Ducas' father had little interest in music, but his mother was 'a liberal hippy' and listened to 1960s folk music. "It was actually my stepmother who first introduced me to country music," he recalls. "I can remember hearing Willie Nelson's Red Headed Stranger. But I also listened to my older brother's Tom Petty and Rolling Stones records."
Ducas never really listened to country music until he went to Nashville 10 years ago to attend the exclusive Vanderbilt University on a business studies course. "I started to study all the sounds and styles, especially Buck Owens, Roy Orbison and Merle Haggard. I love what they were doing, we owe them a huge debt. The more I heard some of that stuff, the more I fell in love with it."
Having gained a BA in Economics, he ended up working in a bank in Atlanta, Georgia. Although he's quick to point out that he's not a banker who turned to a singing career.
"It was the only job available at the time," he insists. "I hated every minute of it, but somehow I stuck it out for six months. By this time I was getting really serious about music. I'd started getting interested in Nashville, I'd struck up a few friendships with people in the music business and I was toying with the idea that it might make for a good career. I'd even started playing a few club dates in Atlanta; I'd finish at the bank at 5pm and by 9pm I'd be in a club singing until maybe 1am."
In 1990 he decided to go for broke and moved back to Nashville, intent from the beginning that he would not compromise his decision to make a career in country music.
"It was scary, but I had to at least try. I decided I didn't want to take a job as a waiter or bar tender and just wait for something to happen. I was committed to working in music. I played four or five days a week and I felt proud because I was actually playing music for a living."
While playing the clubs in the evenings and weekends, Ducas was busy during the day honing his songwriting skills and hanging around anyone involved in the music business, picking up invaluable advice and experience.
At the time he was co-writing with like-minded people including Radney Foster, Gary Nicholson, Kim Richey and Micael P. Heeney. Ducas hit paydirt with Just Call Me Lonesome, a song he'd co-written with Radney Foster, that gave the bespectacled one his first solo hit in 1992.
This spurred Ducas on. He kept himself busy writing and making demos with the ultimate goal of landing himself a record deal, deciding that the best man in Nashville to bring his music alive in the studio had to be Richard Bennett.
"I phoned Richard Bennett, a couple of times before he came back to me," says Ducas. "Before I met him he was just a name on album sleeves. I knew he'd produced Steve Earle and Emmylou Harris, but what really drew me to him was that, like me, he favoured a full, guitar-driven sound."
"Eventually he invited me round to his house and I played him some of my songs in his den. We just hit it off straight away and what really impressed me was that he had all these 78s from the 1940s and '50s stacked up along the walls. He had a great affinity with music that had gone down years ago."
One of Nashville's finest producers, Bennett has never been confined by country's tight constraints. He is a highly-regarded guitarist who has played dates with Billy Joel, Ringo Starr, Marvin Gaye, Barbra Streisand and was Neil Diamond's lead guitarists from 1971 to 1987, not to mention playing on countless recording sessions in Nashville and Memphis and on both the east and west coasts.
Bennett himself is attracted to artists rather than acts and feels that there is a distinction between the two. Artists are artists. The word is a derivative of art. Usually they have vision and integrity.
"I look for passionate people," says Bennett. "They know who they are and what they want to do. When I get involved, I get into their artistry. I'll let them lead me, and I explore avenues with them. Hopefully, the end result enhances the artist's dream."
George Ducas is, without doubt, one of the more promising new artists in Nashville. Having landed a record deal with Liberty, he and Bennett set about producing one of the best country albums of 1994.
Although there are echoes of the 1950s and 1960s in his music, Ducas prefers to substitute mimicry and faithfulness for originality. The album comes across as a pile of old ideas jumbled up and recycled into a highly distinctive contemporary country production.
One of Ducas'c co-writers is the mysterious Angelo. The pair wrote Only In My Dream, a big ballad that neatly updates the haunting, operatic vocal sound of the late Roy Orbison, and Shame On Me, a driving blues tune that would be ideal for Dwight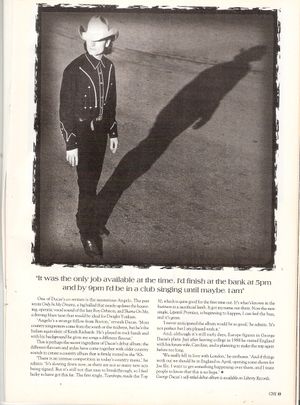 Yoakam.
"Angelo's a strange fellow from Boston," reveals Ducas. "Most country songwriters come from the south or the mid-west, but he's the Italian equivalent of Keith Richards. He's playing in rock bands and with his background he gives my songs a different flavour."
This is perhaps the secret ingredient of Ducas's debut album; the different flavours and styles have come together with older country sounds to create a country album that is firmly rooted in the 1990s.
"There is an intense competition in today's country music," he admits. "It's slowing down not, as there are not so many new acts being signed. But it's still not that easy to breakthrough, so I feel lucky to have got this far. The first single, Teardrops, made the Top 30, which is quite good for the first time out. It's what's known in the business as a sacrificial lamb. It got my name out there. Now the new single, Lipstick Promises, is beginning to happen. I can feel the buzz, and it's great."
"I never anticipated the album would be so good," he admits. "It's not perfect but I am pleased with it."
And, although it's still early days, Europe figures in George Ducas's plans. Just after leaving college in 1988 he visited England with his future wife, Caroline, and is planning to make the trip again before too long.
"We really fell in love with London," he enthuses. "And if things work out we should be in England in April, opening some shows for Joe Ely. I want to get something happening over there, and I want people to know that this is no hype."