Gene Watson - Whatever Happened to......
First Published in Country Music International, February 1997
Eschewing Nashville for a family life in Texas, Gene Watson's latest album shows that he has stayed true to the spirit of the honky-tonks.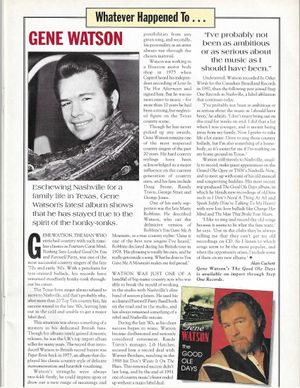 Gene Watson, the man who enriched country with such timeless classics as Fourteen Carat Mind, Nothing Sure Looked Good On You and Farewell Party, was one of the most successful country singers of the late 1970s and early 1980s. With a penchant for tear-stained ballads, his records have remained steadfastly honky-tonk throughout his career.
The Texas-born singer always refused to move to Nashville, and that's probably why, after more than 20 Top Ten country hits, his success waned in the late 1980s, leaving him out in the cold and unable to get a major label deal.
This situation was always something of a mystery to his dedicated British fans. Though his albums rarely gained domestic releases, he was he UK's top import album seller for many years. The record that introduced Watson to British record buyers was PAPER ROSIE back in 1977, an album that displayed his classic country style of delicate instrumentation and heartfelt vocalising.
Watson's strengths were always two-fold; firstly, he could impress upon or draw out a new range of meanings and possibilities from any given song, and secondly, his personality as an artist always ran through the chosen material.
Watson was working in a Houston motor body shop in 1975 when Capitol heard his independent recording of Love In The Hot Afternoon and signed him. But he was no newcomer to music—for more than ten years he had been a strong, but neglected figure on the Texas country scene.
Though he has never picked up any rewards, Gene Watson remains one of the most respected country singers of the past 20 years. His hard country stylings have been acknowledged as a major influence on the current generation of country stars, and his fans include Doug Stone, Randy Travis, George Strait and George Jones.
One of the early supporters was the late Marty Robbins. He described Watson, who cut the definitive version of Robbins' You Gave Me A Mountain, as a true country stylist: "Gene is one of the best singers I've heard," Robbins declared during his British tour in 1978. "His phrasing is totally his own, and he really gets inside a song. What he does to You Gave Me A Mountain makes me feel proud."
Watson was just one of a handful of big-name country acts who was able to break the mould of working in the studio with Nashville's elite band of session players. He used his acclaimed Farewell Party Band both on the road and in the studio, and has always remained something of a rebel and Nashville outcast.
During the late 1980s, as his chart success began to wane, Watson became disillusioned and seriously considered retirement. Randy Travis's manager, Lib Hatcher, secured him a record deal with Warner Brother, resulting in his 1988 hit Don't Waste It On The Blues. His renewed success didn't last long, and by the end of 1991 one of country music's finest ended up without a major label deal.
Undeterred, Watson recorded In Other Words for the Canadian Broadland Records in 1992, then the following year joined Step One Records in Nashville, a label affiliation that continues today.
"I've probably not been as ambitious or as serious about the music as I should have been," he admits. "I don't enjoy being out on the road for weeks on end. I did that a lot when I was younger, and it meant being away from my family. Now I prefer to take life a lot easier. I love to sing those country ballads, but I'm also something of a homebody, so it's easier for me if I'm working on my home ground in Texas."
Watson still travels to Nashville, usually to record, make guest appearances on the Grand Ole Opry or TNN's Nashville Now, and to meet up with some old musical and songwriting buddies. His most recent trip produced THE GOOD OLE DAYS album, in which he blends new recordings of old hits such as I Don't Need A Thing At All and Speak Softly (You're Talking To My Heart) with new lost-love ballads like Change Her Mind and The Man That Broke Your Heart.
"I like to sing and record the old songs because it seems to be what the fans want," he says. "Out in the clubs they're always telling me that they can't get my old recordings on CD. So I listen to which songs seem to be the most popular, and when the opportunity arises, I include some of them on my new album."