First Published in Country Music Review, September 1973
Gene Vincent - Country Boy Turned Rock'n'Roller
Nowadays, the fusion between rock music and country is more readily accepted by country music lovers. Once, if you liked rock'n'roll then you didn't care too much for country music, and if you were into country, then rock music was rubbished. The funny thing though was that most rock music was created by musicians who were basically country artists. They'd been brought up on Hank Williams, Roy Acuff, Red Foley and Hank Snow and only slipped into rock'n'roll because of their environment.
Gene Vincent, a modest country boy from Norfolk, Virginia, was whisked, quite untrained, into a musical career moulded on that of Elvis Presley, then the yardstick by whom everyone was measured. His debut record, Be-Bop-a-Lula, with its heavy electric sound, established him world-wide, but completely overshadowed his country upbringing.
He became a fully professional singer through Be-Bop-a-Lula, described aptly as: 'a classic rockabilly love-thump, down to its scat refrain,' but its origins, as regards true authorship, are a little vague. Gene and a friend from his navy days, Don Graves, wrote the song reputedly after seeing a book titled Little Lula. A local dj, Sheriff 'Tex' Davis, of Radio Station W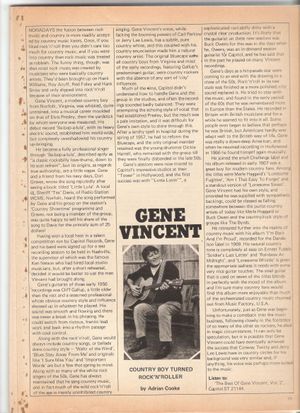 CMS, Norfolk, heard the song performed by Gene and his group on the station's Country Showtime programme and Graves, not being a member of the group, was quite happy to sell his share of the song to Davis for the princely sum of 25 dollars!
Having won a local heat in a talent competition run by Capitol Records, Gene and his band were signed up for a test recording session to be held in Nashville, the supervisor of which was the famous Ken Nelson, who had hired local studio musicians, but, after a short rehearsal, decided it would be better to use the men Vincent had brought along.
Gene's guitarist on those early 1956 recordings was Cliff Gallup, a little older than the rest and a seasoned professional, whose obvious country style and influence showed up in whatever he played. His sound was smooth and flowing and there was never a break in his phrasing. He could switch from riotous, frantic lead work and back into a rhythm passage with cool control.
Along with the rock'n'roll, Gene would always include country songs, or ballads done country style—Waltz Of The Wind, Blues Stay Away From Me and originals like I Sure Miss You and Important Words are but a few that spring to mind. Along with so many of the white rock singers of the 1950s, Gene has always maintained that he sang country music, and in fact much of the wild rock'n'roll of the age is merely uninhibited country singing. Gene Vincent's voice, while lacking the booming powers of Carl Perkins or Jerry Lee Lewis, has a subtle, pure country whine, and this coupled with his country enunciation made him a natural country artist. The original Bluecaps were all country boys from Virginia and most of the early recordings, featuring Gallup's predominant guitar, were country rockers with the absence of any sort of 'city' influences.
Much of the time, Capitol didn't understand how to handle Gene and the group in the studios, and often the recordings sounded badly balanced. They were attempting the echoing style of vocal that had established Presley, but the result was a pale imitation, and it was difficult for Gene's own style to shine through this. After a lengthy spell in hospital during the spring of 1957, he had to reform the Bluecaps, and the only original member retained was the young drummer Dickie Harrell, who remained with the group till they were finally disbanded in the late 1950s. Gene's sessions were now moved to Capitol's impressive studios at their Capitol Tower in Hollywood, and the first success was with Lotta Lovin', a sophisticated rockabilly ditty with a crystal clear production. It's likely that the guitarist on these new sessions was Buck Owens, for this was in the days when Owens was an in-demand session guitarist for Capitol, and he has said in the past that he played on many Vincent recordings.
Gene's days as a hit-parade star were coming to an end with the drawing to a close of the 1950s. Rock'n'roll in its raw state was finished as a more polished, city sound replaced it. He tried to stay with the music, and found in the early period of 1960s, that he was remembered more in Europe than the States. He recorded in Britain with British musicians and for a while he seemed to fit into it all. Some people even began to believe that perhaps he was British, but Americans hardly ever adapt well to the British way of life. Gene was really a deep-down American, and when he resumed recording in Hollywood in 1966 he found himself again musically. He joined the small Challenge label and his eponymous album released in early 1967 was a great buy for modern country fans. Among the titles were Merle Haggard's Lonesome Fugitive, Am I That Easy To Forget and a standout version of Lonely Street. Gene Vincent had his own style, and provided he was supplied with sympathetic backings, could be classed as falling somewhere between the purist country artists of today like Merle Haggard or Buck Owen and the country-rock style of groups like The Byrds.
He retreated further into the realms of country music with his album I'M BACK AND I'M PROUD, recorded for the Dandelion label in 1969. His natural country tone is completely at ease on Ernest Tubb's Soldier's Last Letter and Rainbow At Midnight, and Lonesome Whistle is given the appropriate sadness it needs with some very nice guitar touches. The steel guitar that is used on seven of the titles blends in perfectly with the mood of the album and I'm sure many country fans would find this album more enjoyable than much of the orchestrated country music churned out from Music Factory, USA.
Unfortunately, just as Gene was beginning to make a comeback into the music business, following closely in the footsteps of so many of the other ex-rockers, he died in tragic circumstances. It can only be speculation, but it is possible that Gene Vincent could have eventually achieved the success that Conway Twitty and Jerry Lee Lewis have in country circles for his background was very similar and, if anything, his voice was perhaps more suited to the music. Adrian Cooke