First published in Country Music People, November 1974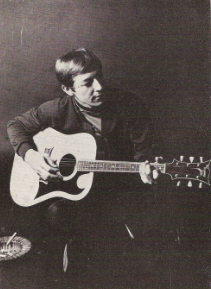 Gene Thomas has the makings of being a great and influential composer for years to come. His songs are already being recorded by many pop and country artists, yet to most people, this talented singer and songwriter is completely unknown. He has been involved in the music business for close on fifteen years, but it wasn't until his move to Nashville about five years ago that his career began heading in a steady direction.
For years his career had been restricted to the Houston, Texas nightclub circuit, his only claim to fame being a big record in 1961 with
Sometimes
, a lovely, gentle ballad that hit big in the States on the United Artists label.
Gene Thomasson (his real name) had been trying to repeat that success for several years solo but eventually teamed up with Debbe Nevills in 1967 to make a welcome return to the pop charts with
Go With Me
.
The man responsible for bringing Gene and Debbe together was a Houston music promotion man, who was also Gene's manager. Debbe, short for Debbron, was just another voice in a singing group called The Epics, that specialised in providing background vocals for soloists, when she was asked to do a recording with Gene.
The recording session was held at Houston studio, Gene and Debbe laid down a number of songs, including
Go With Me
, which Gene had written three or four years previously. The tape of the session was hiked around to several labels and was eventually picked up by Lester Rose of TRX Records in Nashville who selected
Go With Me
coupled with
The Torch I Carry
for Gene and Debbe's first record.
Both sides run dangerously close to the coy cooing of Paul and Paula, the lyrics and lilting melody portray a deeply-in-love boy pleading with a girl to: 'go with me,' but they get across the feelings and dialogue of the situation they represent with a simple and attractive arrangement.
Their next release,
Playboy
, was produced by Don Gant in Nashville and released in November 1967. Though a slow starter, it became the duo's biggest hit, selling close on a million copies. It's hard to imagine two artistes better suited to sing together. There's so much interaction going on between them in a seemingly eternal give and take of love and consideration.
They only made a handful of records together and probably their third release, the Bobby Bond song,
Make A Noise Like Love
, is their finest duet. Catchy swinging tune with a driving country beat in a strong support of the top vocal work.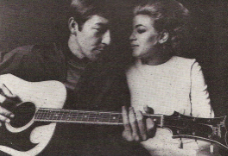 Gene Thomas grew up in Jacksonville, a small East Texas town. He started playing guitar when he was twelve and was composing songs before he was sixteen. He began singing in small nightclubs when he was eighteen, but had to supplement the income from his musical career by working in a sawmill and later a foundry. After his initial hit in 1961 with
Sometimes
he also recorded other songs he had written like
Peace Of Mind, The Last Song
and
Baby's Gone Home
, but none were able to repeat his initial success.
During the middle 1960s he recorded for several small labels including Venus for whom he cut
Mysteries Of Love
and
So Wrong
and Picture Records who released
What Will Mary Say
. When he signed for TRX Records in Nashville he also signed a songwriter's contract with Acuff-Rose and since then his songs have been picked up by mostly country singers. Sue Thomson took the delicate
Let Your Thoughts Be Sweet
into the charts and Don Gibson, also on the Hickory Label, updated "Go With Me" successfully a couple of years ago. In recent months Gene Thomas has emerged more as a contemporary country writer. Two songs,
Lay It Down
and
Watching It Go
have almost become standards with fine versions by The Everly Brothers and Waylon Jennings. The songs cover a much wider scope than the usual country love ballads, and have pushed Gene Thomas into the limelight as a writer to watch.
He no longer works with Debbe Nevills, but is concentrating on a solo career, currently recording with Hickory Records and writing for Acuff-Rose, Nashville's most famous music publishing house.