Gary Morris - Whatever Happened To.......
First Published Country Music International, March 1997
Ten years after disappearing from the American country scene, Gary Morris is still playing 80 shows a year. When he's not singing opera.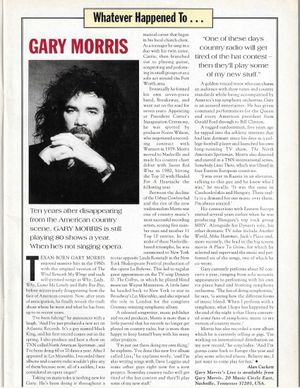 Texan-born Gary Morris enjoyed massive hits in the 1980s with the original version of The Wind Beneath My Wings and such self-penned songs as Why, Lady, Why, Leave Me Lonely and Baby Bye Bye, before mysteriously disappearing from the face of American country. Now, after years of anticipation, he finally reveals the truth about where he went and what he has been up to in recent years.
"I've been fishing!" he announces with a laugh. "And I've just produced a new act on Atlantic Records. It's a guy name Mack King, and his first record comes out in the spring. I also produce and host a show on TNN called North American Sportsman, and I've been doing 60 or 70 shows a year. After I appeared in Les Miserables, I recorded three albums and country radio wouldn't play any of them because now, all of a sudden, I was considered an opera singer!"
Taking on many roles is nothing new for Gary. He's been doing it throughout a musical career that began in his local church choir. As a teenager he sang in a duo with his twin sister, Carrie, then branched out to playing guitar, songwriting and performing in small groups or as a solo act around the Fort Worth area.
Eventually he formed his own seven-piece band, Breakaway, and went out on the road for seven years. Appearing at President Carter's Inauguration Ceremony, he was spotted by producer Norro Wilson, who negotiated a recording contract with Warners in 1979. Morris moved to Nashville and made his country chart debut with Sweet Red Wine in 1980, hitting the Top 10 with Headed For A Heartache the following year.
Between the decline of the Urban Cowboy fad and the rise of the new traditionalists Morris was one of country music's most successful recording artists, scoring five number ones and another 11 Top 10 entries. In the midst of these Nashville-based triumphs, he was summoned to New York to star opposite Linda Ronstadt in the New York Shakespeare Festival production of opera La Boheme. This led to regular guest appearances on the TV soap Dynasty II: The Colbys. In which he played blind musician Wayne Masterson. A little later he headed back to New York to star in Broadway's Les Miserables, and also reprised the role in London for the complete Grammy-winning symphonic album.
A talented songwriter, music publisher and record producer, Morris is more than a little peeved that his records no longer get played on country radio, but is more than happy to keep himself busy with his many other projects.
"I'm just out there doing my own thing," he explains. "I've done this new live album called LIVE," he explains wryly, "and I'm also writing songs with Dave Loggins and some other guys right now for a new project. Someday country radio will get tired of the hat contest and they'll play some of my new stuff."
A golden-voiced tenor who can charm an audience with show tunes and country standards while being accompanied by America's top symphony orchestras, Gary is an assured entertainer. He has given command performances for the Queen and every American president from Gerald Ford through to Bill Clinton.
A rugged outdoorsman, five years ago he tapped into the athletic interests that had lain dormant since his days as a college football player and launched his own long-running TV show, The North American Sportsman. Morris also directed and starred in a TNN international series, Somebody Lives There, which was filmed in four Eastern European countries.
"I was over in Russia in an elevator, talking to this guy and he knew who I was," he recalls. "It was the same in Czechoslovakia and Hungary. There really is a demand for our music over there. I'm always amazed."
His connections with Eastern Europe started several years earlier when he was producing Hungary's top rock group MHV. Alongside his Dynasty role, his other dramatic TV roles include Another World, Mike Hammer, Jack's Place and more recently, the lead in the big screen movie A Place To Grow, for which he selected and supervised the music and performed six of the songs, two of which he co-wrote.
Gary currently performs about 80 concerts a year, ranging from solo acoustic appearances to performing with his own six-piece band and fronting symphony orchestras. "The fun of doing symphonies," he says, "is seeing how the different forms of music blend. When I perform with a symphony, what I hope has happened by the end of the night is that I have converted some fans of symphonic music to my version of country music."
Morris has also recorded a new album which he is currently selling at gigs. "I'm working on international distribution on my new record," he concludes. "And I'm gonna come to back to Europe this year and play some selected places. Believe me, I just want to come play for fun."