Gary Morris, Mila Mason, Larry White - Live @ RAF Mildenhall Review
First Published in Country Music International, February 1997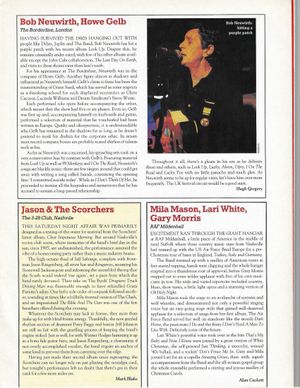 Excitement ran through the giant hanger at RAF Mildenhall, a little piece of America in the middle of rural Suffolk where these three country music stars from Nashville had teamed up with the US Air Force Band Europe for a pre-Christmas tour of bases in England, Turkey, Italy and Germany.
The Band warmed up with a medley of American tunes as feet started tapping, hands were clapping and the whole hangar erupted into a thunderous roar of approval, before Gary Morris stepped out to even wilder applause with five of his own musicians in tow. His wide and varied repertoire included country blues, show tunes, a little light opera and a stunning version of Oh Holy Night.
Mila Mason took the stage to an avalanche of screams and wolf whistles, and demonstrated not only a powerful singing voice but an easy-going stage style that gained well-deserved applause for a selection of songs from her first album. The Air Force Band served her well on standouts like the moody Dark Horse, the passionate I Do and the feisty I Don't Need A Man To Live With. Definitely a star of the future.
Lari White's powerful voice took over as the hits That's My Baby and Now I Know were joined by a great version of White Christmas, the self-penned Just Thinking, a smoochy, sensual 1940s ballad, and a rockin' Don't Fence Me In. Gary and Mila joined Lari for an acapella Amazing Grace, then with the superb accompaniment from the Band and the all-women gospel group the whole ensemble performed a stirring and joyous medley Christmas Carols.