Gary Burr - The Nashville Cats
First Published in Country Music International, April 1998
Veteran hit spinner Gary Burr has dominated the country charts in recent years with a raft of successful songs including More Love, I Try To Think About Elvis, To Be Loved By You and Can't Really Be Gone. Yet he has no greater songwriting aspirations than to write a song as universal and long-lasting as the Beatles' Love Me Do.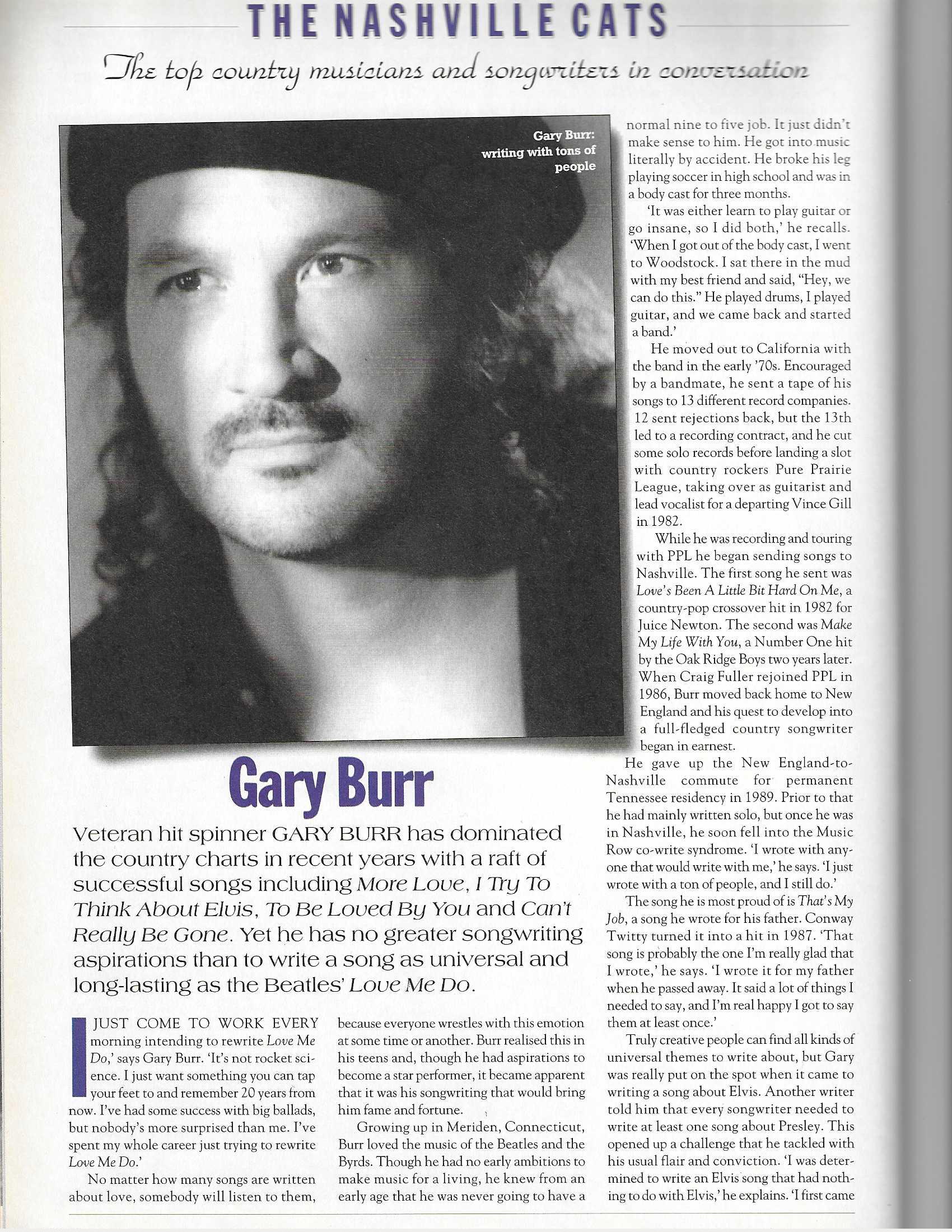 "I just came to work every morning intending to rewrite Love Me Do," says Gary Burr. "It's not rocket science. I just want something you can tap your feet to and remember 20 years from now. I've had some success with big ballads, but nobody's more surprised than me. I've spent my whole career just trying to rewrite Love Me Do."
No matter how many songs are written about love, somebody will listen to them, because everyone wrestles with this emotion at some time or another. Burr realised this in his teens and, though he had aspirations to become a star performer, it became apparent that it was his songwriting that would bring him fame and fortune.
Growing up in Meriden, Connecticut, Burr loved the music of the Beatles and the Byrds. Though he had no early ambitions to make music for a living, he knew from an early stage that he was never going to have a normal nine to five job. It just didn't make sense to him. He got into music literally by accident. He broke his leg playing soccer in high school and was in a body cast for three months.
"It was either learn to play guitar or go insane, so I did both," he recalls. "When I got out of the body cast, I went to Woodstock. I sat there in the mud with my best friend and said: 'Hey, we can do this.' He played drums, I played guitar, and we came back and started a band."
He moved out of California with the band in the early 1970s. Encouraged by a bandmate, he sent a tape of his songs to 13 different record companies. 12 sent rejections back, but the 13th led a to a recording contract, and he cut some solo records before landing a slot with country rockers Pure Prairie League, taking over as a guitarist and lead vocalist for a departing Vince Gill in 1982.
While he was recording and touring with PPL he began sending songs to Nashville. The first song he sent was Love's Been A Little Bit Hard On Me, a country-pop crossover hit in 1982 for Juice Newton. The second was Make My Life With You, a number one hit by the Oak Ridge Boys two years later. When Craig Fuller rejoined PPL in 1986, Burr moved back home to New England and his quest to develop into a full-fledged country songwriter began in earnest.
He gave up the New England-to-Nashville commute for permanent Tennessee residency in 1989. Prior to that he had mainly written solo, but once he was in Nashville, he soon fell into the Music Row co-write syndrome. "I wrote with anyone that would write with me," he says. "I just wrote with a ton of people, and I still do."
The song that he is most proud of is That's My Job, a song he wrote for his father. Conway Twitty turned it into a hit in 1987. "That song is probably the one I'm really glad that I wrote," he says. "I wrote it for my father when he passed away. It said a lot of things I needed to say, and I'm really happy I got to say them at least once."
Truly creative people can find all kinds of universal themes to write about, but Gary was really put on the spot when it came to writing a song about Elvis. Another writer told him that every songwriter needed to write at least one song about Presley. This opened up a challenge that he tackled with his usual flair and conviction. "I was determined to write an Elvis song that had nothing to do with Elvis," he explains. "I first came up with the title I Try To Think About Elvis, then it struck me that it's a combination of the sexual thing and that first rush when you meet somebody and everything goes by the board. It was a pretty twisted idea, but it seemed to work."
Though I Try To Think About Elvis was written for a male singer, it was Patty Loveless who first showed an interest in the song. Gary went away and found a way to make it less testosterone-oriented, and Patty delivered a stunning performance resulting in one of her biggest hits.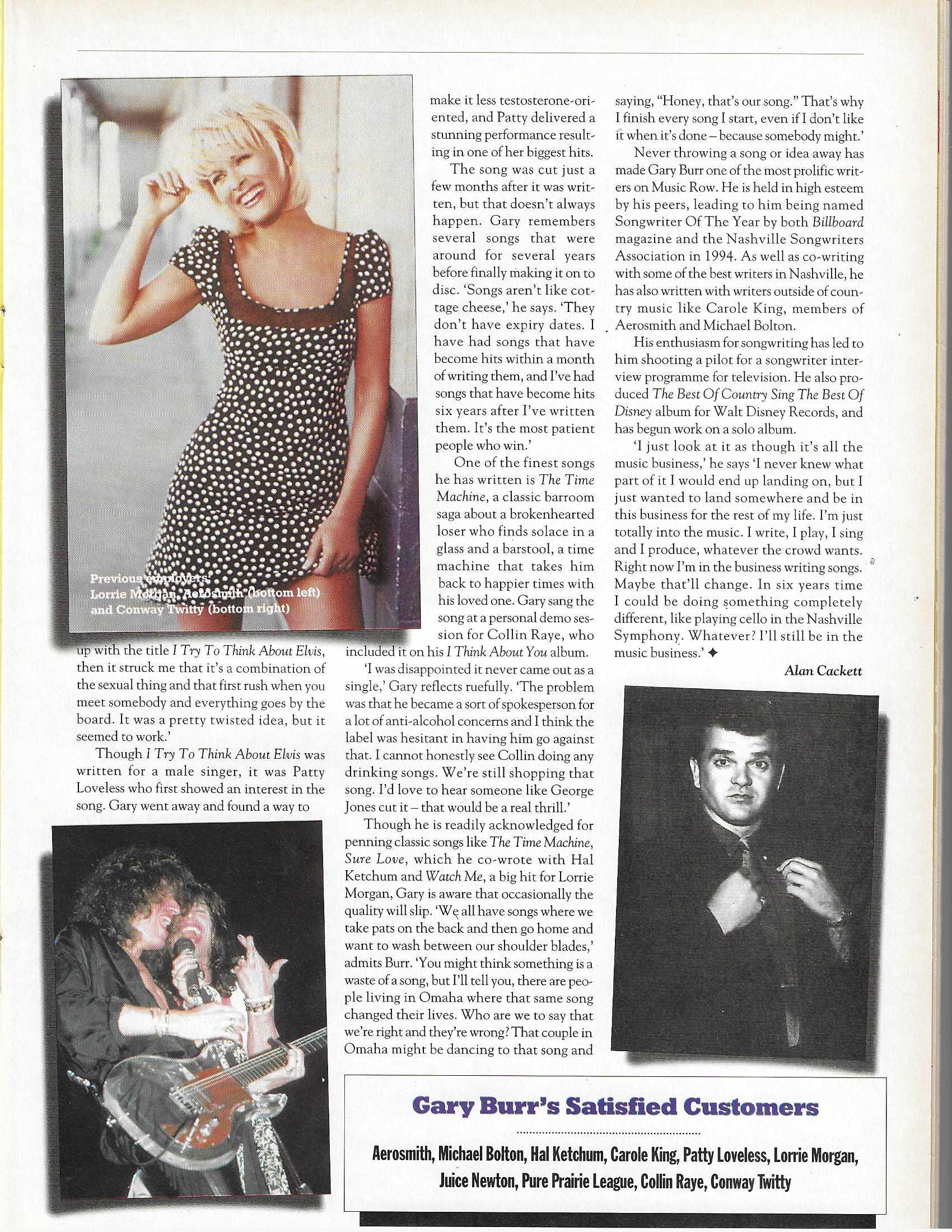 The song was cut just a few months after it was written, but that doesn't always happen. Gary remembers several songs that were around for several years before finally making it on to disc. "Songs aren't like cottage cheese," he says. "They don't have an expiry date. I have had songs that have become hits within a month of writing them, and I've had songs that become hits six years after I've written them. It's the most patient people who win."
One of the finest songs he has written is The Time Machine, a classic barroom saga about a broken-hearted loser who finds a solace in a glass and a barstool, a time machine that takes him back to happier times with his loved ones. Gary sang the song at a personal demo session for Collin Raye, who included it on his I THINK ABOUT YOU album.
"I was disappointed it never came out as a single," Gary reflects ruefully. "The problem was that he became a sort of spokesperson for a lot of anti-alcohol concerns and I think the label was hesitant in having him go against that. I cannot honestly see Collin doing any drinking songs. We're still shopping that song. I'd love to hear someone like George Jones cut it—that would be a real thrill."
Though he is readily acknowledged for penning classic songs like The Time Machine, Sure Love, which he co-wrote with Hal Ketchum and Watch Me, a big hit for Lorrie Morgan, Gary is aware that occasionally the quality will slip. "We all have songs where we take pats on the back and then we go home and want to wash between our shoulder blades," admits Burr. "You might think something is a waste of a song, but I'll tell you, there are people living in Omaha where that same song changed their lives. Who are we to say that we're right and they're wrong? That couple in Omaha might be dancing to that song and saying: 'Honey, that's our song.' That's why I finish every song I start, even if I don't like it when it's done – because somebody might."
Never throwing a song or idea away has made Gary Burrs one of the most prolific writers on Music Row. He is held in high esteem by his peers, leading him to be named Songwriter Of The Year by both Billboard magazine and the Nashville Songwriters Association in 1994. As well as co-writing with some of the best writers in Nashville, he has also written with writers outside of country music like Carole King, members of Aerosmith and Michael Bolton.
His enthusiasm for songwriting has led to him shooting a pilot for a songwriter interview programme for television. He also produced THE BEST OF COUNTRY SING THE BEST OF DISNEY album for Walt Disney Records, and has begun work on a solo album.
"I just look at is as though it's all the music business," he says. "I never knew what part I would end up landing on, but I just wanted to land somewhere and be in this business for the rest of my life. I'm just totally into to music. I write, I play, I sing and I produce, whatever the crowd wants. Right now I'm in the business writing songs. Maybe that'll change. In six years time I could be doing something completely different, like playing cello in the Nashville Symphony. Whatever? I'll still be in the music business."