Garth Brooks - The Big Ticket
First Published in Country Music International, May 1997
Once again Garth Brooks has stunned the world by selling out his latest clutch of Irish live dates in a matter of hours. But despite record-breaking ticket sales, his last album FRESH HORSES, was slammed by the media, and record sales are down. Alan Cackett confronts the unthinkable question: Is the Garth Brooks express finally beginning to run out of steam?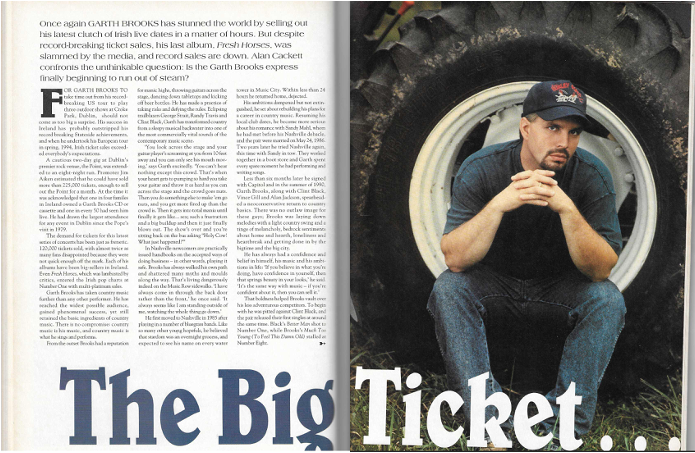 For Garth Brooks to take time out from his record-breaking US tour to play three outdoor shows at Croke Park, Dublin, should not come too big a surprise. His success in Ireland has probably outstripped his record-breaking Stateside achievements, and when he undertook his European tour in spring, 1994, Irish tickets sales exceeded everybody's expectations.
A cautious two-day gig at Dublin's premier rock venue, the Point, was extended to an eight-night run. Promoter Jim Aiken estimated that he could have sold more than 225,000 tickets, enough to sell out the Point for a month. At the time it was acknowledged that one in four families in Ireland owned a Garth Brooks CD or cassette and one in every 50 had seen him live. He had drawn the largest attendance for any event in Dublin since the Pope's visit in 1979.
The demand for tickets for his latest series of concerts has been just as frenetic. 120,000 tickets sold, with almost twice as many fans disappointed because they were not quick enough off the mark. Each of his albums have been big-sellers in Ireland. Even FRESH HORSES, which was lambasted by critics, entered the Irish pop charts at number one with multi-platinum sales.
Garth Brooks has taken country music further than any other performer. He has reached the widest possible audience, gained phenomenal success, yet still retained the basic ingredients of country music. There is no compromise: country music is his music, and country music Is what he sings and performs.
From the outset Brooks had a reputation for manic highs, throwing guitars across the stage, dancing down tabletops and kicking off beer bottles. He has made a practice of taking risks and defying the rules. Eclipsing trailblazers George Strait, Randy Travis and Clint Black, Garth has transformed country from a sleepy musical backwater into one of the most commercially vital sounds of the contemporary music scene.
"You look across the stage and your guitar player's screaming at you from ten feet away and you can only see his mouth moving," says Garth excitedly. "You can't hear nothing except the crowd. That's when your heart gets to pumping so hard you take your guitar and throw it as hard as you can across the stage and the crowd goes nuts. Then you do something else to make 'em go nuts, and you get more fired up than the crowd is. Then it gets into total mania until finally it gets like ... sex; such a frustration and big build-up and then it just finally blows out. The show's over and you're sitting back on the bus asking: 'Holy Cow! What just happened?"
In Nashville newcomers are practically issued handbooks on the accepted ways of doing business—in other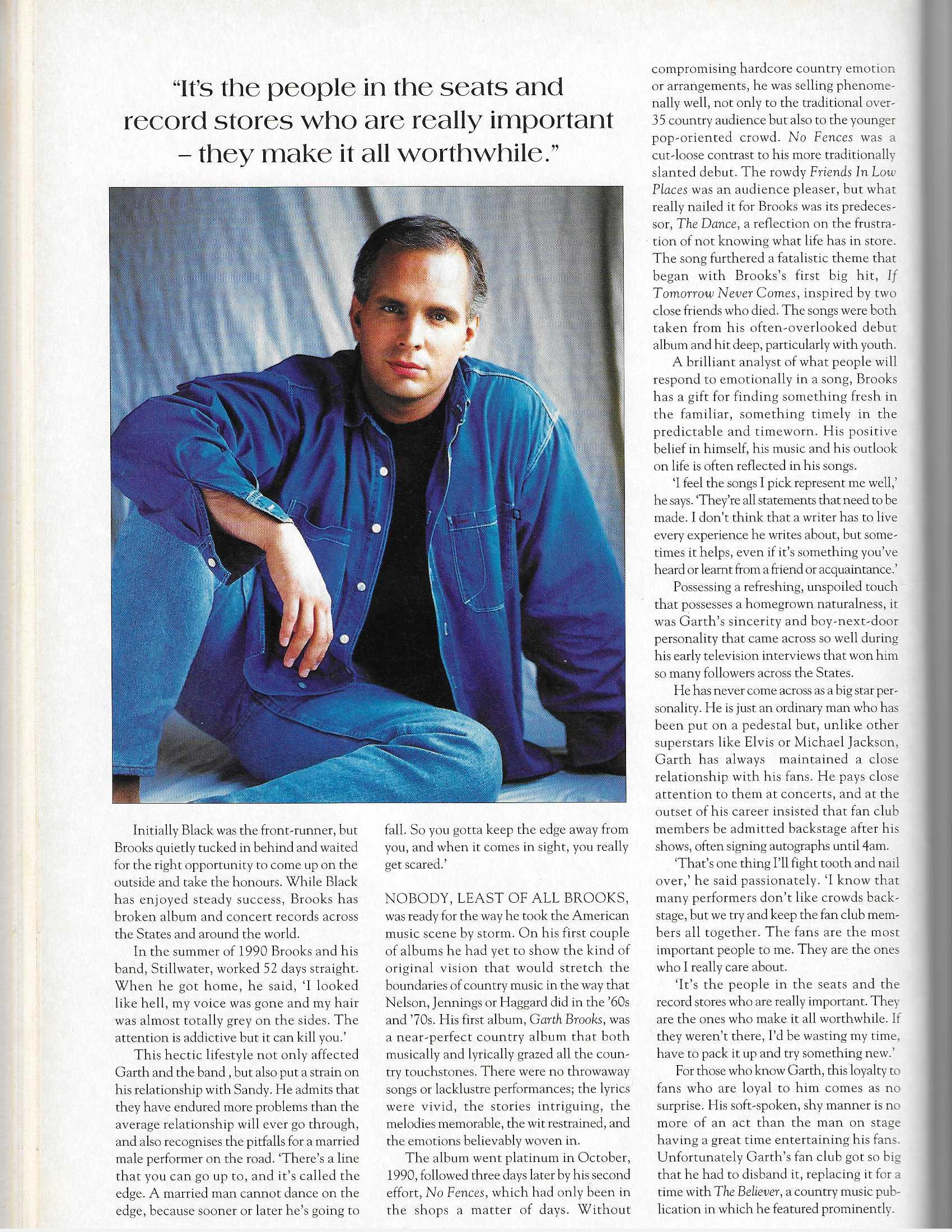 words, playing it safe. Brooks has always walked his own path and shattered many myths and moulds along the way. That's living dangerously indeed on Music Row sidewalks. "I have always come in through the back door rather than the front," he once said. "It always seems like I am standing outside of me, watching the whole thing go down."
He first moved to Nashville in 1985 after playing in a number of bluegrass bands. Like so many other young hopefuls, he believed that stardom was an overnight process, and expected to see his name on every water tower in Music City. Within less than 24 hours he returned home, dejected.
His ambitions dampened but not extinguished, he set about rebuilding his plans for a career in country music. Resuming his local club dates, he became more serious about his romance with Sandy Mahl, whom he had met before his Nashville debacle, and the pair were married on May 24, 1986. Two years later he tried Nashville again, this time with Sandy in tow. They worked together in a boot store and Garth spent every spare moment he had performing and writing songs.
Less than six months later he signed with Capitol and in the summer of 1990, Garth Brooks, along with Clint Black, Vince Gill and Alan Jackson, spearheaded a neoconservative return to country basics. There was no outlaw image for these guys; Brooks was laying down melodies with a light country swing and a tinge of melancholy, bedrock sentiments about home and hearth, loneliness and heartbreak and getting done in by the bigtime and the big city.
He has always had a confidence and belief in himself, his music and his ambitions in life: "If you believe in yourself, then that springs beauty in your looks," he said. "It's the same way with music—if you're confident about it, then you can sell it."
That boldness helped Brooks vault over his less adventurous competitors. To begin with he was pitted against Clint Black, and the pair released their first singles at around the same time. Black's Better Man shot to number oOne, while Brooks' Much Too Young (To Feel This Damn Old) stalled at number eight.
Initially Black was the front-runner, but Brooks quietly tucked in behind and waited for the right opportunity to come up on the outside and take the honours. While Black has enjoyed steady success, Brooks has broken album and concert records across the States and around the world.
In the summer of 1990 Brooks and his band, Stillwater, worked 52 days straight. When he got home, he said, "I looked like hell, my voice as gone and my hair was almost totally grey on the sides. The attention is addictive but it can kill you."
This hectic lifestyle not only affected Garth and the band, but also put a strain on his relationship with Sandy. He admits that they have endured more problems than the average relationship will ever go through, and also recognises the pitfalls for a married male performer on the road. "There's a line that you can go up to, and it's called the edge. A married man cannot dance on the edge, because sooner or later he's going to fall. So you gotta keep the edge away from you, and when it comes in sight, you really get scared."
Nobody, least of all Brooks, was ready for the way he took the American music scene by storm. On his first couple of albums he had yet to show the kind of original vision that would stretch the boundaries of country music in the way that Nelson, Jennings and Haggard did in the 1960s and 1970s. His first album, GARTH BROOKS, was a near-perfect country album that both musically and lyrically grazed all the country touchstones. There were no throwaway songs or lacklustre performances; the lyrics were vivid, the stories intriguing, the melodies memorable, the wit restrained, and the emotions believably woven in.
The album went platinum in October, 1990, followed three days later by his second effort, NO FENCES, which had only been in the shops a matter of days. Without compromising hardcore country emotion or arrangements, he was selling phenomenally well, not only to the traditional over-35 audience but also to the younger pop-oriented crowd. NO FENCES was a cut-loose contrast to his more traditionally slanted debut. The rowdy Friends In Low Places was an audience pleaser, but what really nailed it for Brooks was its predecessor, The Dance, a reflection on the frustration of not knowing what life has in store. The song furthered a fatalistic theme that began with Brooks' first big hit, If Tomorrow Never Comes, inspired by two close friends who died. The songs were both taken from his often-overlooked debut album and hit deep, particularly with youth.
A brilliant analyst of what people will respond to emotionally in a song, Brooks has a gift for finding something fresh in the familiar, something timely in the predictable and timeworn. His positive belief in himself, his music and his outlook on life is often reflected in his songs.
"I feel the songs I pick represent me well," he says. "They're all statements that need to be made. I don't think that a writer has to live every experience he writes about, but sometimes it helps, even if it's something you've heard or learnt from a friend or acquaintance."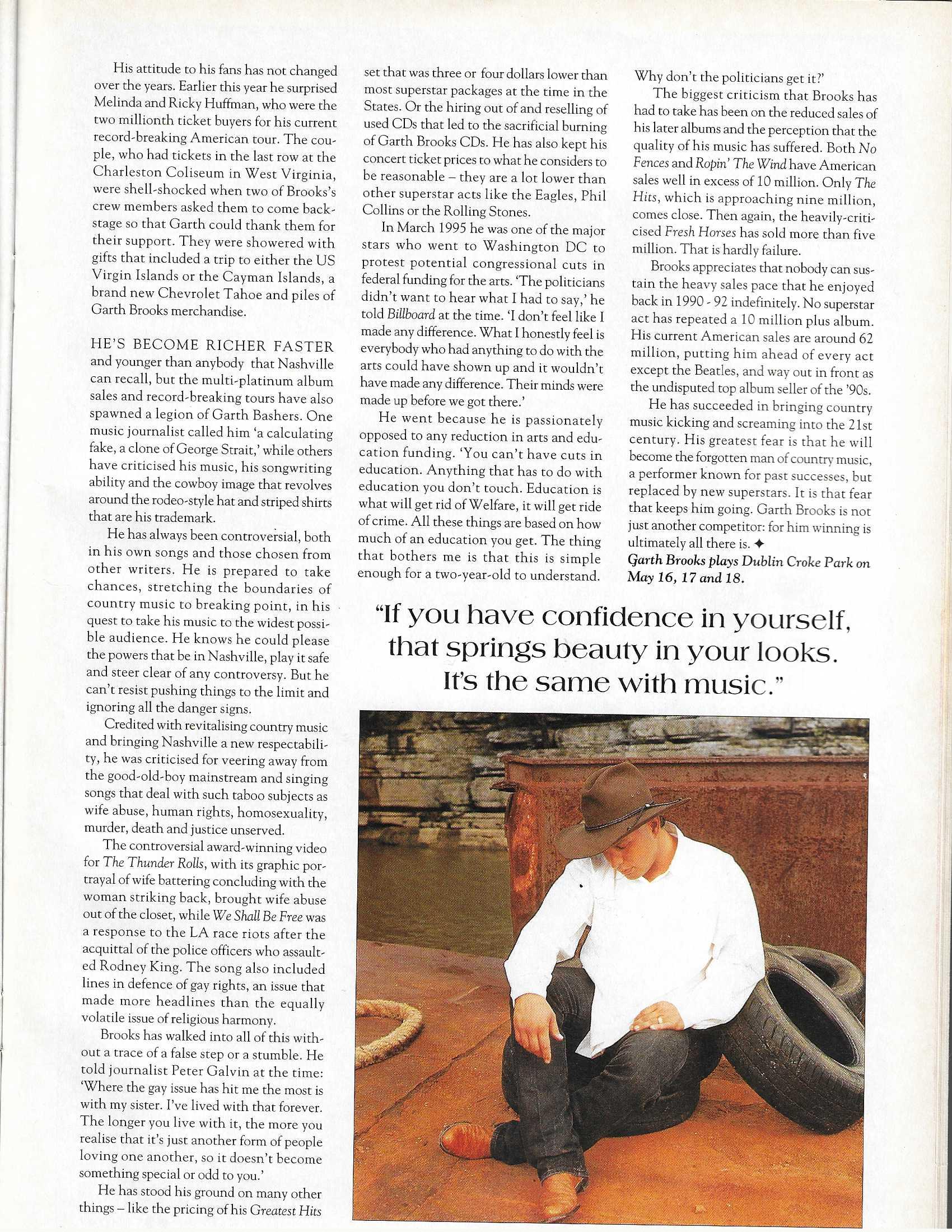 Possessing a refreshing, unspoiled touch that possesses a homegrown naturalness, it was Garth's sincerity and boy-next-door personality that comes across so well during his early television interviews that won him so many followers across the States.
He has never come across as a big star personality. He is just an ordinary man who has been put on a pedestal but, unlike other superstars like Elvis or Michael Jackson, Garth has always maintained a close relationship with his fans. He pays close attention to them at concerts, and at the outset of his career insisted that fan club members be admitted backstage after his shows, often signing autographs until 4am.
"That's one thing I'll fight tooth and nail over" he said passionately. "I know that many performers don't like crowds backstage, but we try and keep the fan club members all together. The fans are the most important people to me. They are the ones who I really care about."
"It's the people in the seats and the record stored who are really important. They are the ones whomake  it all worthwhile. If they weren't there, I would be wasting my time, have to pack it up and try something new."
For those who know Garth, this loyalty to fans who are loyal to him comes as no surprise. His soft-spoken, shy manner is no more of an act than the man of stage having a great time entertaining his fans. Unfortunately Garth's fan club got so big that he had to disband it, replacing it for a time with The Believer, a country music publication in which he featured prominently.
His attitude to his fans has not changed over the years. Earlier this year he surprised Melinda and Ricky Huffman, who were the two millionth ticket buyers for his current record-breaking American tour. The couple, who had tickets in the last row at the Charleston Colieseum in West Virginia, were shell-shocked when two of Brooks' crew members asked them to come backstage so that Garth could thank them for their support. They were showered with gifts that included a trip to either the US Virgin Islands or the Cayman Islands, a brand new Cheverolet Tahoe and piles of Garth Brooks merchandise.
He's become richer faster and younger than anybody that Nashville can recall, but the multi-platinum album sakes and record-breaking tours have also spawned a legion of Garth Bashers. One music journalist called him 'a calculating fake, a clone of George Strait,' while others have criticised his music, his songwriting ability and the cowboy image that revolves around the rodeo-style hat and striped shirts that are his trademark.
He has always been controversial, both in his own songs and those chosen from other writers. He is prepared to take chances, stretching the boundaries of country music to breaking point, in his quest to take his music to the widest possible audience. He knows he could please the powers that be in Nashville, play it safe and steer clear of controversy. But he can't resist pushing things to the limit and ignoring all the danger signs.
Credited with revitalising country music and bringing Nashville a new respectability, he was criticised for veering away from the good-old-boy mainstream and singing songs that deal with such taboo subjects as wife abuse, human rights, homosexuality, murder, death and justice unserved.
The controversial award-winning video for the The Thunder Rolls, with its graphic portrayal of wife battering concluding with the woman striking back, brought the wife abuse out of the closet, while We Shall Be Free was a response to the LA race riots after the acquittal of the police officer who assaulted Rodney King. The song also included lines in defence of gay rights, an issue that made more headlines than the equally volatile issue of religious harmony.
Brooks has walked into all of this without a trace of a false step or stumble. He told journalist Peter Galvin at the time: "Where the gay issue has hit me the most is with my sister. I've lived with that forever. The longer you live with it, the more you realise that it's just another form of people loving one another, so it doesn't become something special or odd to you."
He has stood his ground on many other things—like the pricing of the Greatest Hits set that was three or four dollars lower than most superstar packages at the time in the States. Or the hiring out of and reselling of used CDs that led to the sacrificial burning of Garth Brooks CDs. He has also kept his concert ticket prices to what he considers to be reasonable—they are a lot lower than other superstar acts like the Eagles, Phil Collins or the Rolling Stones.
In March 1995 he was one of the major stars who went to Washington DC to protest potential congressional cuts in federal funding for the arts. "The politicians didn't want to hear what I had to say," he told Billboard at the time. "I don't feel like I made any difference. What I honestly feel is everybody who had anything to do with the arts could have shown up and it wouldn't have made any difference. Their minds were made up before we even got there."
He went because he is passionately opposed to any reduction in arts and education funding. "You can't have cuts in education. Anything that has to do with education you don't touch. Education is what will get rid of Welfare, it will get rid of crime. All these things are based on how much of an education you get. This thing that bothers me is that this is simple enough for a two-year-old to understand. Why don't the politicians get it?"
The biggest criticism that Brooks has had to take has been on the reduced sales of his later albums and the perception that the quality of his music has suffered. Both NO FENCES and ROPIN' THE WIND have American sales well in excess of ten million. Only THE HITS, which is approaching nine million, comes close. Then again, the heavily-criticised FRESH HORSES has sold more than five million. That is hardly a failure.
Brooks appreciates that nobody can sustain the heavy sales pace that he enjoyed back in 1990-1992 indefinitely. No superstar act has repeated a ten million plus album. His current American sales are around 62 million, putting him ahead of every act except the Beatles, and way out in front as the undisputed top album seller of the 1990s.
He has succeeded in bringing country music kicking and screaming into the 21st century. His greatest fear is that he will become the forgotten man of country music, a performer known for past successes, but replaced with new superstars. It is the fear that keeps him going. Garth Brooks is not just another competitor: for him winning is ultimately all there is.