Gail Davies…fast gaining the attention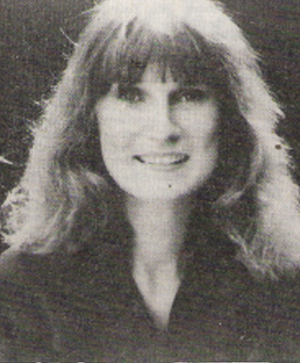 First caught national attention by writing Bucket To The South, which was a top-charting record for Ava Barber. Since then Ms. Davies has amassed considerable acclaim as an artist in her own right with the much praised albums GAIL DAVIES and THE GAME.
It has become increasingly clear that the best country music confronts with eloquence and compassion, universal themes of loving and losing, death and loneliness, without recourse to the counterfeit emotions, which afflict so much current rock writing. Gail Davies, with two excellent albums to her credit and a handful of country hits, is conclusive proof of this maturity and sophistication, which is allowing country music to be seen in a new light.
She is one of those vastly talented artists who hasn't yet reached full potential or audience. In fact, as both a singer and songwriter, Gail has emerged within the past couple of years as a dynamic new talent to watch. Both her voice and her lyrics contain a keen edge of emotion, which enhance her often intensely personal autobiographical songs.
She was born and raised in Broken Bow, Oklahoma, 33 years ago. Like so many country artists, she grew up in a musical family. A mother who sang, a guitar-playing father and a brother who loved to sing harmonies with her. She didn't come from a wealthy family, the lack of money providing them with many problems, but there was always music. She grew to love country music, especially the recordings of Patsy Cline, and together with her brother Ron she would sing the songs of The Everly Brothers.
When she was about eight years old, her parents separated and divorced. Her mother moved with Gail and her two brothers to Seattle, Washington, and remarried. It is this experience that is so clearly depicted in the song
Soft Spoken Man
. A gentle, feeling song written about her step-father, Darby Alan Davies, and sung with such honest emotion that it cannot help but touch you.
Childhood memories seem to surface in several of Gail's songs, but that is because as a songwriter she writes mainly from experience.
Grandma's Song
perfectly captures a childhood memory of a favourite relative, and paints a colourful picture of life in Oklahoma back in the early 1950s, a life that is now sadly lost. Even when picking out the songs of other people to sing, she seems to be grasping at the memories of the past.
No Love Have I,
a Mel Tillis' song she would have heard Webb Pierce sing 20 years ago.
Poison Love
and
Are You Teasing Me
, two songs she probably learned from her father, and
Like Strangers
, an Everly Brothes' hit she used to sing with her brother Ron.
When she left high school she took a job that didn't pay too well, so when she was offered a job singing on the road for $350 a week, she jumped at the opportunity. She worked for a while with her brother Ron, singing harmony songs and with rock'n'roll bands. They would sing something like 40 songs a night for six nights a week. Seven years ago they were signed by A&M Records as a duo, but nothing really came of that. Ron Davies became involved in songwriting, penning tunes for Helen Reddy (
Long Hard Climb
), Three Dog Night (
It Ain't Easy
) and other pop and rock stars.
Gail continued working in Los Angeles, singing rock and lounge music with various groups, eventually ending up as a weekly member of the Troubadour Club's legendary 'midnight band,' which also featured Stephen Bishop, Ian Mathews and Ronee Blakely among others. Although Gail had never played an instrument or written a song when she first moved to Los Angeles, she quickly learned to do both.
Her songwriting really developed when her voice gave out. She had been singing continuously, night after night, in smoke-filled clubs, often having to perform loud rock'n'roll songs, and finally her voice just cracked. She was told she had to quit singing for at least six months, so to fill in the boring hours she decided to write some songs. She went along to Vogue Music, the publishing company owned by Lawrence Welk, and landed a songwriter's contract.
This early period of writing produced some really excellent songs, like
The Game
, which concerns the anguish of the other woman in the eternal triangle and
Grandma's Song
, which concentrates sympathetically on her grandma's death. Around the end of 1974, Vogue Productions, a subsidiary of Vogue Music, produced some recordings by Gail which were due to be released on A&M. Whether anything was released, I've not been able to find out, but it is highly likely that these recordings would have been heavily pop-influenced.
At this time she married a jazz musician. The marriage didn't last, but the things she learned from it did. She broadened her musical base considerably, studying the likes of Ella Fitzgerald and Billie Holiday. But the more she learned about other types of music the more she appreciated the honest-to-goodness quality of country music; Pasty Cline still remained her favourite singer.
She wrote quite a few sad, love ballads at this time, one of the finest being
It's No Wonder I Feel Blue,
a song written in memory of Patsy Cline. Gail's precision as a songwritter is best showcased on this smooth-flowing song that maximises the most of the lyrics in which not one word is in excess. In one simple little song she succeeds in capturing the essence of the music and style of Patsy Cline.
To get the bitterness of a broken marriage out of her system she worker harder and harder. She did a lot of 'hanging out' at places like The Palomino Club, worked with the likes of Roger Miler, Hoyt Axton and Paul Williams, and built herself a very solid background.
Yet by the time she was 29 and hadn't made it, she was ready to pack it all in and settle down to being an ordinary housewife. It was in 1977, when she signed a new songwriting contract with Beechwood Music, a subsidiary of Screen Gems publishing, that she met her husband, Richard, an executive with the company. It was arranged for her to fly from Los Angeles to Nashville to do some recording, and the couple's courtship lasted less than two weeks.
After her move to Nashville, she found that her career did not fall into place as easily as her personal life. She found it very difficult to gain recognition in Music City. When she was working out on the West Coast she had been regarded as 'too country,' now she discovered she was not 'country' enough for Nashville. This was a woman who had grown up on country music, with a father who had worked for several years as a musician on the Louisiana Hayride.
For a while she was just sort of semi-retired from the music business, but then, urged on by her husband, she picked up the threads and began writing again. She polished up some of the songs she had started a few years ago, including a special personal one.
Bucket To The South
, written about her father and a few odd reminiscences of her childhood. She had started the song during a long drive to Texas to see her father. She hadn't seen him for a few years, and going south after such a long period in Los Angeles gave her the idea for the song.
The summer of 1978 found Gail Davies signing a recording contract with Lifesong Records. Produced by Tommy West, who had been the guiding light behind the late Jim Croce, she came up with a fine debut album that caught the right balance between her country/pop style.
She proved with her seven self-penned songs to be a brilliant writer. The songs are filled with vivid lyrical passages delivered in Gail's beautifully rich and resonant voice. The first side demonstrates her consummate ability to interpret the material of others, as she turns in solid renditions of The Louvins'
Are You Teasing Me?
, Johnny & Jack's
Poison Love
and the Mel Tillis penned
No Love Have I.
This album is a perfect demonstration that high technical skill doesn't have to cancel out high spirits or strong feelings. With this debut album Gail Davies was planting the seeds of a long career, ploughing through a forest of newcomers with a distinctive machinery of joy and sorrow.
The three songs released from the album were all country chart successes:
No Love Have I
and
Poison Love
reaching the mid-twenties during 1978, and self-penned
Someone Is Looking For Someone Like You
reaching number eleven in the spring of 1979. Shortly after that the Lifesong label folded, but Gail Davies had made quite an impression, and was immediately signed by Andy Wickhan to Warner Bros.
It would be easy to say that Gail Davies had discovered a magic writing formula that had been manifested on her second album, THE GAME. Released by Warners at the beginning of the year, but such an elusive commodity as magic can never be pinned down to something as specific or tangible as the passing of an album. It is a measure of the respect that Gail Davies commands within musical circles that this record has rightly been recognised as a classic album.
It was planned initially that Gail would co-produce the album with Garth Fundis, the man who has worked successfully with Don Williams, but a clash of recording schedules made this impossible, though Fundis was responsible for the basic instrumental tracks on three of the songs. This left Gail with a dilemma—a planned album but no producer. Given the go-ahead by Andy Wickham, she went on to produce the album herself. Never before had a female artist produced her own records in Nashville, yet Gail Davies succeeded superbly with her first attempt.
So many artists, when they produce their own work, seem to see their faults as assets and play on them, paying little heed to warnings of indulgence and pomposity. But not Gail Davies. She realises that her strength is in her lyrics, so she allows the listener to hear every word, the backing sounds being very clean, clear and uncluttered. The overall production is sleeker and more polished than on her debut album, but is still characterised by her intricate folk-laced harmonies and accents of bluegrass mixed in with the country.
Songs like
Careless Love, Never Seen A Man Like You
and
Love Is Living Around Us
possess  a timeless quality. The soft instrumental background is clear and unobtrusive, and it never distracts from the vocals. Her vocal style is powerful, yet pleasant, tender and evocative.
Paul Craft's bluegrass-flavoured
Blue Heartache
gave Gail her first hit single on her new label, and she has since scored with the old Everly Brothers' hit
Like Strangers
and her self-penned
Good Lovin' Man.
From her songwriting alone, Gail Davies is assured of a lengthy career in country music, but when you add that superbly textured voice, plus her ability to produce music of the highest quality, a quality that neatly balances artistic achievement and commercial success, then you can be sure that Gail Davies is going to be one of the most popular and influential artists in Nashville music during the next few years. 
First published in Country Music People, November 1980