Gail Davies - Doing It The Hard Way
First Published in Country Music International, September 1997
Nashville's rigid publishing and production regime can be pretty hard on creative artists, but that didn't phase Gail Davies. After more than 20 years fighting artistic battles on Music Row, she's bounced back with a self-produced album on her own record label. "I'm not a team player," she tells Alan Cackett. "I just want to make my own music."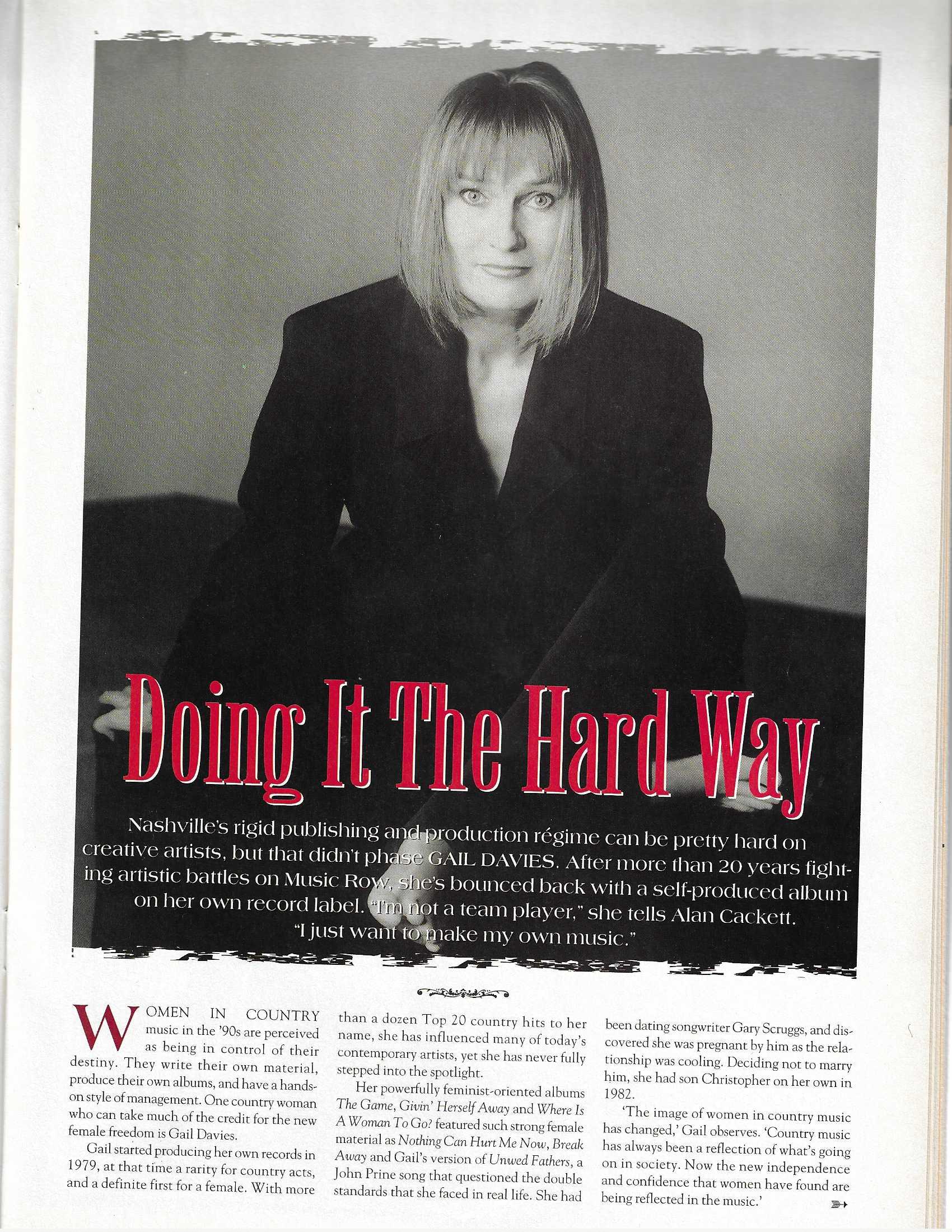 Women in country music in the 1990s are perceived as being in control of their destiny. They write their own material, produce their own albums, and have a hands-on style of management. One country woman who can take much of the credit for the new female freedom is Gail Davies.
Gail started producing her own records in 1979, at that time a rarity for country acts, and a definite first for a female. With more than a dozen Top 20 county hits to her name, she has influenced many of today's contemporary artists, yet she has never fully stepped into the spotlight.
Her powerful feminist-oriented albums THE GAME, GIVIN' HERSELF AWAY and WHERE IS A WOMAN TO GO? fatured such strong female material as Nothing Can Hurt Me Now, Break Away and Gail's version of Unwed Fathers, a John Prine song that questioned the double standards that she faced in real life. She had been dating songwriter Gary Scruggs, and discovered she was pregnant by him as the relationship was cooling. Deciding not to marry him, she had son Christopher on her own in 1982.
"The image of women in country music has changed," Gail observes. "Country music has always been a reflection of what's going on in society. Now the new independence and confidence that women have found are being reflected in the music."
Gail Davies' story is one of exceptional grit and determination. Shunned by the Nashville music business for not fitting in to Music Row's image-conscious fashion parade, she has found a new audience for her music in Europe. This summer, while based in England with her third husband, British musician Rob Price, Gail has played many of the major European festivals.
"When I first came to Europe it was real simple," she explains. "We came over to play Switzerland and Holland. I took 75 CDs and sold all my albums on the first night during the first 30 minutes of my show. People would come to the shows and know the history of my career; they knew the words to my songs. I don't get that in America."
At the time Gail was working for Jimmy Bowen as a staff producer for Liberty Records in Nashville. The job seemed like a golden opportunity, but frustration set in as she discovered that she was not being given the freedom that she felt she deserved. She worked for almost three years with 15-year-old Mandy Barnett, and also tried to convince Bowen to sign James House, Deryl Dodd and several other performers who have since found success with other labels.
"It was really frustrating," she remembers. "I called Bowen a couple of times, and said: 'I'm tired of doing all these developmental acts. What am I, a producer in training?' He said: 'That's exactly what you are.'"
"I'm one of the people in Nashville who adores Jimmy Bowen," she continues. "For all the trouble and the fights we got into and the musical differences we have, he's the only person in the industry who ever says:'How's that boy of yours?' He's the only one who's even cared about me as a person. The rest of them don't want to know."
Gail's background is steeped in country music. Her father performed on the Louisiana Hayride and had her up on stage performing at the age of three. She began singing in clubs at age 14 with her brother, Ron, and five years later her siblings signed a recording contract in Los Angeles, but their album was never issued. A short-lived marriage to jazz musician in LA broadened her musical horizon. Later she toured with a rock band and went to work as a background singer at A&M Studios where she met John Lennon and Joni Mitchell, also learning the finer points of studio engineering and production.
In the early 1970s she came to a crossroads when Roger Miller asked her to join his band at the same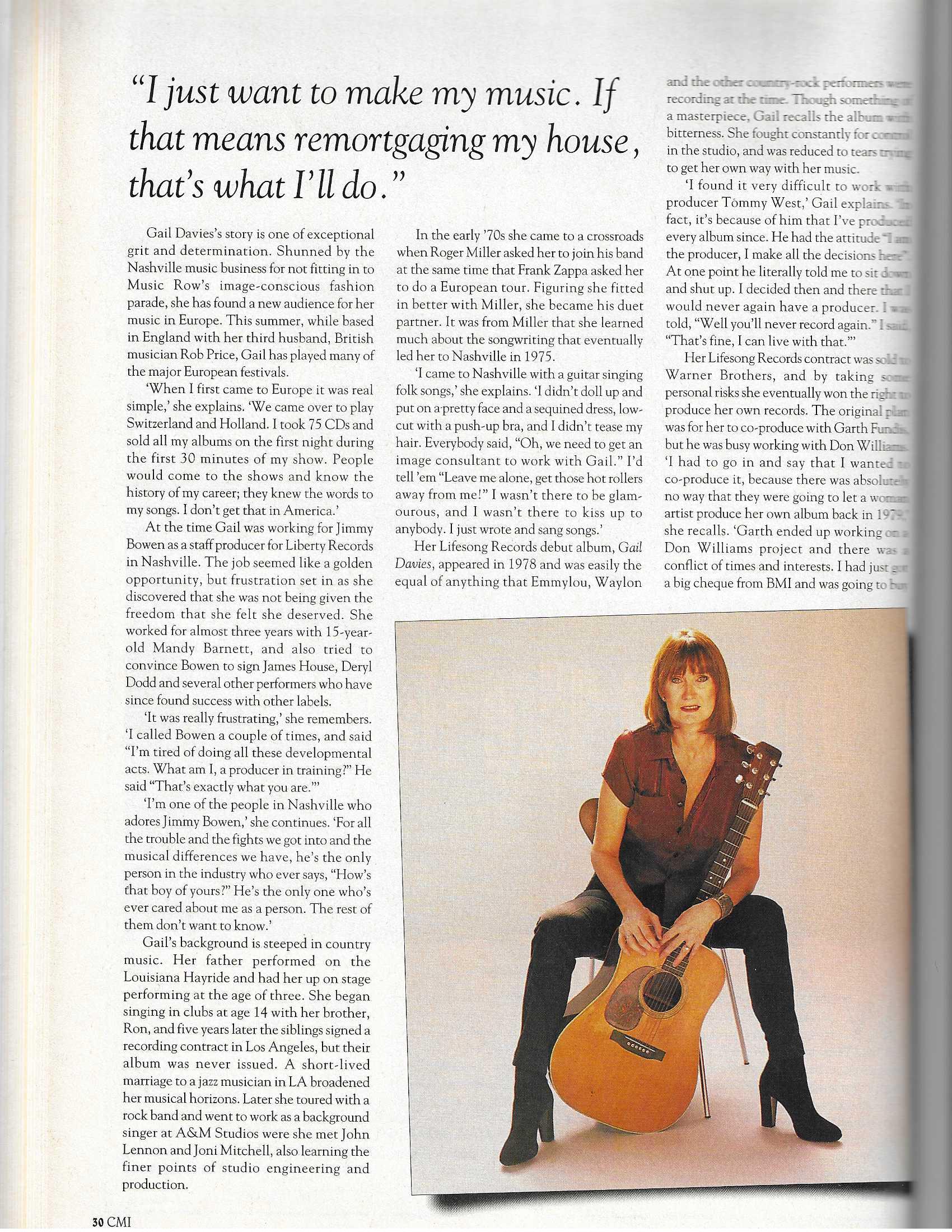 time that Frank Zappa asked her to do a European tour. Figuring she fitted in better with Miller, she became his duet partner. It was Miller that she learned much about the songwriting that eventually led her to Nashville in 1975.
"I came to Nashville with a guitar singing folk songs," she explains. "I didn't doll up and put on a pretty face and a sequined dress, low-cut with a push-up bra, and I didn't tease my hair. Everybody said: 'Oh, we need to get an image consultation to work with Gail.' I'd tell them: 'Leave me alone, get those hot rollers away from me!' I wasn't there to be glamorous, and I wasn't there to kiss up to anybody. I just wrote and sang songs."
Her Lifesong Records debut album, GAIL DAVIES, appeared in 1978 and was easily the equal of anything that Emmylou, Waylon and the other country-rock performers were recording at the time. Though something of a masterpiece, Gail recalls the album with bitterness. She fought constantly for control in the studio, and was reduced to tears trying to get her own way with her music.
"I found it very difficult to work with producer Tommy West," Gail explains. "In fact, it's because of him that I've produced every album since. He had the attitude 'I am the producer, I make all the decisions here.' At one point he literally told me to sit down and shut up. I decided then and there that I would never again have a producer. I was told: 'Well you'll never record again.' I said: 'That's fine, I can live with that.'"
Her Lifesong Records contract was sold to Warner Brothers, and by taking some personal risks she eventually won the right to produce her own records. The original plan was for her to co-produce with Garth Fundis, but he was busy working with Don Williams. "I had to go in and say that I wanted to co-produce it, because there was absolutely no way that they were going to let a woman artist produce her own album back in 1979," she recalls. "Garth ended up working on a Don Williams' project and there was a conflict of times and interests. I had just got a big cheque from BMI and was going to buy a house. Frustrated by Garth not being available, I took the money, went to Muscle Shoals and cut the album myself."
Warner Brothers head Andrew Wickham flew into Nashville to hear what Gail and Garth had been working on. He loved it and told Gail to get back with Garth and finish the album, "I said: 'Okay Andrew, but I did this by myself, and I paid for it.' He reimbursed me for what I'd spent, and I finished recording that album, THE GAME, in Muscle Shoals, Alabama."
Gail emerged from those sessions with the confidence and command of a woman who knew exactly what she wanted to say. Displaying an astonishing diversity of songcraft and a consistent level of inspiration, she was at the forefront of young artists who were reviving and updating some of the great country hits of the 1950s. Her contributions included covers of Johnny & Jack's Poison Love, Ray Price's I'll Be There (If You Ever Want Me) and Carl Smith's It's A Lovely, Lovely World.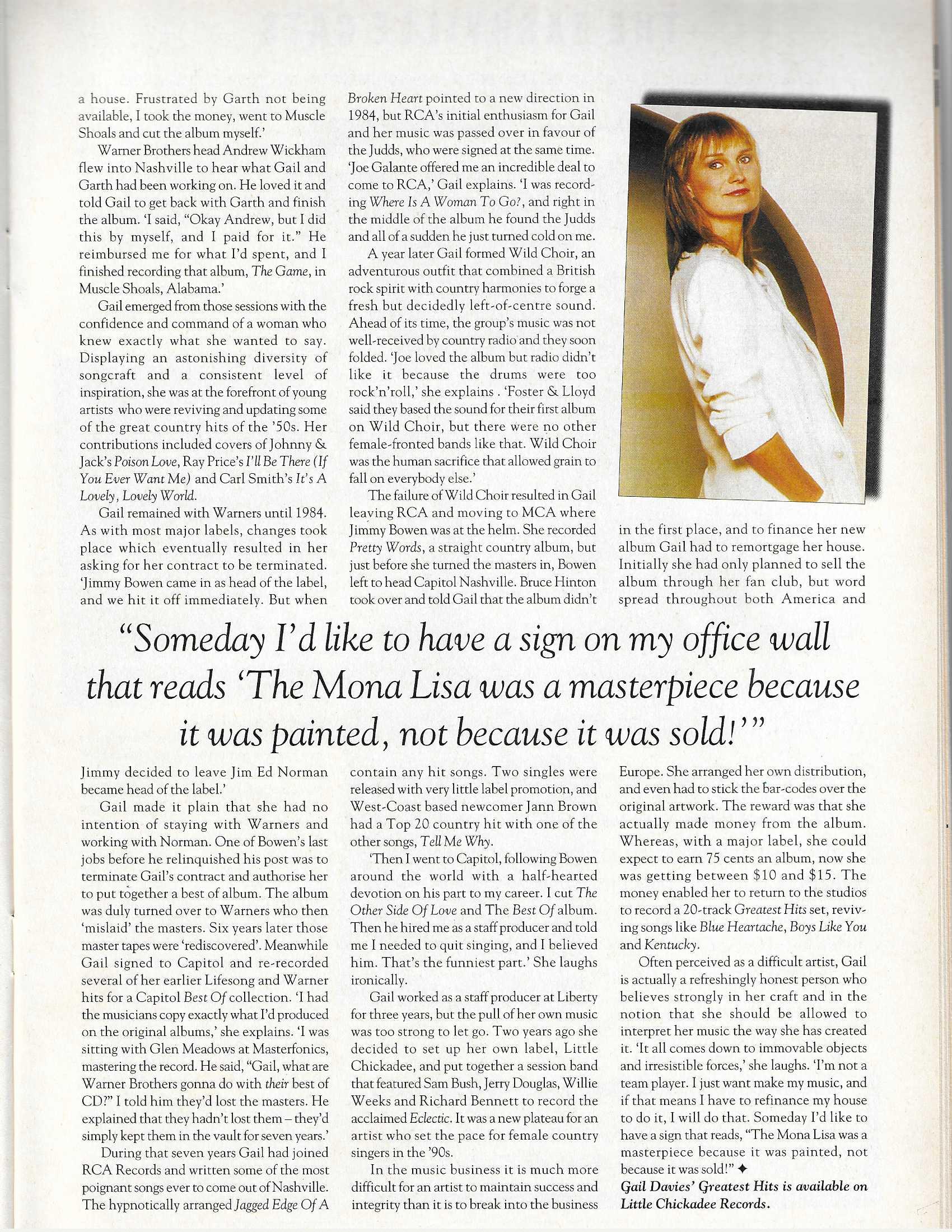 Gail remained with Warners until 1984. As with most major labels, changes took place which eventually resulted in her asking for her contract to be terminated. "Jimmy Bowen came in as head of the label, and we hit it off immediately. But when Jimmy decided to leave, Jim Ed Norman became head of the label."
Gail made it plain that she had no intention of staying with Warners and working with Norman. One of Bowen's last jobs before he relinquished his post was to terminate Gail's contract and authorise her to put together a best of album. The album was duly turned over to Warners who then 'mislaid' the masters. Six years later those master tapes were 'rediscovered.' Meanwhile Gail signed to Capitol and re-recorded several of her earlier Lifesong and Warner hits for a Capitol BEST OF collection. "I had the musicians copy exactly what I'd produced on the original albums," she explains. "I was sitting with Glen Meadows at Masterfonics, mastering the record. He said: 'Gail, what are Warner Brothers gonna do with their best of CD?' I told him they'd lost the masters. He explained that they hadn't lost them—they'd simply kept them in the vault for seven years."
During that seven years Gail had joined RCA Records and written some of the most poignant songs ever to come out of Nashville. The hypnotically arranged Jagged Edge Of A Broken Heart pointed to a new direction in 1984, but RCA's initial enthusiasm for Gail and her music was passed over in favour of the Judds, who were signed at the same time. "Joe Galante offered me an incredible deal to come to RCA," Gail explains. "I was recording WHERE IS A WOMAN TO GO?, and right in the middle of the album he found the Judds and all of a sudden he just turned cold on me."
A year later Gail formed Wild Choir, an adventurous outfit that combined a British rock spirit with country harmonies to forge a fresh but decidedly left-of-centre sound. Ahead of its time, the group's music was not well-received by country radio and they soon folded. "Joe loved the album but radio didn't like it because the drums were too rock'n'roll," she explains. "Foster & Lloyd said they based the sound for their first album on Wild Choir, but there were no other female-fronted bands like that. Wild Choir was the human sacrifice that allowed grain to fall on everybody else."
The failure of Wild Choir resulted in Gail leaving RCA and moving to MCA where Jimmy Bowen was at the helm. She recorded PRETTY WORDS, a straight country album, but just before she turned the masters in, Bowen left to head Capitol-Nashville. Bruce Hinton took over and told Gail that the album didn't contain any hit songs. Two singles were released with very little label promotion, and West-Coast based newcomer Jann Brown had a top 20 country hit with one of the other songs, Tell Me Why. 
"Then I went to Capitol, following Bowen around the world with a half-hearted devotion on his part to my career. I cut THE OTHER SIDE OF LOVE and THE BEST OF album. Then he hired me as a staff producer and told me I needed to quit singing, and I believed him. That's the funniest part." She laughs ironically.
Gail worked as a staff producer at Liberty for three years, but the pull of her own music was too strong to let go. Two years ago she decided to set up her own label, Little Chickadee, and put together a session band that featured Sam Bush, Jerry Douglas, Willie Weeks and Richard Bennett to record the acclaimed ECLECTIC. It was a new plateau for an artist who set the pace for female country singers in the 1990s.
In the music business it is much more difficult for an artist to maintain success and integrity than it is to break into the business in the first place, and to finance her own album Gail had to re-mortgage her house. Initially she had only planned to sell the album through her fan club, but word spread throughout both America and Europe. She arranged her own distribution, and even had to stick the bar-codes over the original artwork. The reward was that she actually made money from the album. Whereas, with a major label, she could expect to earn 75 cents an album, now she was getting between $10 and $15. The money enabled her to return to the studios and record a 20-track GREATEST HITS set, reviving songs like Blue Heartache, Boys Like You and Kentucky.
Often perceived as a difficult artist, Gail is actually a refreshingly honest person who believes strongly in her craft and in the notion that she should be allowed to interpret her music the way she has created it. "It all comes down to immovable objects and irresistible forces," she laughs. "I'm not a team player. I just want to make my music, and if that means I have to refinance my house to do it, I will do that. Someday I'd like to have a sign that reads: 'The Mona Lisa was a masterpiece because it was painted, not because it was sold!'"