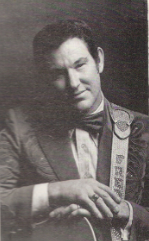 Freddie Hart has emerged in the 1970s as one of the major stars in country music, yet most readers, I'm sure, will be surprised to learn that Freddie made his recording debut as far back as 1953.  Due to a lack of record releases in Britain, Freddie is very much an unknown to the British record buyers. An artist who has been sadly neglected by both the media and the fans, he is still looked upon as an artist that's not quite reached the top, even though his achievements currently place him up there alongside Johnny Cash, George Jones and Ray Price—as a 1950s artist
still
at the top in the 1970s.
Born on December 22, 1933 in Lochopoka, Alabama, Freddie is one of fifteen children. He began his career by playing on local radio stations in and around Lochopoka. It was Lefty Frizzell who recognised his blossoming talent and invited him to join a tour of the Southern States.
This was part of a large package show with several top names alongside Frizzell sharing the spotlight. Freddie settled in very quickly and was asked by Lefty if he would like to join his band full-time. From 1951 Freddie Hart toured regularly with Frizzell. It was at this time that he developed his songwriting skills which led, in turn, to him signing a recording contract with Capitol Records.
Like Frizzell, Freddie Hart based himself on the West Coast, and this has been his main base throughout his twenty-five years in the country music business. This has meant that he has been regarded as a Californian or West Coast artist, but like so many of the Californian singers, it is really a case of being transplanted from another State.
With his own recording contract, Freddie struck out on his own, determined to make it as a country singer. His first success was with the self-penned
Loose Talk
, but Freddie's version was totally eclipsed by that of Carl Smith. Being an established name, Smith rapidly climbed the country charts, and the song became one of his biggest hits and eventually a country music standard.
Freddie Hart was established as a songwriter. That one classic song made sure of that and in the next few years his songs were recorded by several of the top artists including Hank Snow, Ray Price, Lefty Frizzell and Webb Pierce. As a singer he found recording success hard to come by and settled down as a regular on the Town Hall Party, a top television show produced in Compton, California.
Here he worked with the other regulars on the show like Johnny Bond, Tommy Collins and a young guitarist by the name of Buck Owens. The show, throughout the 1950s, was a launching ground for artists like Freddie, who were waiting and searching for that elusive big hit to come along and establish them with the public at large.
Eventually Capitol became disillusioned with Freddie's lack of success as a recording artist and dropped him, but he soon signed a new contract with Columbia. At last he started clocking up minor hits with his own songs that included
Some Do, Some Don't, Some Will, Some Won't, The
Wall
and
Drink Up and Go Home
.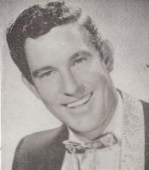 Throughout the late 1950s and early 1960s Freddie seemed quite happy to continue as a regular on the Town Hall Party, being with his wife and family. Content to slip in and out of the spotlight according to his own inclinations, maintaining a dedicated audience without continually hustling for the centre of the stage.
A short contract with Monument in 1963, which again was unsuccessful led to him joining the Kapp label in 1964 and the beginning of a concerted effort to make the grade in country music. He recorded a string of fairly successful singles including
Born A Fool, Togetherness, The Key's In
The Mailbox
and
Here Like A Heart
, but this period for Kapp is best remembered by one very important song—
Hank Williams' Guitar
.
Written in collaboration with cowboy singer Eddie Dean, it is a moving tribute to the late Hank Williams that caught the imagination of the hard-core country fans and built up a cult following for Freddie Hart as far as Britain was concerned.
It was quite a contrast to most of his songs at the time. They were mainly about love, and showed the many faces and different shadings of that elusive emotion. His own songs are imbued with sensitivity for all the lonely and oppressed. His rich voice painting vivid musical pictures of broken hearts, unhappy relationships and the failure of men in love. On other artists' material like
There Goes My Everything
and
I Started Loving You Again
he brings a distinctive quality that is totally Freddie Hart.
Following another bleak and unproductive period in his career towards the end of the 1960s, he returned to Capitol to begin a new and exciting phase.
It was with the release of
Easy Lovin'
in the spring of 1971 that the elusive bubble of fame came his way, the single leaping into the US pop and country charts hotly pursued by the album of the same title.
During the past six years Freddie Hart has consolidated his position as a top chart name with a string of hit recordings like
My Hang Up Is You, Got The All Over For You, That Look In Her Eyes
and
Thank God She's Mine
.
Talking of Freddie Hart it is difficult to avoid the use of words like 'passion' and 'feeling', and yet there is undeniably a lot more to his music than mere emotionalism. His songs deal with human relations, whether they be happy or sad, good or bad. It would be nice indeed to live in a world where good news made the headlines. But there is news value in pain and misery and splitting up and quite often it is this side of life that Freddie Hart sings and writes about.
The Pleasure's Been All Mine
is a moving ballad concerning the realisation that his wife has found a new lover,
Why Lover's Turn To Strangers
is the old, old story of love that has faded with the passing of time and
I'd Like To Sleep Till I Get Over You
is the classic tale of only time will heal pain.
Freddie Hart is a superfine songwriter. Tunes like
Loose Talk, Skid Row Joe, Hank Williams'
Guitar
and
Easy Lovin'
prove that fact. Now with an album on release in Britain, fans on this side of the Atlantic have the opportunity to discover his unique and appealing vocal styling.